here has always been a gaping hole in the Honda Civic range – a sub 100g/km CO2 diesel to rival the Volkswagen Golf BlueMotion and Ford Focus ECOnetic. But finally, the Japanese firm is about to start building the 1.6-litre i-DTEC model at its Swindon plant, and Auto Express was granted an early first drive of the new car.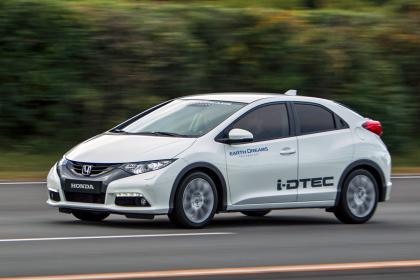 Thanks to the use of lightweight, low friction internal components and stop-start technology, the new engine delivers an impressive blend of performance and efficiency. Average economy is 78.5mpg, while CO2 emissions of just 94g/km make the Civic 1.6-litre diesel a very enticing company car proposition.
The engine's power output of 118bhp is pretty impressive considering the modest capacity, however it's the unit's wide spread of useable torque which really stands out. The engine pulls keenly from 1,500 rpm and produces its maximum 300Nm torque figure just 500rpm later. But unlike some other small diesel engines, which abruptly run out of puff, the Civic's 1.6-litre diesel provides decent shove throughout most of its rev range. That makes the Civic relaxing to drive, too, because you don't need to constantly shift up and down to find the torque.
The new engine isn't perfect, though. Although it's quiet at idle, there's a bit of diesel clatter when pulling away, and though the noise fades once you're above 30mph, the Civic's 1.6-litre diesel is not as hushed as the Golf's 1.6 TDI. What's more the constant faint throb of the engine through the accelerator pedal serves as a reminder that the refinement could be improved.
You could forgive the Civic that if it was cheaper than its German rival but with the entry-level ES model starting at £19,400, it's actually £405 more than the equivalent VW Golf. Admittedly, the Civic has more power and slightly superior emissions and economy but a new BlueMotion variant of the Golf is on the way that will claim 88mpg and 85g/km.
The new 1.6-litre diesel is the pick of the Civic range, but it's no class leader. The new Golf has moved the game so much that the Civic is left struggling to keep up.