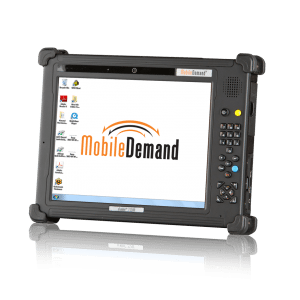 The military rugged 10.4" xTablet T1200 tablet PC is compatible with both  Windows 7 or Windows 8, it enjoys the most cutting edge Core™ iSeries Intel® processor and supports 3G wireless and 4G LTE communications.
For mobile users  and for those who work in demanding environments such as, rail and utilities intermodal, mining, , warehousing, oil and gas exploration, construction, , maintenance and repair, military, transportation/distribution, inspections, fire, police and public safety, the leading,  MobileDemand as a leading provider of Rugged Tablet PC systems introduces the best-in-class military rugged tablet; it is the all-light readable Windows 8 xTablet T1200 Rugged Tablet PC that has a high-performance. Windows® 8 Fully Rugged Tablet PC is all about robust productivity for all mobile persons who work under hard circumstances.
The pioneering xTablet T1200 enjoy several powerful features like the latest Intel® Core™ i5-3427U processor, the multi-touch resistive 10.4" and 64 GB to 256 GB capacity.