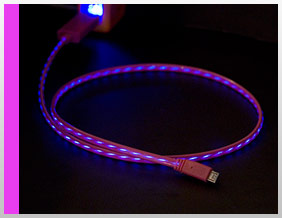 If you're looking for a kick-ass stocking stuffer, look no further.  A company called 8G Electronics, with their USB Sock-IT brand of products, has just announced it's FloWire charging cable.  Beautifully designed and even more spectacular in person, this sucker illuminates flowing lights that actually show you the charging cycle.
The lights flow fast when it just starts to charge; slows down when the charging process is topping off'; and shuts off when the charging is complete.  Imagine having a visual gauge, all from a simple USB charging cord, to give you immediate feedback as to how long you need to charge your device.  Cool, huh?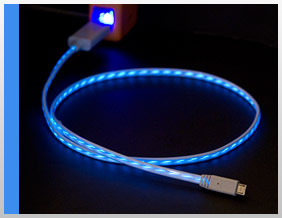 The USB-Sock-IT FloWire by 8G Electronics has a standard USB prong on one end, and a micro-USB on the other.  8G also sells a 30-pin adapter so you can use the FloWire with any Apple product, and an Apple Lightening Adapter is on its way.
The intelligent FloWire knows when to stop charging as well.  With the auto-shut-off feature, you'll saveenergy and avoiding over-charging, which could actually potentially fry your device.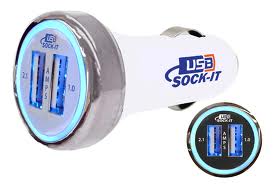 For $19.99, you can get this puppy in Pink or Blue, and have the ability to measure the charging progress of your new iPhone, iPod, iPad, smartphone, tablet and any other mobile device accepting a MicroUSB connection. Match or customize the FloWire with 8G's snug-fitting Apple 30-pin adapter and matching lighted Dual USB Car Charger.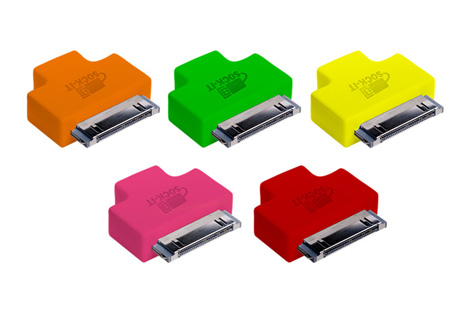 The USB Sock-IT FloWire will make any teenager's Xmas stocking a treat.  Just watch Mom and Dad smirk with envy, because they'll want one too. Visit flowirecable.com or call 1-800-511-7590 for more info.  Also logon to the company website, USBSockit.com for other pretty nifty products from, as they dub themselves, "The USB Charging Guys".

Check out the video…
http://youtu.be/zu4_qgy0iOY