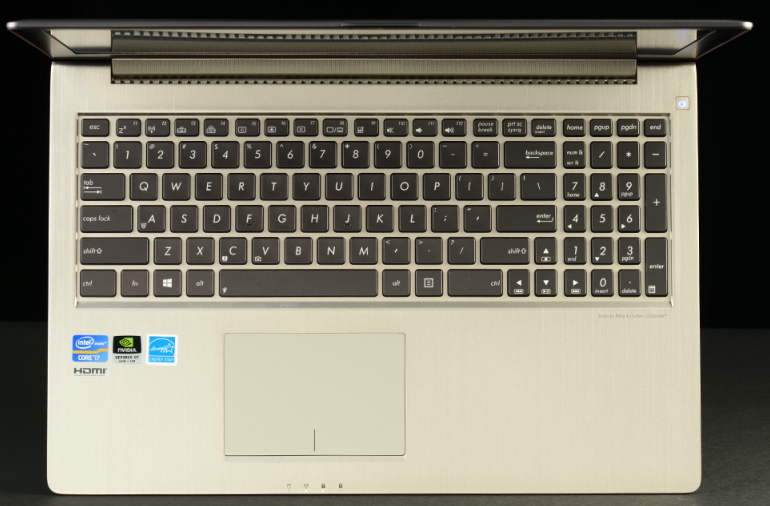 It seems as if in these days of tweener devices and hybrids that Windows 8 has managed to straddle the difference in functionality that meets users, Essentially every Windows 8 device has some kind of athletic talents so it can get lost that plain old laptops also run the new operating system as well. Of these is the ASUS U500 which retails for $1,945 and is a 15-inch ultra that appears to be a multimedia beast what with the i7 quad core brains, NVIDIA GT650M graphics and the full HD IPS monitor – and it's not double-jointed. Almost shockingly, it doesn't have a touchscreen which makes it an anomaly almost nowadays, even if you consider that the Zenbook Prime does in fact feature a touchscreen. SO the question is framed around whether one wants to have a device that bends to your will, or whether the old-school design can still be appealing at a premium price point.
At first look the Zenbook strikes a handsome pose; it's a good-looking fellow. It has the same design elements and metal chassis as its fore bearers. This makes it to be a fine looking, slim ultrabook and even still the larger screen doesn't take away from any of that. While it doesn't feel quite as handy as the 13-inch models, it's still quite good-looking for such a boxy guy. At the same time, it's got a solid body construction that doesn't feel cheap weighing in at 4 pounds and measuring about an inch at it's thinnest point. Yet it still can't be compared to the 15-inch Series 9 from Samsung which is around 3.5 pounds and half an inch thick.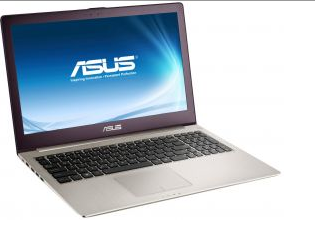 The hinge doesn't whine which is nice and because the weight is very evenly distributed (our guess) it doesn't feel heavy. It's also nice that the lid and the case doesn't seem to bend if you place a book on top of it. Unfortunately (for some) ASUS sealed the underside of the machine so that getting to the battery and the SSD is a bit of a pain. That said, it's a high-end machine from a build standpoint.
On the left side of the machine there is the power and ethernet ports, USB 3.0 and HDMI while on the right side you will find the microSD slot, a second USB 3.0 a connection for a tiny subwoofer and a mini-VGA. The speaker perforation sits on the keyboard and in the front beneath the trackpad there are the indicator LED's.
As we don't have the touch-display the onus here is on the keyboard and the touchpad. These are practically the only means you have to interact with this Windows8 touch-sensibility and for that it is imperative that these appointments meet your expectations. At the very least the look is excellent. Typing sentences on the island keyboard is smooth and you wont feel clumsy typing on this ergonomically fine feature. Expert typists will see solid speeds but low errors and the rest for your palms is large enough that your hands wont dangle off the edges.
The touchpad is off-set to the left and it offers plenty of room. It's a little better than previous models like the UX31A. Swiping from right to left (to open the Charms bar) is a cinch though using your finger can be a little sticky at times. It seems you need to add a good deal of pressure, but it's actually not such a big deal.
The machine has 1080p resolution with a 15.6 inch display that offers up a great landscape for watching whatever it is you want be that browsing the web or catching flicks. The quality is on display when you start Windows8 in that the tiles jump out at you in vivid bright colors. The interface is quite lively as it is displayed here. The finish makes wide viewing angles visible and having an good view even from extreme angles was no problem.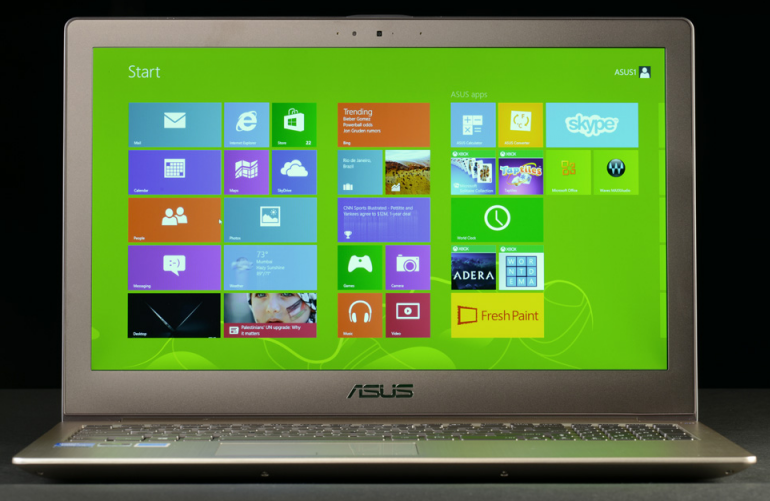 Of course all things considered, your going to be looking for a touchscreen on an almost 2000 dollar machine that uses Windows8 as it's operating system. AT the very least that is a curious proposition. If such a display was on this one here, it might add to the weight and girth, but then again Windows8 is made for touch screens and so this machine feels a bit incomplete. The ease of use of the input devices make that slight a little easier to come to terms with. That said this machine knows what it is and doesn't try and do what it isn't designed to do which is still refreshing.
The stereo speakers give you a nice loud experience if a bit frizzy sound by means of Bang & Olufsen ICE Power Audio. There is a decent bass when playing songs and videos, but if you are an audiophile yo may find yourself disappointed. At the same time ASUS is aware of these deficiencies and includes an external subwoofer by SonicMaster in the box. Plug this into the ports and you will get what your looking for if not everything you desire. Gaming and music streaming are solid and so it's a must that these be keep around if you going to be using the multimedia capability.
The version that was tested was equipped with a quad-core 2.1 i7 processor, a 256GB SSD by SanDisk and 8 GB RAM and it gets excellent performance with those specs. It practically crushes most Windows8 machines. We could throw some benchmarking numbers out there, but frankly, you'd be hard-pressed to find more than a few machines in this price class that outperform this machine. Cold boot is 12 seconds (okay, so there are some numbers for you) and moving around the start screen and desktop is quick and smooth.
As this machine is billed as a multimedia device, it#s equipped with NVIDIA's GT650M along with 2GB of memory and Intel HD Graphics 4000. Generally, it performs much better than most systems with integrated graphics and that to a large degree. Frame rates for some games are in the 40 to 60 frames per second range. While that is excellent, the fan can labor a little bit and the machine starts to purr.
So have we answered the question posed at the beginning of the article? Well, the UX51Vz could be a worthwhile purchase as it packs excellent performance into a streamlined package. It has a comfortable keyboard and is nice to use, but frankly the minuses sort of stick out and you could definitely get a comparable machine with a touchscreen for a better price point. Add to that that the battery life isn't exceptional and it doesn't really utilize the full potential of Windows8 and you may want to look elsewhere. That said, if those things don't bug you, this is the most powerful ultrabook you will find anywhere.