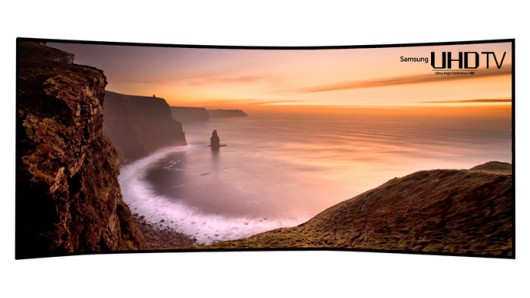 While LG has announced its 105-inch "world's largest curved UHD TV" for the upcoming CES, Samsung is now trying to match them with a new TV of its own – with the added boast that it's also the "most curved" UHD TV ever.
Like LG's just-announced 105UB9, Samsung's Curved UHD TV has a 105-inch screen with a resolution of 11 million pixels (5120 x 2160) and a 21:9 aspect ratio. It also reportedly features a new proprietary picture quality algorithm that delivers optimized color and greater feeling of depth.
Additionally, it utilizes a "Quadmatic Picture Engine" to present all content at UHD-level picture quality, regardless of the source.
This isn't the first time Samsung and LG have simultaneously claimed a "world first," with both Korean electronics giants arriving at CES 2013 with the "world's first curved OLED TV." It will be interesting to see if this trend continues.
Little other information on Samsung's or LG's 105-inch TVs is available at the moment, but more news to come after CES in January.