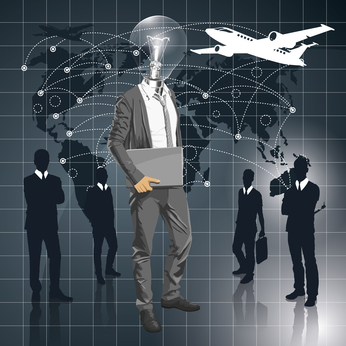 Digital nomads have been around as long as portable laptops have been available, but awareness of the lifestyle was raised to bestseller level by Tim Feriss' "The 4-Hour Workweek." When your method of earning income is tied to a computer instead of an office or place of work, it's much easier to pick up and travel the globe, working along the way. Purists may want to travel with the lightest possible pack, carrying a laptop and little else, but digital nomads are nothing if not technology-savvy. They recognize the value of a good tool or app to make their lives easier and more enjoyable while on the road, and generally make room in their bags for the newest versions of useful technology.
Protection and Power
Belkin solves two problems for the digital nomad, and does so in an impressively packable size. Its Mini Surge Protector with USB Charger plugs into any outlet and protects against electrical surges that might otherwise damage your all-important computer. At the same time, it offers two USB charging ports to charge your phone, MP3 player or eBook reader while you work. For $25, it's a fantastic buy.
Keep Your Secrets
When you're working your way through all the Starbucks in the world, there's no way to tell who's looking over your shoulder. Whether you're checking your bank account or pitching a new client, there are times when you don't want the person next to you to see what's on your screen. Try Fellowes' monitor filter to prevent unwanted eyes seeing your work. You can see through it perfectly when right in front of the monitor, but to anyone at an angle it looks like a black screen. For around $50, it can save you many times the cost in the long run.
The Core of Your Business
It all comes down to your laptop, netbook, or whatever machine you use to connect to the Internet. It's got to be rugged, reliable, able to handle any programs you need to run for your business, and easy to handle. Dragging around an old-school heavy laptop just won't do when you're running through airports and hiking the Great Wall of China. Your business is your life out there. Invest in something portable, tough, and reliable like the Ultrabook. These Thinkpads are optimized for heavy-duty work use, while presenting a sleek profile for ultimate portability.
Keep Your Memories
You may think you'll remember every remarkable thing that happens along the road, but most digital nomads find so many new experiences they sometimes begin to run together. Keep track of everything you do and send a record of your adventures with the Day One app. It's the ultimate app for journaling, giving you the ability to add photos, weather, tags, and locations, and uploads to either Dropbox or iCloud, depending on your OS. This app keeps track of your trip in multi media splendor.