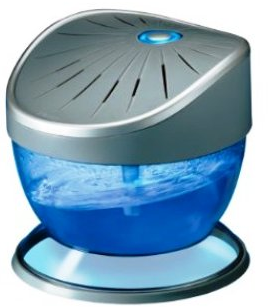 The HoMedics Brethe Air Revitalizer is a purifier claims to remove 99% of bacteria causing odors. However the question is 'how well does it really work'? Does it leave fresh, clean smelling air or is it nothing more than a glorified air deodorizer? There is a big difference between a purifier and a deodorizer.
The blue LED light and the gently swishing optic of the water rotating is tranquility pure. You can put one in your bedroom or in a family room. The scents lavender and citrus are just two of the four that are available.
The simplicity of setup right out-of-the-box requires no assembly. Just take off the top of the bowl, fill it with water from the tap to the line. Then pour about a cap full of lavender, vanilla, lime or citrus scents and place the lid back into place. Plug it in and you're ready to go.
Once you've turned on the device the water begins to gently swish back and forth. Then it begins to rotate at which point a mist of water hovers over the vortex. This is the value proposition of the product. HoMedics says that the Brethe Air Revitalizer uses a dense "rainforest" mist to 'wash' the air pulled into the vortex. This air is then filled with an emulsified botanical solution and finally the now cleaned air is released into the space.
It comes with citrus, vanilla and lime scents to start you off. The price ranges from $44.99 to $59.99. The solutions are environmentally friendly, non-toxic, non-flammable and biodegradable. The oiled scents are botanical extracts.
When you turn it on for the first time you notice an immediate change in the atmosphere. The air fills with the scent and appears cleaner. This is especially useful for indoor smokers and dog owners. The Brethe Air Revitalizer pulls the odors into the device and returns a clean and fresh smell. Using the oils is optional and depends on your preference. Without any scent it just takes a little longer to notice the freshened air.
The price is on the high side, however in the end it is a good investment for your home. This product gets the job done as it neutralizes and practically eliminates odor.