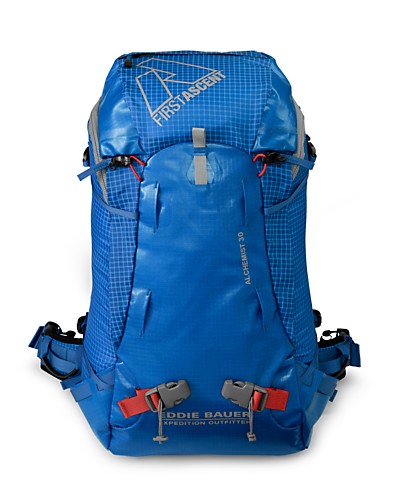 For outdoors enthusiasts that want to hike around hills or climb a mountain, the Eddie Bauer Alchemist 30 Pack Backpack is an excellent utility. The pack is made with this kind of effort in mind, for day trips or training, but the size is suitable for any kind of outdoors excursion. Whether you prefer a day at the beach, camping by the lake or perhaps even an invigorating walk.
The Alchemist 30 is a well designed backpack made of 210-denier triple ripstop and 420-denier double ripstop. This is a lightweight fabric that is water resistant and keeps it's composure in rough environments. It is available in either blue or lime green, has eye-catching appeal, and superfluous flaps and pockets won't be found here. It does however have the capacity to carry axes, poles and skis on the outside of the bag.
As impressive as it looks from the outside, the inside of the Alchemist 30 is what sets it apart from the rest. The zippered entry is wide enough to fit cumbersome objects and also presents quick access to your storage. Go right ahead and put your arm in there to remove whatever you need. Not only is getting into the pack easy, but you can also see what you are reaching for. On the inside there are also pockets for your mobile, keys or even shoes. There is an aluminum flex frame that balances the load throughout the entire pack so you aren't bogged down unevenly on one side or the other.
With it's EVA molded back along with the belt the Alchemist 30 provides you with support not only for the load itself, but also for your back and sides as well. The slots for hydration packs make this a complete unit that has everything you need for your adventure. At a price of $139 it's a great value and excellent quality for your money.