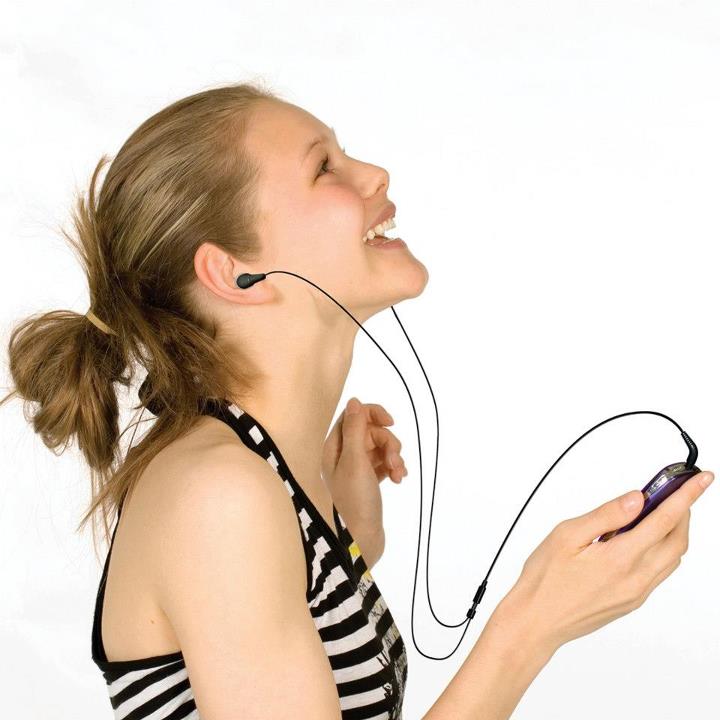 The ETY Kids 5 Earphones by Etymotic are suitable for kids ages 4 and up, and essentially they limit the volume output from sound sources to safe listening levels.  With all of the noise bombardment kids experience with video games, phones and such,  the new ETY Kids 5 may be a very appropriate solution for parents and their kids.
It might surprise you that children actually have more hearing to lose than adults because most of us are born with perfect hearing, however, we lose some of this audio ability each year we age.  Starting with the Sony Walkman 30 years ago, we seem to have accelerated the rate of hearing loss for us all….especially with the younger folk.
Build
The ETY Kids 5 earphones not only sound fabulous, but they have a sleek and subdued design, making them indistinguishable among the rest of this world's headphone/earphone line-up.  The earpieces are a narrow black plastic with gray tips.   To maintain reasonable volume levels, inside each earphone is a reduced-output 6-mm neodymium moving coil driver.  Even at its loudest, listening levels are never dangerous.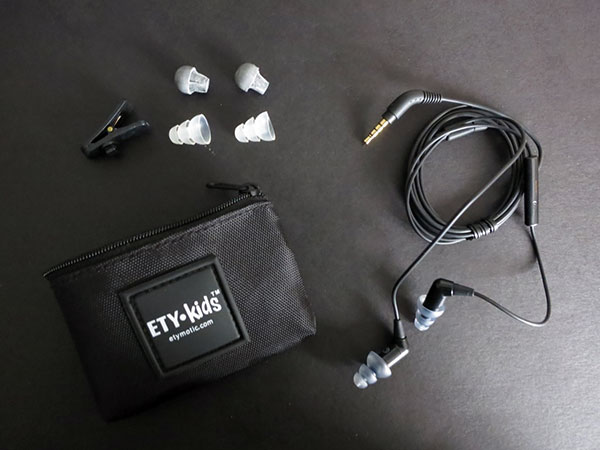 Additionally, the ETY Kids 5 earphones come with three pairs of eartips, a carrying pouch and a shirt clip.
The ETY Kids 5 earphones have a tremendous seal, which makes blocking out noise exceptional.  This seal also provides a significantly better base response and, obviously, more sound. This is why they can be turned down lower, because the main reason we turn up the volume when listening to music with earphones is to block out the noise. The better the seal, the better the sound and noise-cancelling ability.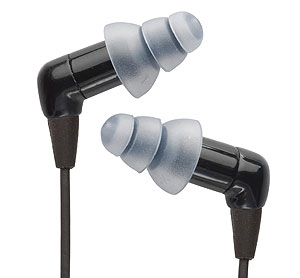 The ear tips, which basically act as earplugs, can cut ambient noise by about 35 decibels, which is quite a reduction. Etymotic is synonymous for their seal and their flange ear tips, so sealing off your ear canal when you wear the ETY Kids 5 earphones is vital.  If the provided tips don't fit your child's earls, you can get a pair of custom molded ear tips from Etymotic, but they are more expensive and you're child will have to visit an audiologist to have a proper mold made.
Quality
As mentioned, the music quality is exceptional, even at low volumes.  Music is more dynamic, and ironically, more "quiet", less obtrusive and distortion-free. Modern mixes sound great on the ETYs, with crisp and articulating clear responses, and the bass is deep, without exaggeration. The combination of Etymotics restrained approach to low-end frequencies and the generally lowered volume create a delightful, soothing sound without assaulting the eardrums.
Price
The Ety Kids 5 earphones protect your child's hearing, and they're pretty darn inexpensive at $39. It's never too early to protect your kids' ears, and the Etymotic ETY Kids 5 earphones are the best way to ensure their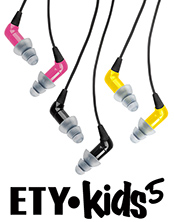 ears will be protected, and also a great way for your kids to appreciate quality audio performance.
You can purchase the Etymotic ETY Kids 5 Earphones through Etymotic Click here, or through [amazon_link id="B00GOOY9QC" target="_blank" container="" container_class="" ]Amazon[/amazon_link]. A version of the Ety Kids 5 with iPhone controls, the ETY Kids 3, is also available for $79, [amazon_link id="B007TCXI24″ target="_blank" container="" container_class="" ]here[/amazon_link].
[amazon_my_favorites design="2″ width="250″ title="Etymotic Earphones" market_place="US" ASIN="B00GOOY9QC, B007TCXI24″ color_theme="Orange" columns="1″ rows="2″ outer_background_color="" inner_background_color="" background_color="" border_color="" header_text_color="#FFFFFF" linked_text_color="" body_text_color="" shuffle_products="True" show_image="True" show_price="True" show_rating="True" rounded_corners="False"/]
Check out the video from our partners at VOXXI News….
http://youtu.be/CWHCQp3yAyk