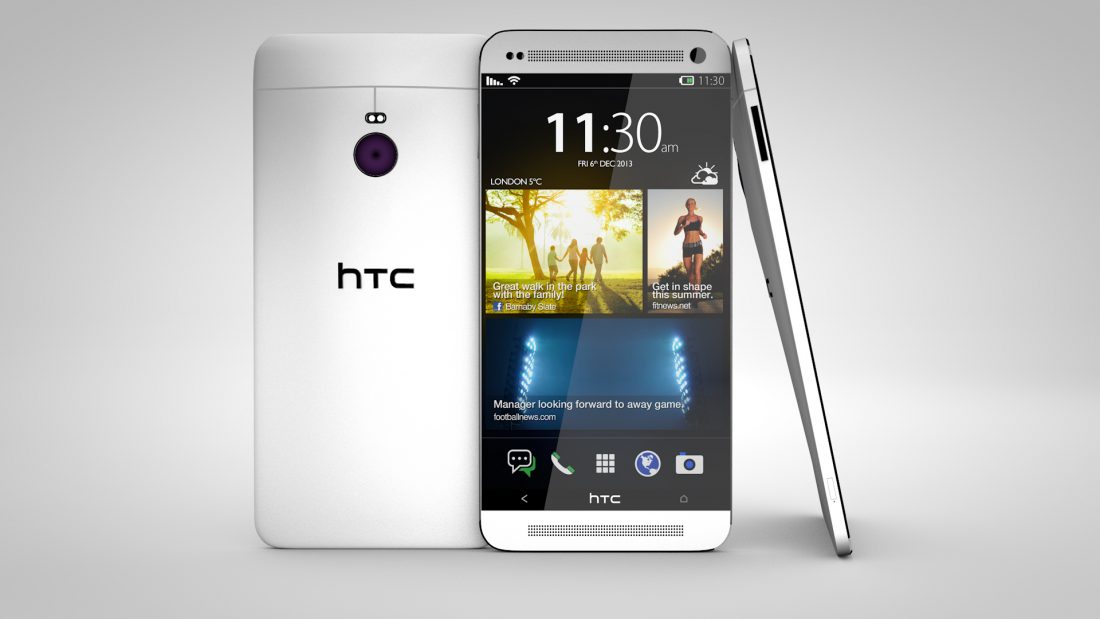 While last year's HTC One was a consumer hit, and boosted some morale and revenue for the company's struggling marketshare, HTC's latest One M8 from Verizon is better, faster, stronger, and a clear "best-in-show" flagship product all around.  In fact, in our eyes and many others, this aluminum beauty is the best handset the company has ever produced.
The HTC One M8 has some stiff competition, particularly with Samsung's latest Galaxy S5, and on the surface, the M8 is far superior in looks and aesthetics.  Under the hood, the M8 also matches the S5 in speed, camera and user interface.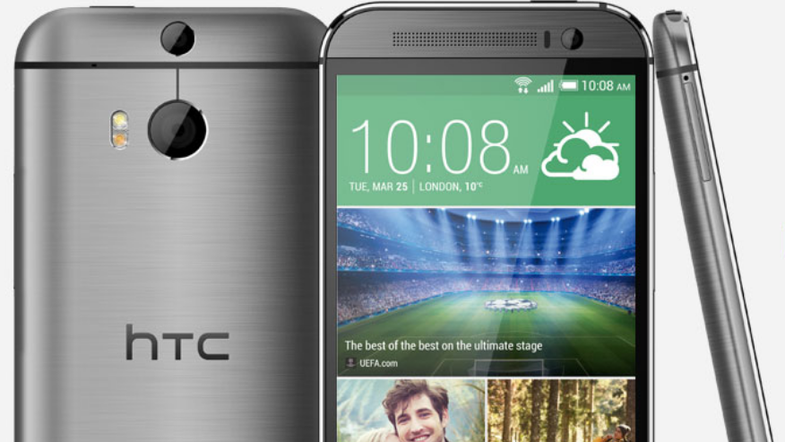 Display & Interface
The 5-inch screen is huge, and very high quality.  It's IPS LCD is solid with good color, brightness and generously wide viewing angles. With a full HD resolution (1920×1080 pixels), videos, text and photos jump out at you with a punch.
The M8 runs Google's Android 4.4.2 operating system, the latest iteration known as Kit Kat, which brings a cleaner layout to the mix, as well as tighter integration with Google search, and faster performance. Layered on top of that is HTC's most recent Sense UI, version 6. This includes all of the Google goodies including Play, Now, Drive, Chrome, Google+ and Gmail, among others.
In particular, Google Now comes up as a personal notification, either in widget form or launched by swiping upwards from the bottom of the screen. It provides insightful suggestions, directions and reminders based on your past search history, time, and location data. It's also the driving force behind the Google Wear operating system for smartwatches, clothing, and other wearable tech gear.
While Sense 6 is somewhat like version 5.5, it is still fabulous, with plenty of homescreens and customization. On the left side, you get BlinkFeed, HTC's news and magazine aggregator. It's designed to pull in articles from a pool of media outlets and websites, and then organizes it in one scrolling panel. You can also search for and add custom topics to the service, and add notifications for third party apps like Fitbit and Foursquare.  If you don't like BlinkFeed, you have the option of disabling it.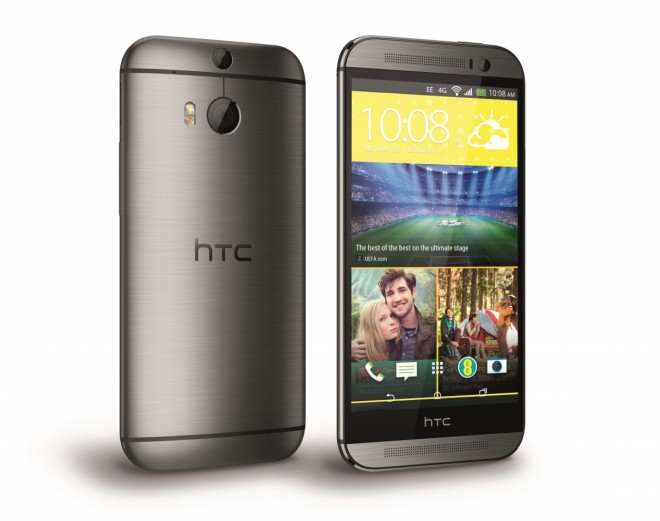 Design
Once again, HTC hits a home run with the M8's all-metal unibody chassis. It's comfortable to grip, sturdy, strong, solid and its smoothly curved back, polished edges and matte finish are to die for.  The M8's finish is a little slicker than the original One, and it comes in two additional color options – gold and silver. Additionally, the Verizon M8 brings new design improvements, such as the larger screen and the 100% aluminum case, (the original One was 70% aluminum and 30% plastic). 
Tipping the scale at 5.4 ounces, the M8 stands a tad taller than the original One, and yet it's just slightly heavier than the older One. The M8 is flanked by two powerful BoomSound stereo speakers, which deliver pretty damn good sound.  HTC says it enhanced the M8's BoomSound audio system by cranking up the volume by 25 percent and improved its frequency range.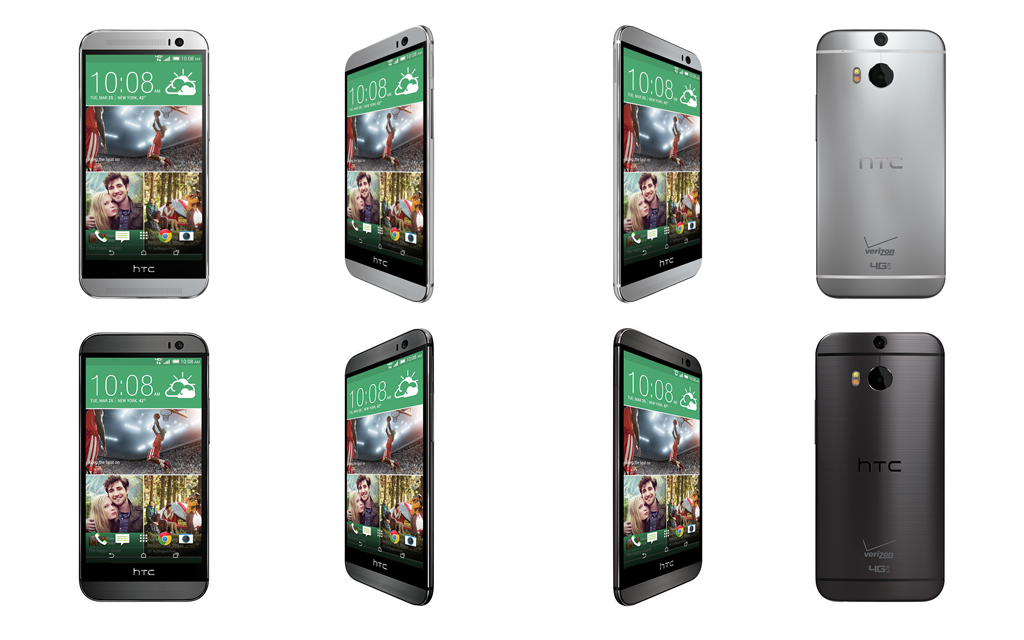 Perfomance
Performance-wise, it's a beast and super fast, ushering in a whole new era of mobile computing power. You can launch, close and flip between apps in the blink of an eye, and data speeds are unparalleled with Verizon's 4G network.
Powering the M8 is a 2.3GHz quad-core Snapdragon 801 processor. The M8 is actually the first phone to use this processor.  The Sony Xperia Z2 and Galaxy S5 also use it. The 801 offers 25 percent faster graphics than the Snapdragon 800. This means speedier web browsing, photo editing and game playing.  The M8 also comes with 2GB of RAM, either 16GB or 32GB of internal storage, and an SD Card slot for additional storage space.
Call quality is also outstanding, without any clipping, static or background hiss. Voices on our end came through the earpiece with plenty of richness and volume.
Equipped with a 2,600mAh battery, the HTC One M8 provides about 10 hours of heavy use, plenty for the above-average user. HTC has plans to enable in the future a special "extreme power mode" for the One M8 to extend its run time further. 
You can wake up the M8 simply by tapping its screen twice with your finger, and sliding your finger right launches BlinkFeed. Sliding left brings you straight to the main homescreen.
To start the camera app in a flash, just turn the M8 into a horizontal landscape position then hold down either end of the volume rocker.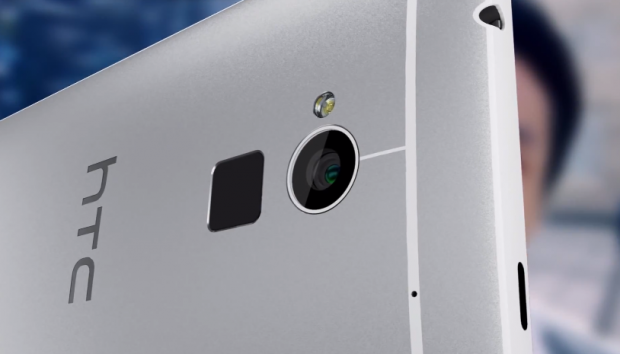 Camera
Arguably the best improvement is the M8's dual-lens, dual-LED flash camera and imaging system. While the larger lens supports its main camera and handles traditional photo duties, the smaller lens tackles depth perception, which allows the M8 to perform cool tricks.  For example, every time you take a picture, the M8 also records optical data from its second vantage point seen through its depth-sensing lens. As a result, the One M8 lets you refocus images after you take them,  so you can choose subjects in the foreground to focus on while simultaneously blur objects in the background. In essence, HTC is shooting to replicate shallow depth of field which skilled owners of DSLR cameras often use to great aesthetic effect.  HTC calls it "UFOCUS",  which lives in the phone's photo editing menus.
The Verizon HTC One M8 camera also has a feature called "Foregrounder", which applies special filters to the background, like simulated pencil sketch-marks, motion blurring, even animated objects. The "3D Dimmension Plus" feature warps pictures to lend them a cartoon-like depth, which you can alter by tilting the phone back and forth.
The phone's gallery app groups images and video by events and date, plus mashes them up into highlight reels with canned themes and music automatically.  You also get a ton of shooting modes, such as sweep panorama, HDR and night modes. You can also adjust the settings manually. The One M8 takes pictures incredibly fast, and the image quality is stellar.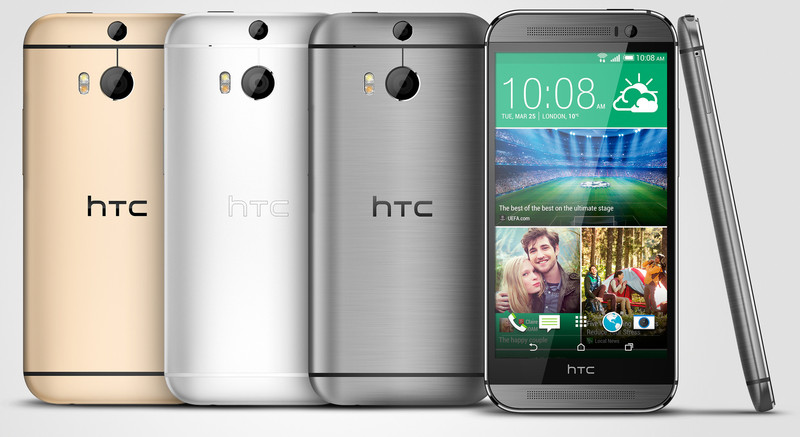 Bottom-Line
Not only is the Verizon One M8 a powerful performer with quad-core processing that's as good if not better than Samsung, its all-aluminum design is the beauty queen winner of the bunch. HTC is targeting handset connoisseurs who love high-end phones and want a clean UI experience.
The new HTC One M8 from Verizon runs $199.99 with a two year contract, $599.99 off contract. You can get the new HTC One M8 from Verizon here.

This review unit was provided by Verizon for review, and no compensation has been given for the above opinions or content
Check out the video from our friends at PocketNow…