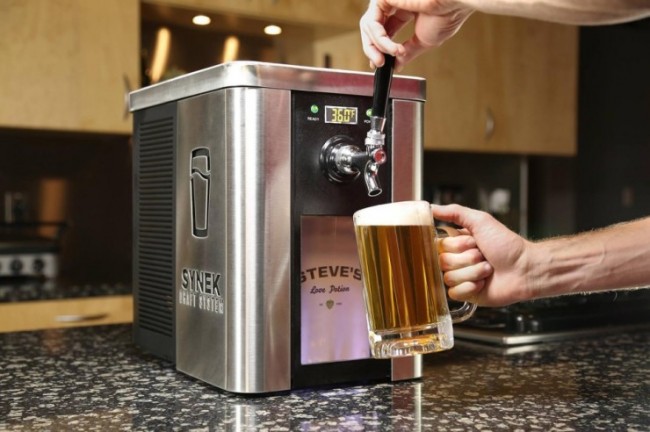 The latest SYNEK top beer dispenser – draft beer system provides you fresh-from-the-tap beer whenever you want it.  SYNEK joined with Kickstarter for their campaign.  The product gives beer enthusiasts the ability to enjoy their favorite craft beer or homebrew beer without having to run to the tavern.
Steve Young, founder of SYNEK, wanted a growler to keep his beer fresh for more than a few days.  Enter SYNEK, which uses vacuum-sealed pouches that actually go inside the tap machine, allowing it to stay fresh for up to 30 days. It accommodates beer from any tap, so if your local brewery can fill a growler, they can fill a SYNEK bag that can hold up to a gallon of beer. Additionally, you can easily interchange the bags according to preference, with each bag maintaining carbonation when not in the machine.
http://youtu.be/e9cqkvlb5Yc
The SYNEK pressurizes the brew using carbon dioxide, with the ability to adjust both temperature and pressure to any setting. And it's portable, allowing you to take it to BBQs or parties. To pre-order your own SYNEK, pledge $299 or more now or wait for market retail at $349.  Each beer cartridge is priced at $1.