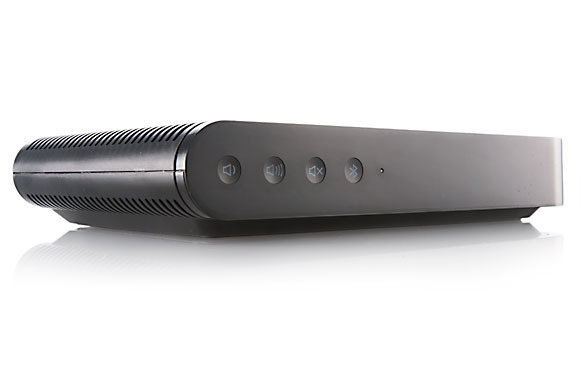 NuVo's new flagship wireless audio player, the P200, brings you streaming audio anywhere in your home to multiple rooms simultaneously. The P200, which lists for a whopping $599,  is a wireless stereo amplifier and media hub, which supports dual-band 2.4GHz and 5GHz Wi-Fi and MIMO. It is also capable of transmitting up to 16 simultaneous streams at 600Kbps each. Finally, because it's an amplifier, you can hook up any pair of passive speakers that will sound exceptional.

Design
Used in conjunction with the NuVo GW100 Gateway (required for wireless use, $199), the P200 is built for audio-files looking for top-drawer wireless streaming throughout a home.  The NuVo P200 measures measures 1.65 by 9.02 by 5.0 inches (HWD) and weighs 2.5 pounds. It's made entirely of black plastic, with a vertically curved edge on one side and a horizontally curved edge on the other. The front panel has four capacitive buttons, which control volume, muting, and Bluetooth functions, plus a combination power and status LED. The back panel has a standard-size 3.5mm input and output jacks, a 3.5mm setup mic port, and four gold 5-way binding posts for connecting speakers. There are also USB 2.0 and Ethernet ports, plus a hardware power switch.
Internals and Setup
Inside the P200 is a 60-watt-per-channel stereo amplifier that works with 8 ohm and 4 ohm passive speakers. There's Audyssey-powered dynamic volume processing for balancing day and night listening at lower levels, as well as bass and treble adjustments with 12 dB of range in either direction. The setup process is pretty easy as well. First, you hook up your speakers, plug the P200 into the wall, download the NuVo Player iOS or Android app on your mobile device, and follow the on-screen instructions. From the app, you can begin setup of a new system or join an existing system you're expanding.

Function and Performance
Sound quality from the built-in amplifier is outstanding… no dropouts or distortions, even while sharing music from a variety of sources, and also using it for multiple rooms.  Additionally, you can control everything from the app, which is super convenient and super easy.  Unfortunately, you can't stream music from your iPhone or Android phone directly. To play music from your iTunes or Windows Media Player library, you must add it to the app's Library, and to do that, you have to open a desktop Web browser, download and install the Nuvo Music Share software on your PC, and then add the folder inside Music Share. Alternatively, you can stick with Internet radio streaming, which includes support for SiriusXM, TuneIn, Rhapsody and Pandora. You can also stream from your iTunes and Windows Media Player libraries.
Kind of a cool feature is the ability to plug a USB key full of music into the back of the P200 and use the iOS or Android app as a remote control. There's also a Line In port, which lets you plug in another MP3 or CD player.

Conclusion
While the NuVo P200 runs high at $600, not including the $200 GW100 Gateway, it performs better than anything we've tested in its category.  You can purchase the NuVo P200 here.