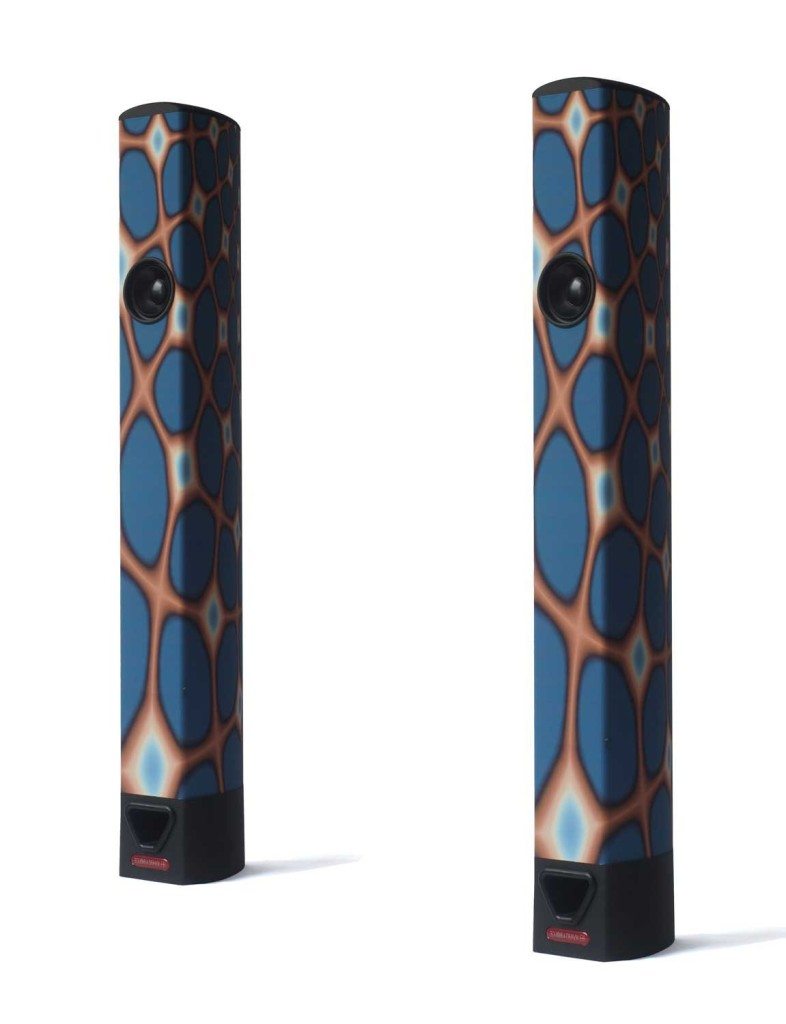 The latest Kvart & Bolge Sound Sommelier tower speakers are unique to say the least. At around 32″ tall and 4″ wide, they are void of any woofer or tweeter, and instead rely on a single 3-inch Tymphany neodymium full-range driver for bass, midrange and treble frequencies. And while these are nothing we've ever really seen, they sure can put out the sound, especially in the bass department, thanks to the company's Quarter Wave Technology. In fact, how does 55Hz grab ya? Pretty stellar for a pair of boxes with such a small driver.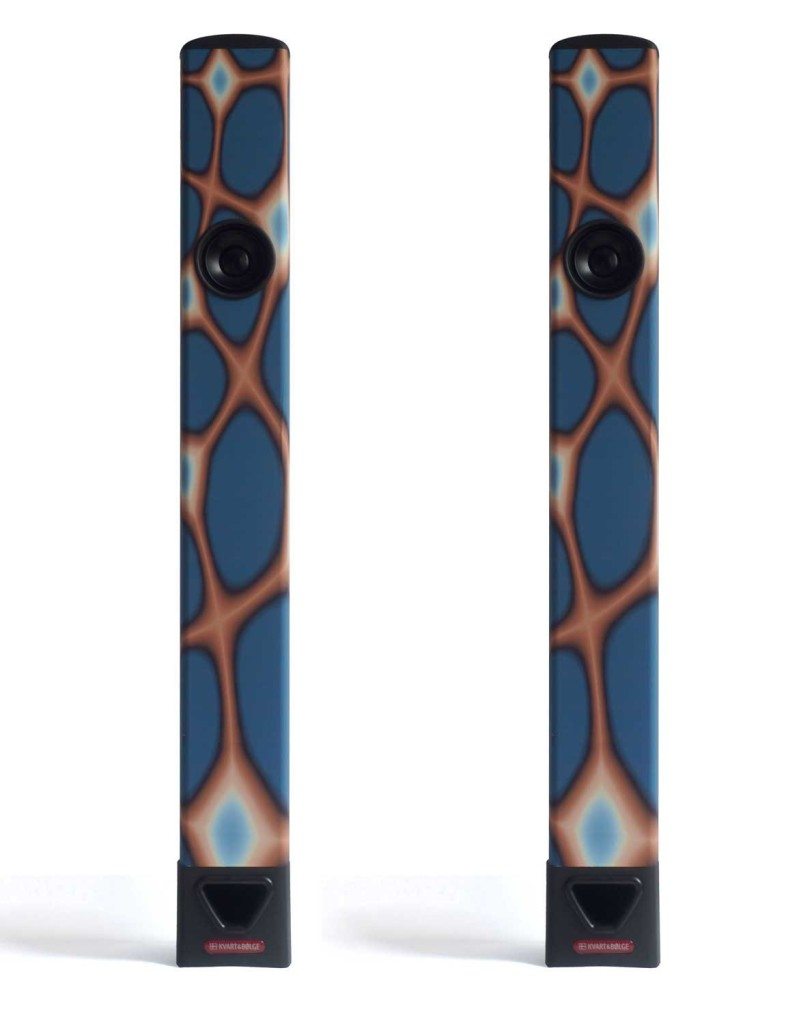 Kvart & Bolge Design
Design wise, the Kvart & Bolge Sommelier towers are small, thin and have an extruded-aluminum cabinet fitted to a 4″ cast iron base. They weigh just over 13.2 pounds each, and they come in some wild colors and patterns. In fact, owner of the company, Arved Deecke, says you can custom design these speakers in whatever pattern or color you want. Arved sent us the Fractal Pattern (pictured above), and they are straight up funky and fresh looking….a tremendous accent piece to any modern home.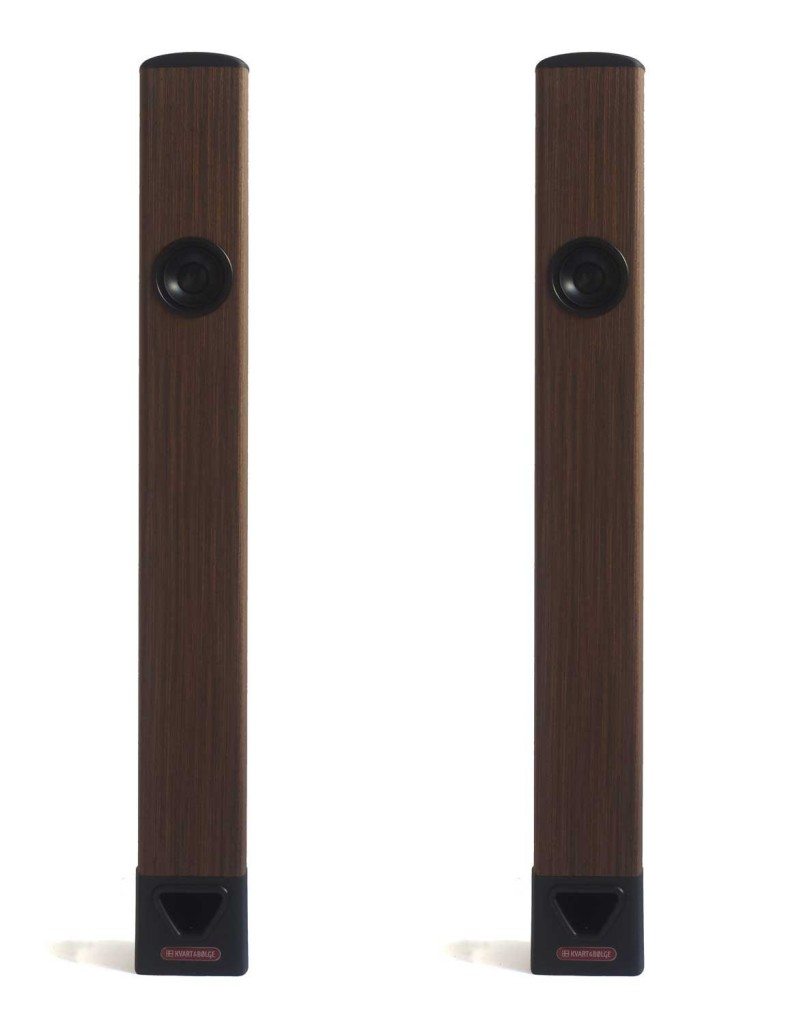 The 4-inch base of the speakers, as mentioned are tiny, and the height of the pair are very slender and tall for their size. This can make them susceptable to tipping over. So make sure they are secured against a wall, or sit on a hard-surface floor. The upside is that there design is drop-dead gorgeous and very unique.
Sound
The sound is really incredible, and we certainly had our doubts when we pulled them out of the box. How could these seemingly psychodelic-looking twigs pound out the sound that has been reported by others. The Sommelier towers not only blare out audio loudly and deeply, but it seems that they project the sound, extending beyond the sound trajectory. In short, they filled the room with deep bass, crisp treble and rich mids. We could put them in the category of those hi-fi systems that run 10-times the price.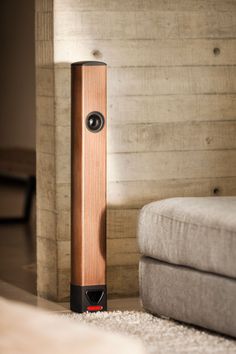 One thing that was evident was that aside from its richness, they brought out more subtle parts of tunes than expected. Turning a living room into a virtual concert hall, the Sommeliers made all types of music, from classical to jazz, from rock to soul, sound really amazing. Instrumentals sounded fantastic, and vocals were both comprehensive and natural.
Another thing that stood out with the Kvart & Bolges was that they don't sound like a traditional tower speaker. They sound more like flat-panel speakers because they really exude that smeared, "air" sound and authoritative bass. 
Bottom Line
By now, I think you can tell that we really love the Kvart & Bolge Sound Sommelier tower speakers. They are ideal for small to medium size rooms, and they look and sound pretty damn good in an office as well…that is if you have your own office. The thing we like most about them, and this is pretty obvious, is there size to sound ratio. The Kavet & Bolges generate big, spacious and open audio, with plenty of volume and definition. Add to that the ability to custom finish these speakers anyway you like, coupled with the price point that ranges between $299-$480, and you've got a very impactful bang for the buck.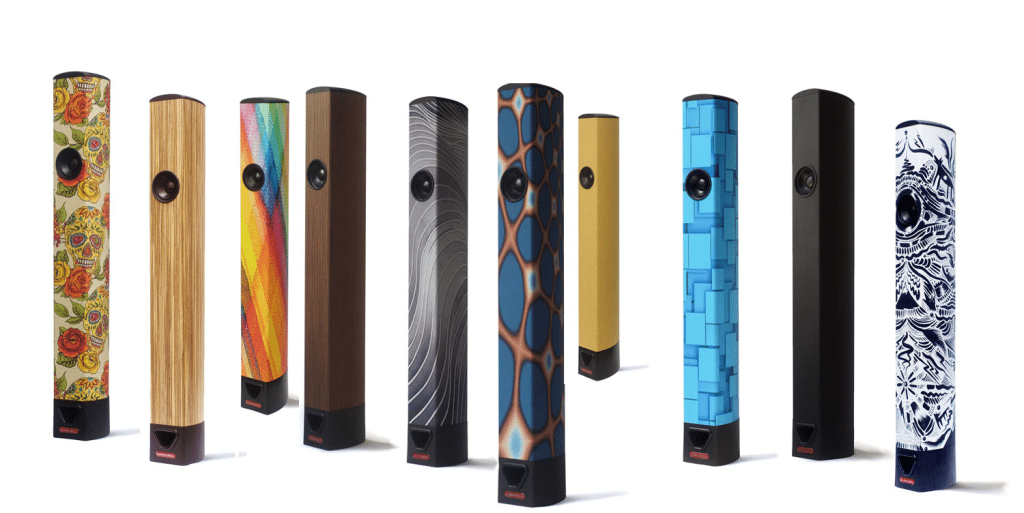 Based in Denmark and Mexico, Kvart & Bolge's two main designers are Arved Deecke and Bjoern Johannesen, and they are making there speakers available online at their website, and through Amazon. Additional options including various woods and other custom finishes are available from the company's website, and a matching Bluetooth amp is also available.