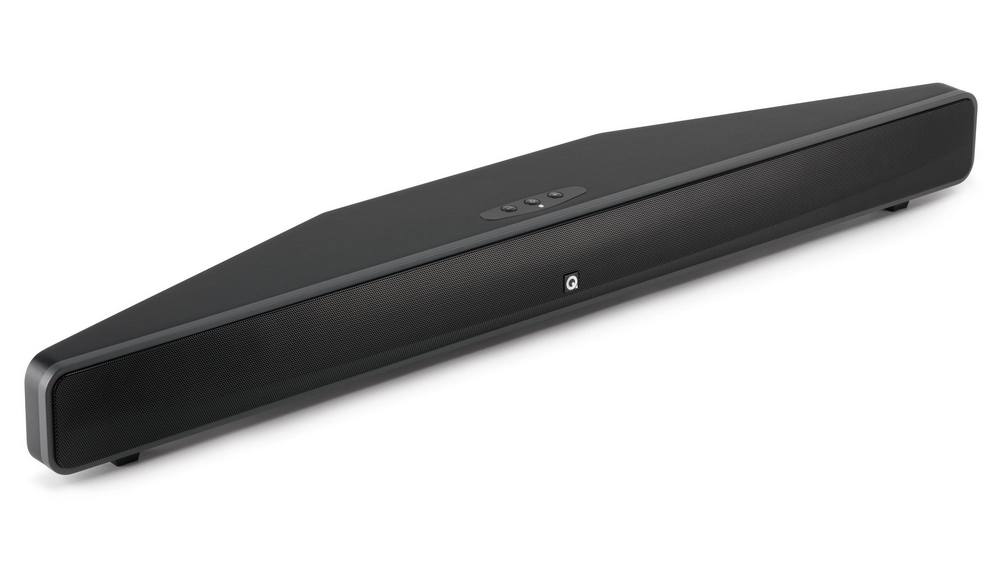 Q Acoustics might not be the Apple of the hi-fi world, but the British audio company has gained a lot of clout from the most respected in the industry. There latest entry into the soundbar category, the new Q Acoustics Media 4 Soundbar, aims to uphold this reputation, joining an already impressive array of products from the company.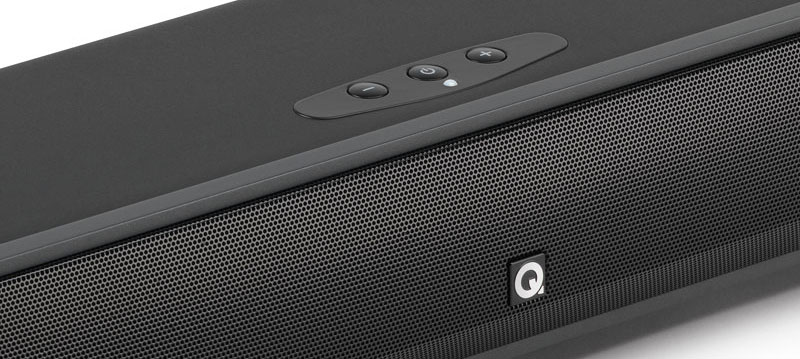 Q Acoustics Media 4 Soundbar Design
The Media 4 is rather large, measuring in at 1,000 x 90 x 142mm, and it weighs 4.9kg. It can sit right below your TV screen, or wall-mounted using the included bracket and screws.
Shape-wise, the M4 has a trapezoidal shape, which allows for enough clearance for cabling if wall-mounted. The M4 is also deeper than most soundbars, which means it has a larger speaker cabinet with more air to move, creating a fuller and richer sound. A small remote control is also included.

M4 Performance
The M4 is a 2.1 system with left and right channels and a dedicated subwoofer. Each stereo channel has 25W of power with 50W delivered through the subwoofer. The left and right channels use Balanced Mode Radiator (BMR) drive units, which disperse sound 180-degrees both horizontally and vertically, giving you a flawless and consistent experience regardless of your speaker position in the room.  From a listening perspective, this technology definitely works, giving you true mid and treble frequencies anywhere in the room, and the built in subwoofer gives you rich bass that would rival any stand-alone woofer box.
Additionally, the Q Acoustics M4 Soundbar has no real settings or menu, which means that it's more of a plug-and-play soundbar solution. It's well configured for audio, right out of the box, so it delivers great sonic sound in any environment and with almost any playing media. It's equally capable for both music and movies, and its sound quality is actually better than many competitors available for a higher price.

Bottom Line
With a very unique and large shape, the Q Acoustics M4 Soundbar is a super value overall in terms of audio performance and rich sound. Additionally, if you require a soundbar that is totally ready to go out of the box, the M4 is for you.  It provides uncompromising sound anywhere in the room, with any type of media, and you don't have to spend time adjusting settings and manipulating an EQ.  You can buy it through Q Acoustics for $379.99 here.