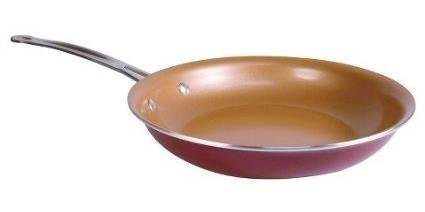 The Red Copper Pan by Telbrands is one of a handful of pans on the market donning the non-stick copper technology, a surface that makes cooking, frying and baking a breeze because there's literally no clean-up, scraping our scouring the pan to get it cleaned.
The pan's main selling point is its non-stick surface and copper ceramic construction. Unlike older nonstick surfaces, this pan's surface is PTFE and PFOA free, and will not scratch or chip. Additionally, it is oven safe up to 500 degrees.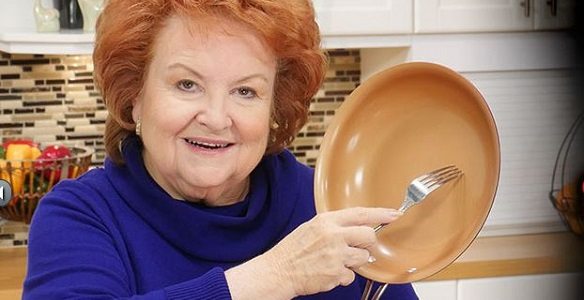 Red Copper Benefits
While the non-stick feature is probably the reason why most people buy Red Copper and cookeware like it, there's also some health benefits to cooking with copper pans. Copper itself acts as a superior heat conduit, and it reduces isolated hot spots, which if present, tend to overcook or undercook food. Copper allows for a more accurate temperature control.
Secondly, because of the non-stick surface, you don't need to cook with any unhealthy oils or butters. Food can be cooked with the Red Copper Pan, and slide right off and onto your plate when it's done.
Red Copper Design and Features
As mentioned, the Red Copper Pan has ceramic in the special coating, which provides a non-stick quality that covers the entire cooking surface. Food will slide right off no matter how sticky or burnt it may be. The copper infusion adds to the strength and resiliency and it won't scratch or dent.
Additionally, the weight of the Red Copper cookware is light enough for the smallest person to handle, but heavy enough to give you a lot of durability.  Plus, it's completely dishwasher safe.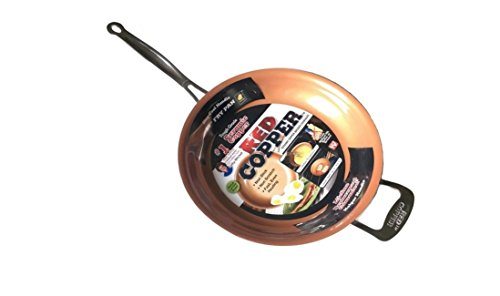 A Little More about the Safety Features
The Red Copper Pan does not use Perfluorooctanoic Acid (PFOA) or Polytetrafluoroethylene (PTFE) . PFOA is chemical used in the process of making PTFE, a substance which provides a non-stick surface. PFOA is a chemical formerly used in the production of DuPont Teflon and other non-stick coatings. It was recommended for discontinuation by the EPA after studies revealed it causes developmental and other adverse effects in laboratory animals.
PTFE, in itself, does not pose health concerns unless made using PFOA. PTFE continues to be safely produced and sold under the Brand name Teflon.

Food Tastes Better
Regular copper cookware is reactive with alkaline or acidic foods. When cooking in copper, such foods may acquire a metallic taste or receive grey streaks when copper compounds are transferred to the food.  Copper also requires regular polishing and maintenance.
With Red Copper, while there is pure copper in the Red Copper pan, it cannot be considered Copper Cookware. This is important because Red Copper doesn't possess the same risks, effects, or benefits of true copper cookware. Rather, Red Copper actually makes food taste better because it cooks food cleanly, with burning, and completely protects the food from chemical osmosis into the food.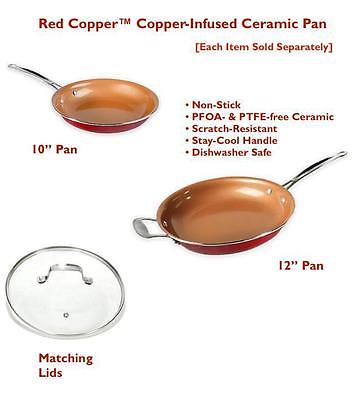 Bottom Line
The Telebrands Red Copper Pan is a winner. Not only is it super easy to cook with and makes clean-up a breeze, it also offers other benefits including being able to cook without harmful chemical compounds, oils or butters. It's also scratch and dent-proof, incredibly durable, and for the value, it's very inexpensive.
The Red Copper Pan come in a 10′ and a 12″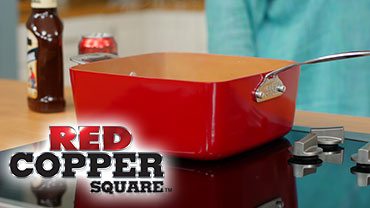 version, and prices come in around $20 and $30, depending on where you buy. Telebrands also offer a limited edition Square pan, which you can purchase in one of Telebrand's bundles.  For more information including deals and packages, visit Telebrands website here.