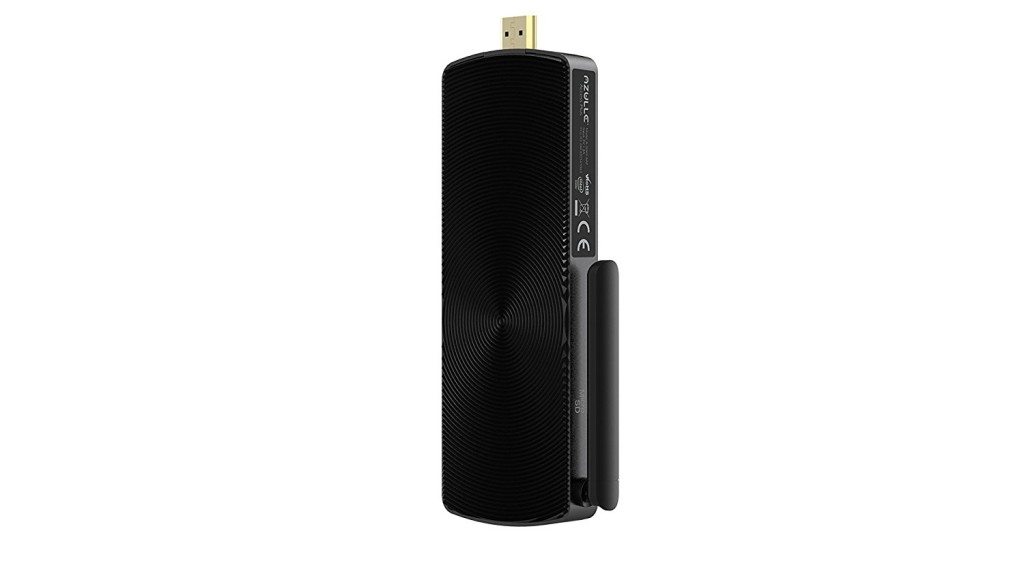 With the compact size of a long and wide USB flash drive, and the power of a full-fledged Windows desktop PC, the all new Azulle Quantum Access Plus LAN Windows 10 Fanless Mini PC Stick is the perfect example of how some of the best things come in small packages.

Hardware Features and Design
As is the case with all stick PCs available in the market today, the Quantum Access Plus too is a sleek black colored rectangular stick. Apart from its super compact dimensions of 4.94×1.54×0.72, the Quantum Access is also surprisingly light weight, at a mere 0.4 pounds, which makes it travel friendly as well. In terms of design, unlike the Intel Compute Stick that comes with a smooth matte finish, the Quantum Access Plus PC Stick boasts of a cooler radial ribbed design. The stylish textural design of the stick is impressively complemented with a cool antenna that not only adds on to the aesthetics of the device, but also serves to enhance the Wi-Fi power when the signals are weak. You can position your antenna at different angles to achieve the best wireless reception.
Moving over to its hardware features, The Azulle Quantum Access Plus PC Stick offers a microSD memory card slot, a microUSB external power port, a microUSB port and a USB 2.0 port as well. In case you want to notch up your connectivity, you can install a USB hub and attach as many ports as you like. For instance, you may attach an unpowered 4 port hub to connect a mouse and an external hard drive (AC powered) to your PC Stick. However, you might want to go for a powered USB hub in case you wish to hook up heavy duty devices such as an external HDD that is USB powered.
An interesting thing to note here is that the Quantum Access Plus PC stick is fanless and consequently pretty quiet for regular use in your living rooms or bedrooms as well. The device is designed with an internal heatsink that keeps the insides relatively cool even after hours of operations. While the stick might get a little warm when running heavy applications or videos of 1080p, it never really gets too hot to cause any damage to the internal circuits.
You can directly plug the Quantum Access Plus PC stick to your display unit (TV or monitor) via its HDMI port. Since most TV sets nowadays feature the HDMI input positioned for sideward connection, you can easily install your Quantum Access Plus PC stick without worrying about any space interference.

Azulle Quantum Access Plus Specifications
For a fairly reasonable $139.99, the Quantum Access Plus PC Stick boasts of an impressive configuration  with highly convenient and workable specs including a 64-bit Intel Quad Core Cherry Trail Processor, a 2GB DDR3L RAM, a 32GB internal Storage and  Gen 7 Intel HD Graphics as well. It runs a 64 Bit version of the Windows 10 and features an amazing Ethernet Port that offers a relatively faster and more reliable alterative to your traditional Wi-Fi. In addition to its downright incredible specs, the Quantum Access Plus PC stick offers an impressive measure of quiet and comfort considering the fact that it is fanless.
 
Performance
The Windows 10 boot up occurs pretty smoothly and your desktop is ready within no time. While the Azulle Quantum Access cannot serve as a comparable replacement to your full size desktop owing to the difference in speed, you can use it as a supplement on the go, for which it is no less than perfect. While the basic programs such as Microsoft Office work fairly well, you might want to refrain from loading excessively heavy applications such as intensive video or image editors that might end up loading relatively slowly in comparison. It is great for watching HD content on online websites such as Youtube, Hulu and Netflicks.

Should you buy it?
For individuals who are looking for a high performance and more user friendly alternative to Xbox One and Apple TV, the Quantum Access PC Stick offers the ultimate luxury of watching internet videos and content seamlessly on their television sets. And that's not all. The Quantum Access PC Stick offers you the ultimate Windows 10 experience for a fraction of the cost of your regular desktop, which is more than enough reason for you to check it out. You can purchase it here.