The Cinder Precision Grill ($500) is a counter-top grill designed primarily for perfect, evenly-cooked, precise-temperature meat. Somewhat like a sous vide device, the Bluetooth-connected Cinder lets you dial in an exact cooking temperature using 2 non-stick plates that heat to a perfect temperature. Additionally, you can sear your meat after it's cooked. Currently and IndieGoGo campaign, the Cinder Precision Grill is selling like gang-busters.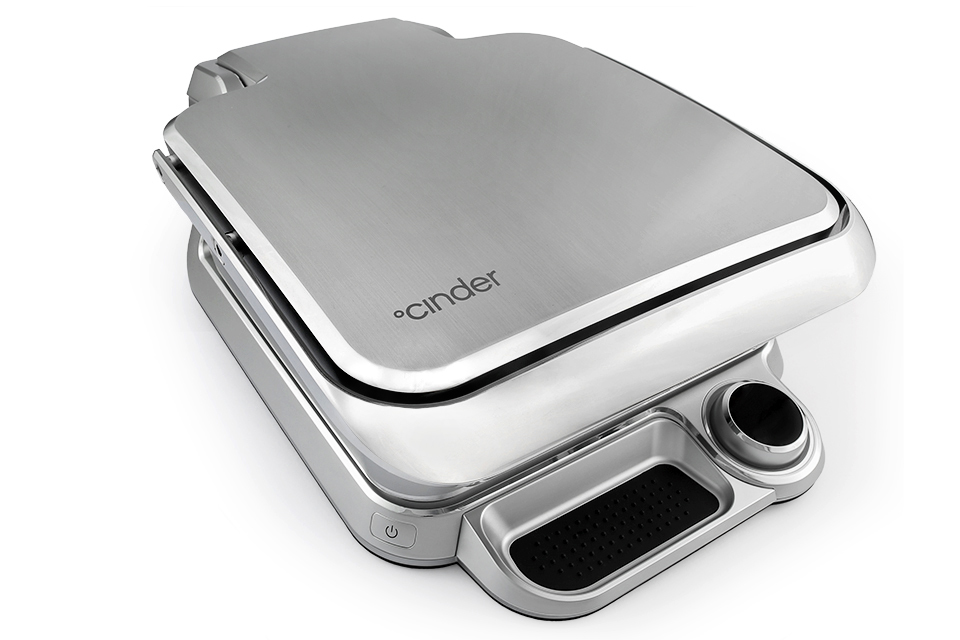 Cinder Precision Grill Design & Features
The Cinder Precision Grill has a fairly small footprint, so it doesn't take up a ton of space, and the heavy lid will make sure your meat is cooking at full capacity. Resembling sort of a panini press, the Cinder Precision Grill measures 13″ x 17″ x 7″, and on the inside, their are 2 removable ceramic-coated aluminum plates. The lid adjusts to the thickness of the food that you put between the two plates. A grease tray surrounds the bottom plate and leads to a drip tray built into the Cinder's base.
The large knob at the bottom front of the base essentially represents the control panel. You use this knob to manually adjust the temperature, but you can also control the temp with the Cinder's app. The Cinder's plates are easy to remove and clean by hand, but they're not dishwasher-safe.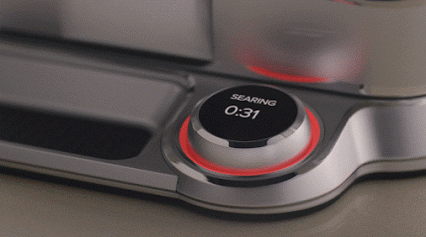 Cinder Function
The Cinder is easy to set up and use. After the app is downloaded, you simply turn on the machine and pair the two via Bluetooth. You can now use the app to set your cooking temperature. The food guide makes it easier, allowing you to choose from a list of meats, fish and vegetables, select how you want that item cooked and send the correct temperature from the app to the Cinder. You can also select from the app if the food you are cooking is frozen. If selected, the Cinder will add a longer cooking time.
Sensors inside the grill measure the thickness of your dish to figure out how long it will take to cook it, and the app gives you an estimate of when it will be done. The app has several food items to select from, and more is expected to be added by the company, but clearly the Cinder's sweet spot is meat. During our test, we cooked several cuts of meat, and the Cinder performed as promised. We even cranked the Cinder up to sear, and once again….flawless. The finished product never tasted overcooked.
Bottom Line
The Cinder is awesome at cooking meat, and doesn't do a have bad job with other foods like paninis, grilled cheese, fish, chicken and even vegetables. This countertop grill, while a tad pricey, is a wonderful addition to your kitchen appliance arsenal.  If you want high-quality cooking, get the Cinder Precision Grill.  You can purchase it Click Here.