The GoDuo Speakers by KNZ Technology are portable, water-resistant (IPX5-certified) wireless speakers that bring you killer bass and rich stereo sound in a tiny package. Based in Atlanta, KNZ just unveiled this unit, and it's not your run-of-the-mill portable speakers. Even though the GoDuo Speakers look like one unit, they're not. They're connected using magnets and adaptive wireless stereo technology to provide flexibility and superior sound.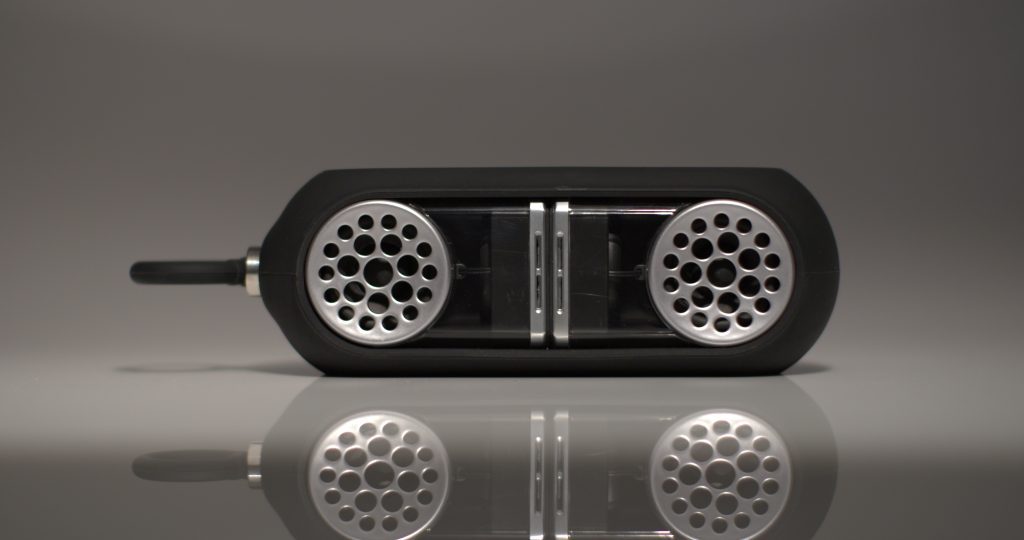 GoDuo Speakers Design
The GoDuos are independently positionable, magnetic and versatile….meaning they can be pulled apart from their magnetic attachment and used independently. They feature a unique 4-in-1 design, so they can be bundled together and sealed in the splash-proof silicon soft cover (available in black, gray and red), or positioned separately and utilized as desk speakers.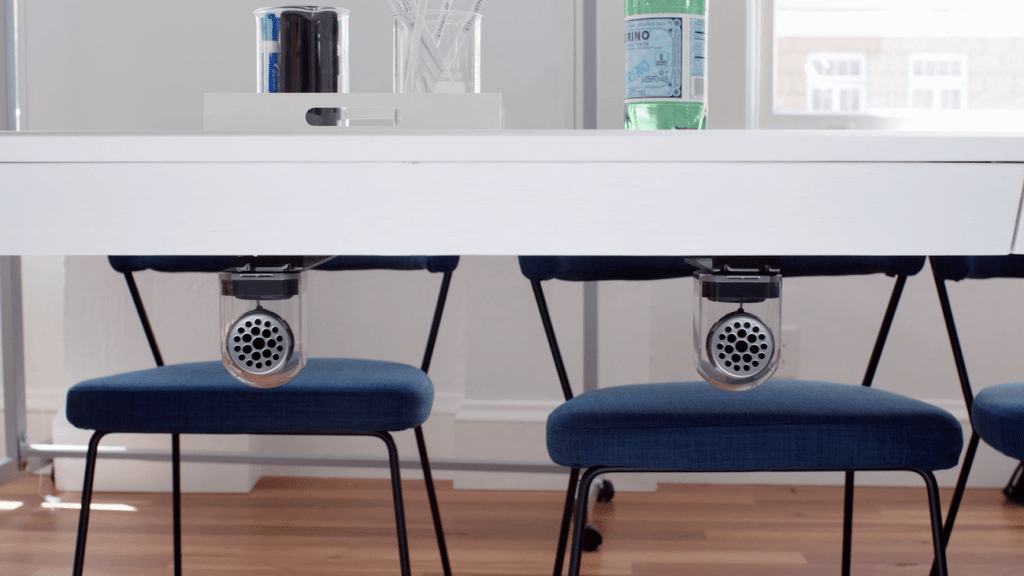 GoDuo Features
The GoDuo Speakers feature a Bluetooth range of up to 10 meters, and blow out 5 watts of output from each speaker. They are lound, but crisp and clear. They also have a built-in subwoofer to enhance the bass and deliver rich accurate thumps, almost defying the laws of physics due to the GoDuo's small size.
The speakers themselves were tuned by the former Director of Acoustic Engineering of Philips. And while they're wireless, each speaker has a headphone jack that allows quick wired hookup to your portable device without pairing via Bluetooth.
As mentioned, these speakers can work independently. Pull them apart, and use one by itself for true portability. When they are reattached using the magnet, they intuitively know to sync together to offer killer stereo sound.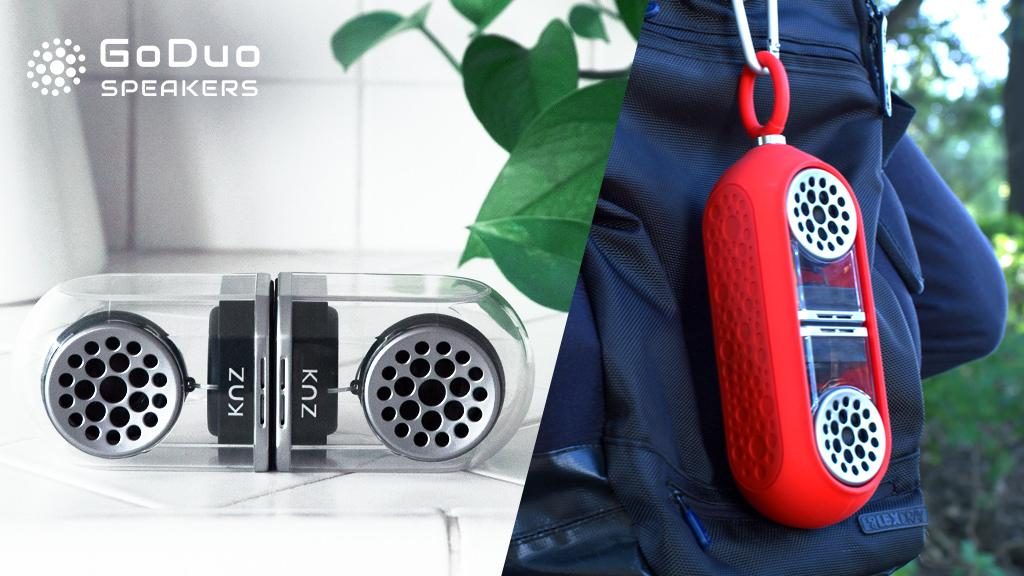 GoDuo Usage & Testing
The GODuo Speakers can fit conveniently in a bicycle's water bottle holder, fastened to a backpack with a caribiner, or can be carried using the attached hanging ring on the rubber sleeve. And because they're magnetized on each end, you can place each speaker on anything else metal like a refrigerator or a metal desk drawer.
The two drivers on the GoDuo Speakers sound incredible, almost rivaling a Bose system or a Q Acoustics floor model, but for a mere fraction of the price. The bass driver is a bonus, and adds a new dimension to its sound….full, rich…like a concert hall. The drivers are full range, so there's no issue with the frequency range that it can be played in, and the drivers perform quite well with the sound clarity, especially at lower volumes. As the volume starts to get higher, there is honestly no distortion. Did we mention that these things are loud? The GoDuo Speakers could literally be your sole sonic system during a house party.
When testing in the open/outdoors, the GoDuo Speakers performed outstandingly. It sounds clear from a fair distance. Even the mid-tones are clear and way above average. Trebles are crisp, and at a high volume, almost shake your teeth out.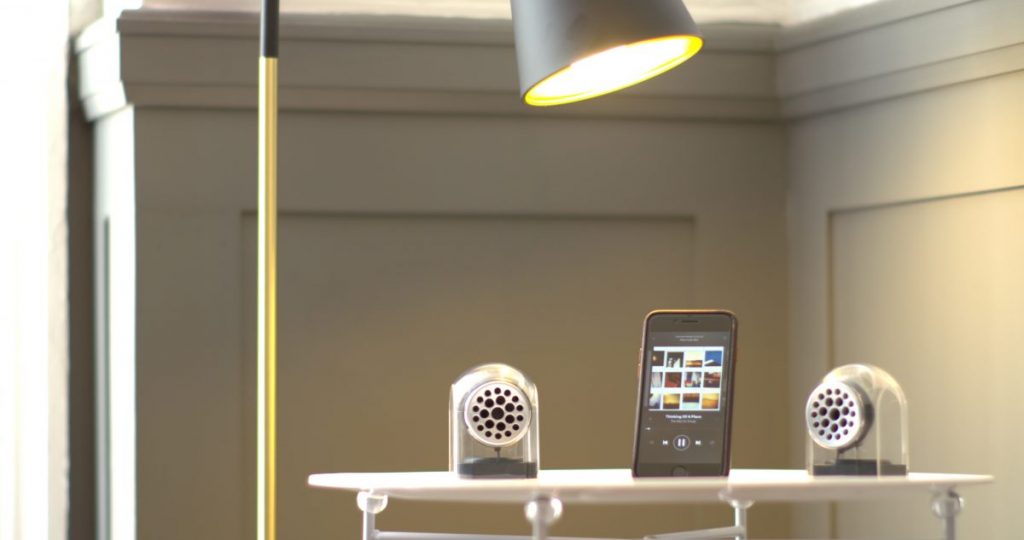 Bottom Line, Availability & Video
The KNZ GoDuo Speakers are a marvel. For right around $100, you can get a portable, versatile and super sounding sound system that you can leave stationary in your home or office, or take with you without any bulk. The built in technology that allows you to magnetically snap together and automatically sync the two drivers makes for a device that's completely unique. You can purchase the KNZ GoDuo Speakers for $109 here, or view there Kickstarter page here.
Watch the demonstration video below to learn more about the GoDuo Magnetic Wireless Speakers which have taken to Kickstarter this week and have already raised their required pledge goal with still weeks remaining on the campaign.