By Merilee Kern, 'The Luxe List' Executive Editor
After a long and chilly winter that lingered longer than many would prefer, summer is finally in full effect.  Amid this seasonal shift it's time to stock up on some gear that'll let you get the most out of the season and even overcome some ubiquitous aggravations.  I've found a number of Summer Solutions products in beauty, fashion, money management, healthy foodie and other lifestyle products that will help you in this regard, furthering your ability to just relax and enjoy throughout your summer journey.
Urban Mattress – The Perfect Loft Pillow (www.UrbanMattress.com) – $70
There might be no greater summer luxury than a good night's sleep, which you can help facilitate with The Perfect Loft Pillow from Urban Mattress. This impeccable pillow isn't too hard or too soft thanks to a combination of Tencel —a natural fiber made from the pulp of the eucalyptus tree—and recycled polyester. Together these create an airy and light-feeling pillow, and then the addition of shredded natural latex adds just the right amount of support. The result is a pillow with the perfect amount of loft. What's more, it's customizable as the zippered Tencel cover lets users adjust the amount of filling to their individual preferences.

Bel Essence Natural Intensive Anti-Aging Treatment (www.BelEssence.com) – $31.00
Speaking of summer skin care, we've all been taught how important good nutrition is for the body, but our skin benefits from good nutrition as well. Enter Bel Essence–a natural skin care collection but with a difference. Other skin care companies extract elements and chemicals from nature and recombine them to create their formulas.  Bel Essence only combines natural and organic oils, just as nature herself manufactures them, which provides the richest sources of vitamins, antioxidants and essential fatty acids—all essential components to heal and regenerate, to build healthy epidermis cells and achieve youthful-looking skin. Giving our skin these important elements topically, without added chemicals and colorings, allows it to naturally recover from environmental damage and the effects of aging and maintain its maximum health at any age. The natural oils contain vital nutrients to help your skin repair, rejuvenate and retain its youth and glow.
Tassi Hair Band (www.Tassi.com) – $ 9.99
Maintaining your skincare regime during the hot and sticky summer season is super important. But many women face a common problem as they wash their faces, care for their skin and apply or remove their makeup—that is how to keep their hair out of the way. The Tassi hair band is a nice solution to this pervasive problem. This patented product makes it easy for you to keep your hair away from your face. Made of a comfortable stretch terry cloth, it goes on in three easy steps to gently lift and hold your hair out of the way. Easy-to-use for any hair length or style, Tassi does not flatten, twist or mess up your hair and is great for protecting blowouts. Use it while washing your face, taking a bath, applying or removing makeup or whenever you need your hair out of the way. To clean, just toss in the washing machine and dryer and it'll be ready to wear again and again.

Ozone Socks (www.OzoneSocks.com) – Starting at $9.50
Ozone designer socks most certainly aren't your typical sock brand, as this company effectively merges fashion and fun. The sock styles from this company are suited for every occasion, and the line includes fashion socks, club socks, novelty socks and even silly socks. The company is passionate about its products, never sacrificing on quality. Their eclectic styles have been seen in some of the industry's leading fashion magazines over the past decade, helping set benchmarks for what's cool and hip in footwear. With fresh and innovative concepts, the list of Ozone offerings is impressive and includes shoe socks, safe sox, hemp socks, radionic socks, tattoo socks, motorcycle socks, the replacement sock, and more.
'The Millionaire Blueprint—Unrevealed Secrets of a Millionaire Mind' CD Series (www.WesleyVirgin.com) – $99
For those prosperity and personal finance-minded people out there who are working tirelessly toward financial freedom, perhaps a new and fresh mindset will help achieve those goals. Consider this CD series from self-made millionaire Wesley Virgin, which offers techniques intended to transform your mindset and install new beliefs so your goals and desires can be achieved faster. This includes what established millionaires and billionaires do on a monthly basis to "keep the money train moving in their favor," resetting your relationship with money that that of a wealthy person (despite what's currently in your bank account), eliminating "wealth destroyers," the value of having a "millionaire mentor" in your life (and how to attract one), how to utilize body language to your favor, gaining the confidence and assurance needed to realize high-caliber success in a relatively short timeframe and how to push past your comfort zone to see and capitalize on new opportunities, among other tips and techniques. Since much in this video series promotes the power of positive thinking and taking control of one's own destiny, in tandem with techniques taken from real millionaires and billionaires, with this CD series you could very well listen, learn and laugh all the way to the bank.
Wallet and Clip System (www.DaveRamsey.com) – $39.99
Let's face it: the summer months can be expensive. From keeping up with seasonal styles to entertaining friends and family with greater frequency to vacation travels, the seasonal expenses can really stack up. So the Wallet and Clip system is an effective and decidedly stylish way to take control of your money and keep your accessory game on point. Inspired by financial expert Rachel Cruze, it's a fresh update on the popular cash envelope system. Sophisticated and practical and with a high-quality look and feel, this fashionable wallet will help you set boundaries for your money and help you spend smartly. It includes five colored clips to help you control your expenditures, five separate compartments to hold your cash and clip system. There's plenty of room for your license, debit card and gift cards. Stylish and practical, this is a great wallet for your busy life. This attractive leather accessory is available in either tan or black so it's sure to match pretty much everything.
UrLife Mini-Movies (www.urlifemedia.com) – Starting at $295
Given forecasts that fully 2.53 billion people will own a smartphone by 2018, more and more vacationers will be capturing those precious vacation shots on these helpful handhelds. As easy and convenient as this is, essentially any and every moment of a vacation can be captured, sometimes resulting in hundreds of pictures and videos from a given trip. That's the upside. The downside is figuring out what exactly to do with all of those image assets. Enter UrLife, the brainchild of Jack Giarraputo—a prolific Hollywood producer of blockbuster films at Disney, Paramount, Sony, Fox and Warner Bros. Understanding that throngs of people have thousands of photos and videos on their phones, but often have no idea how to parse out the important ones and effectively share those key memories with family and friends, Giarraputo set out to solve this problem Hollywood-style. So he also enlisted Ryan Hegenberger, who has created campaigns for some of the most profitable films in Hollywood history. His movie trailers for major Hollywood studios have helped to generate over $15 billion in worldwide box office. And so UrLife was born. With the UrLife website and smartphone app, this A-list caliber service utilizes both pics and vids from a given trip or event, as well as a bit of background or contextual information that you provide, to make slick Hollywood-style mini-movies that are entirely customized—complete with crafty storylines, graphics and professional voiceover—to ensure only the most desirable moments are included in spectacular, social media-sharable form. Most impressively, UrLife is not an automated robo service. Rather, it adds in real-life editors who understand the difference in "value" between a photo of your family in front of the Grand Canyon and a photo of your favorite book cover to personally handcraft the trailer, ensuring the result is top notch. In fact, UrLife's team is made up of highly skilled and experienced movie and television editors, voice artists and editors with Hollywood "flair". They'll curate the very best moments from your vacation or other special event and make certain they're presented in their best light so you can reminisce about the trip for years to come—and share across any social media platform.
Shaker & Spoon Cocktail Kit Subscription Service (www.ShakerandSpoon.com) – $40-50/mo.
Become a masterful home mixologist with Shaker & Spoon! The company offers a monthly subscription service that delivers the craft cocktail experience right to your home: think Blue Apron for cocktails! Each month you'll receive a box via Priority Mail containing three brand new, original recipes created by world-class bartenders, and enough ingredients like syrups, bitters, mixers and even garnishes for 12 cocktails (4 from each recipe). All you'll have to do is supply your favorite spirit to mix in. As well, an email is sent before each box arrives with suggestions for a libation that'll work well with the recipes as well as bar tools you should have on hand. When each box arrives via priority mail, you'll will have everything needed to take your cocktail game to the next level and be the life of the party.
Rebel Yell Bourbon (www.RebelYellBourbon.com) – Starting at $26.99
Speaking of tasty libations, those with a passion for well-made spirits and cocktails will certainly appreciate a bottle of Rebel Yell Bourbon. It'll add a smooth kick of flavor and a warm, cozy finish to your favorite mixed drinks. One recipe great for summer is "Mike's Rebel Yell Boozy Bourbon and Bacon Shake." Chef Mike Johnson, owner of the award-winning Sugarfire Smokehouse in St. Louis, curated this special boozy shake that's sure to leave your mouth watering for more. All you need to do to create this delicious shake is blend Rebel Yell Bourbon, ice cream, caramel drizzle and crumbled bacon. Garnish with whipped cream, more caramel drizzle, and a slice of peppered bacon. Then, watch the smiles ensue.
Artisan Drinkware from Uno Alla Volta (www.UnoAllaVolta.com) – Starting at $45.00
Bring a unique and decidedly gorgeous touch to your kitchen with artisan drinkware from Uno Alla Volta (which means "one at a time"). Entertain your guests in superb style with the handcrafted drinkware items they offer, like hand-painted wine glasses and hand-thrown mugs fashioned by the hearts and hands of skilled artisans. Because each item is individually created by hand, no two will ever be exactly alike. The line of Sealife Wine Glasses of Verona is a show-stopper. Available in various designs like a seahorse, red fish, mermaid, dolphin and turtle, this glassware is handmade in a third-generation workshop in Verona, Italy where ordinary glass is transformed into stunning works of art. Each large format wine glass measures 8.5 inches high and holds 20 ounces, and is certain to add whimsical beach-chic style and an artful element to your wine bar. For hot beverages, the company's hand-thrown stoneware Nautical Mermaid Mug is another gorgeous ocean-oriented option, and the masculine Mustache Mug is certainly a great fit for guys. Artisan JoAnn hand-throws each stoneware mug on a wheel, adds hand-cut details and a handle, and then fires, glazes and fires each one again—all from within her Pocono Mountains studio.
Ninja Coffee Bar System (www.NinjaKitchen.com) – $199.00
The Ninja Coffee Bar System will bring out the Barista in anyone. Far more than a coffee maker, this able appliance facilitates a coffee house experience in the comfort of your own kitchen. It comes complete with integrated frother, six brew sizes and five brew types, including the Ninja exclusive Café Forte that amplifies and enhances the natural subtle flavors of your favorite coffee. You can make a full carafe for visitors or different individual specialty drinks for yourself every day. The Ninja Coffee Bar System provides endless options for delicious, custom-crafted coffee beverages all without leaving home.
Alumbre Coffee (www.AlumbreCoffee.com) – $12.50 – $22.00
Another great coffee find for connoisseurs—the bean itself—is from Alumbre Coffee—an exquisitely hand-crafted coffee line hailing from the legendary coffee fields of Costa Rica, Colombia, Sumatra and Ethiopia. Alumbre, named for the river that flows west facing the hills of the Tarrazu region of Costa Rica, is long revered as home to some of the finest coffee farms in the world. With hand-picked coffee beans from heritage growing regions, Alumbre roastmasters expertly coax the most alluring flavor notes to create five ultra-premium coffees. By wholly controlling the process from seed to cup to proffer a luxurious and authentically rich coffee experience, Alumbre Coffee stands apart from other brands. This new exclusive coffee can only be found on the Alumbre website.
BANANA WAVE Bananamilk (www.bananawave.com) – $11.98 per 2-pack
Move over almond, soy, coconut and other non-dairy milk alternatives….there's a new and decidedly tasty milk substitute in the supermarket aisle:  BANANA WAVE bananamilk. This natural, plant-based, non-dairy beverage is perfect for those people who dislike—or are just bored—with the standard milk alternatives on the market. It's also a particularly excellent choice for anyone who cannot drink, or simply doesn't like, non-dairy milks derived from nuts or for anyone looking for a delicious drink that's purely vegetarian and vegan.  This nutrient powerhouse is created with nature's superfoods: fruit, grains and seeds. Each 8-ounce antioxidant and fiber-rich serving contains 330 milligrams of potassium (as much one small banana) as well as 29 vitamins and minerals and 1200 milligrams of heart-healthy Omega-3s. What's more, BANANA WAVE bananamilk is gluten-free, certified GMO-free by Greenleaf Non-GMO, and Kosher. It's also no surprise that there are no artificial flavors, colors or preservatives. It's smooth, creamy texture and naturally sweet flavor is derived from an ancient multi-generational African recipe ultimately passed down to the brand founder, Neter Alkebulan, by his own Grandmother. It's delightful and refreshing on its own as a snack or meal replacement, and also great in smoothies, on cereal and as a secret ingredient in cooking and baking.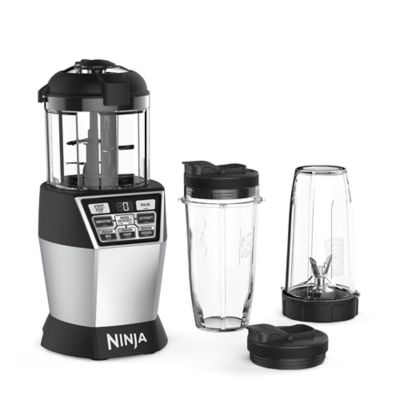 Nutri Ninja Nutri Bowl DUO (www.NinjaKitchen.com) – $129.00
Here's a fab find for fitness-minded folks. With one base and two interchangeable vessels, the 1200-watt Nutri Ninja Nutri Bowl DUO device easily switches from a powerful nutrient and vitamin extractor to a versatile nutrient fusion processor. The nutrient extraction feature unlocks existing hidden vitamins, minerals and other healthy components by blending whole fruits and vegetables, including portions that are normally discarded, and breaking them down to create an array of delicious, nutrient-rich juices and smoothies. The nutrient fusion function creates a blend from foods that contain nutrients like fruits, vegetables and other victuals, transforming diverse, fresh ingredients into flavorful meals, snacks and desserts.
BELLA 2.5L Air Fryer (www.BellaHousewares.com) – $99.99
Here's a way everyone can enjoy "healthier" fried foods pretty much anywhere, prepared with little to no oil and in a fraction of the time. Whatever you can deep fry, you can air fry with the BELLA 2.5 Air Fryer and save the fat and calories! It's not just healthier, but also safer, like having a portable convection-type oven at your fingertips. This high-performance system heats food by circulating hot air around it, while the stainless-steel heating element allows for faster heat up (and recovery) resulting in quick and even cooking every time. It's an efficient and easy-to-use deep fryer alternative, allowing you to indulge in all your favorite fried foods without cheating on your diet.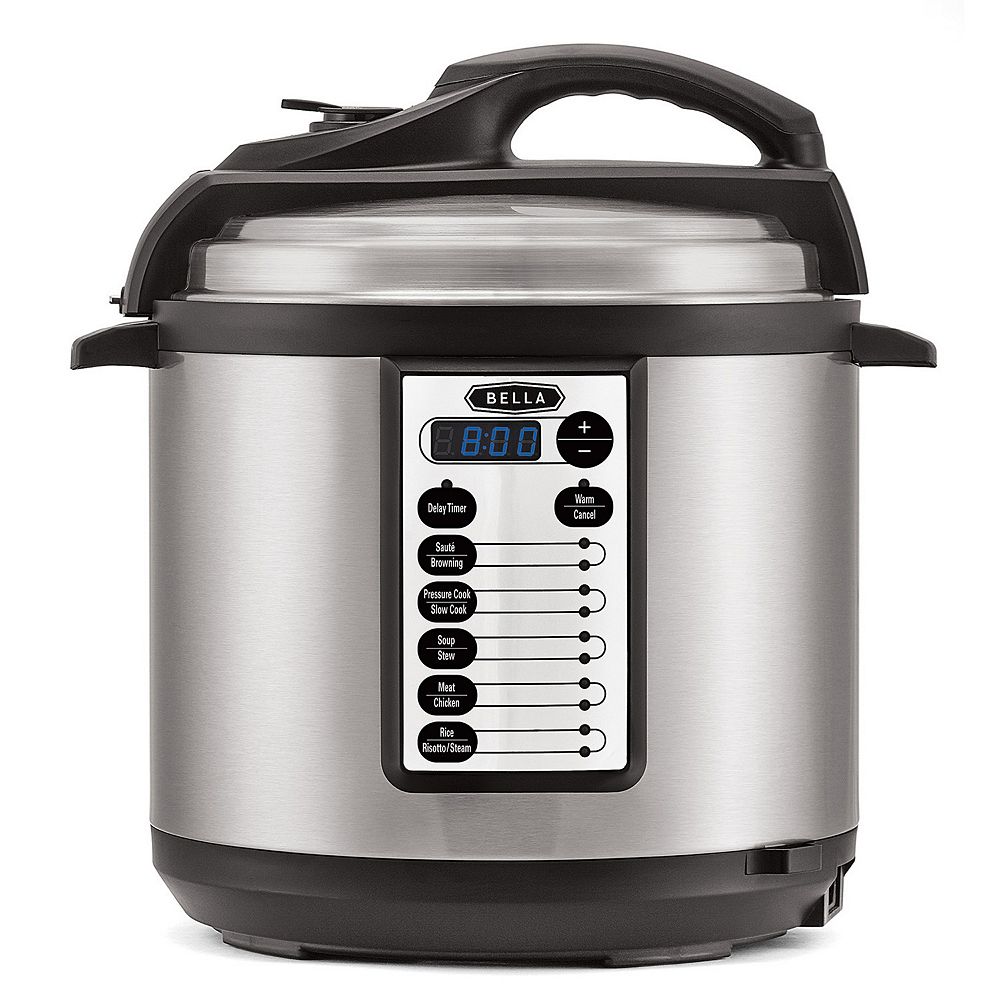 BELLA 6QT Pressure Cooker (www.BellaHousewares.com) – $79.99
Always pressed for time? Have a family dinner ready fast with this 6-quart electric pressure cooker also from BELLA. Life's full of daily pressures and stress, so let this appliance take on the task of helping you prepare a quick and delicious meal for the family or for a get-together with friends. This versatile model comes with 10 pre-programmed functions including sauté, slow cook, stew and steam. It cooks up to 70% faster than conventional cooking and its removable non-stick cooking pot and accessories are dishwasher safe, so clean up is a breeze. Whether you're whipping up a gourmet meal or looking for good old-fashioned comfort food, the BELLA 6QT Pressure Cooker can make dinnertime a no-brainer.
Shark Genius Hard Floor Cleaning System (www.SharkClean.com) – $99.00
Yes cool cleaning tools are a hot summer item! Especially since cleaning kitchen and dining room floors in particular can be a huge hassle. These areas receive high traffic and are summer entertainment hubs, and often become messy even after a single cooking session. As so many people today have busy schedules, finding time to thoroughly clean the space can be futile and frustrating. Fortunately, the power of smarter cleaning can be at your fingertips with the Shark Genius Hard Floor Cleaning System. An evolution in hard floor care, this system offers a flexible, tailored, all-in-one solution that delivers easy and convenient cleaning.  Direct steam channeling distributes steam over the surface of the pocket, creating an ultra-wide cleaning zone for loosening dirt and grime. Steam blaster technology also targets annoyances like stains, stuck-on food, pet messes, grease and even scuff marks on command. And, since nobody likes changing a dirty, soaked pad during or after mopping, this touch-free technology ensures you'll never have to. This is a great way to harness the power of steam to clean and sanitize your sealed hard floors with no harsh chemicals, and no residue to boot. It even removes up to 99.9% of common household bacteria.
Cleancult Non Toxic Laundry Pods (www.CleanCult.com) – $12.95
This season you can keep those sweaty shirts, summer frocks and beach towels clean and fresh, but in a way that's eco-conscious to boot. Cleancult Non Toxic Laundry Pods are a "green" laundry detergent that actually works. Free of harmful chemicals found in traditional laundry detergents, these are great for those with sensitive skin and are a convenient and easy-to-use choice for busy families. Every pouch has 18 powerful laundry pods that you can throw straight in the wash. You don't have to worry about overdosing or any spillage.  Order online and have Cleancult delivered right to your door. The company is doing its part to make green brands sexy, effective and convenient! These pods are a perfect way to wash clothes, sheets and towels in a way that you can feel clean without chemicals.
As the Executive Editor and Producer of "The Luxe List,"
Merilee Kern is an internationally-regarded consumer product trends expert and hospitality industry voice of authority–a travel, dining, leisure and lifestyle expert who spotlights noteworthy marketplace innovations, change makers, movers and shakers. She identifies and reports on exemplary travel destinations and experiences, extraordinary events and newsworthy products and services across all categories. Reach her online at www.TheLuxeList.com, on Twitter at www.Twitter.com/LuxeListEditor, on Facebook at www.Facebook.com/TheLuxeList and on Instagram at www.Instagram.com/LuxeListReviews.
***Some or all of the accommodations(s), experience(s), item(s) and/or service(s) detailed above may have been provided or sponsored at no cost to accommodate this review, but all opinions expressed are entirely those of Merilee Kern and have not been influenced in any way.***
To comment on this article and other GadgetGram content, visit our Facebook page, or our Twitter and Instagram feeds.