Two new products have just been announced by Batteroo: the ReBoost SmartSleeve and ReBoost SmartShell. These two new products, for the first time, enable rechargeable batteries to not only be compatible in alkaline-only devices but also allow for more consistent battery lifecycles with every charge.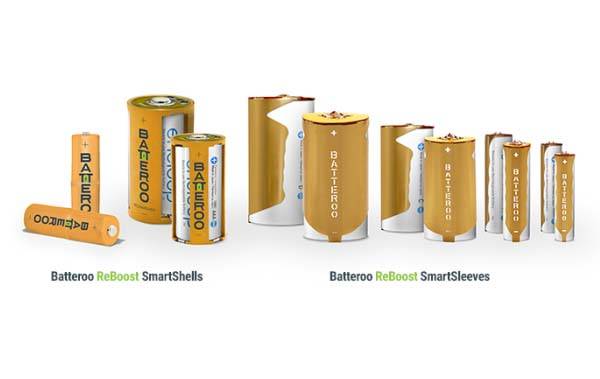 Environmentally, electronics users will have to purchase fewer batteries, and the result of that alone will greatly reduce the staggering amount of batteries that end up in landfills.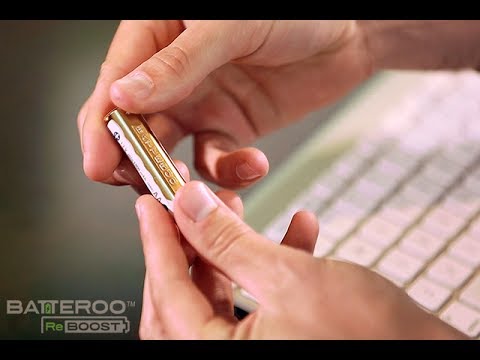 Check out the Batteroo Press Release
Batteroo Brings Revolutionary Technology to theRechargeable Battery Market with Batteroo ReBoost
Cost-effective solution allows AAA/AA/C/D rechargeable batteries to be used safely in alkaline-only devices for the first time
SUNNYVALE, Calif. August 7, 2017 – Batteroo Inc., makers of the Batteroo Boost sleeve that extends the usable life of disposable batteries, today introduced two new products in a family of revolutionary technology solutions that enables rechargeable batteries to not only be compatible in alkaline-only devices for the first time but also delivers more consistent battery lifecycles with every charge – the Batteroo ReBoost SmartSleeve and Batteroo ReBoost SmartShell.
Compared to the cost from local utility providers, alkaline batteries are an extremely expensive source of energy.  This expense is significantly compounded when accounting for the fact that billions of batteries that end up in landfills still contain 80 percent of their energy within them.  While rechargeable batteries are 700 times more cost effective than alkaline batteries, the risks of using rechargeables in devices designed for alkaline batteries limits users' abilities as to where they can deploy them.
ReBoost SmartSleeve is a microthin sleeve that easily fits over rechargeable batteries to bring together the reusability and sustainability benefits of rechargeables with the peak performance capability of alkaline batteries.  The ReBoost SmartSleeve boosts voltage to 1.5 volts so rechargeable batteries can now operate in all alkaline-only applications.  Batteroo's microchip technology continuously manages voltage discharge over the duration of the battery's charge to ensure devices maintain an optimal and more consistent performance over a longer time period.  A built-in automatic shut-off circuit prevents devices from discharging below the rechargeable batteries' recommended operating conditions to avoid damage to the rechargeable battery itself and eliminate the risk of toxic chemical leaks, which may lead to fire.
Batteroo ReBoost SmartShell allows consumers to use AA/AAA rechargeable batteries in C/D alkaline-only devices, eliminating the need to buy expensive single-use batteries again.  Four AAA rechargeable batteries can be used in place of C batteries while D batteries can be replaced by three AA rechargeables.  Additionally, the AA SmartShell can be used with a single AAA rechargeable battery to achieve optimal performance and device compatibility in tight-fitting battery compartments.  Using Batteroo ReBoost SmartShells not only save money and waste from buying disposable batteries but devices are better able to maintain optimal performance over a longer period of time.
"Imagine if your rechargeable batteries could work with every device you use at work and home," said Batteroo cofounder Bob Roohparvar Ph.D. "Batteroo ReBoost SmartSleeves and SmartShells are a safe, cost-effective solution that gives rechargeable batteries the boost they need so your flashlights can shine brighter, your cameras can capture more memories and playtime with the kids lasts longer.  By using rechargeable batteries in conjunction with the Batteroo ReBoost family, consumers will spend far less on their battery purchases while significantly reducing the number of batteries that end up in landfills."
Batteroo Corporation – winner of a Frost & Sullivan Award for Price/Performance Value Leadership – developed Batteroo Boost, its original battery voltage management technology, to harness the trapped but unused power of common household batteries and extend their functional life. Batteries often 'read' as depleted, or exhibit slow performance, even though as much as 80 percent of their power is left. By extending battery life, Batteroo Boost has saved millions of batteries from ending up in landfills.
From electronic accordions to remote controls, consumers around the world have experienced improved performance and extended battery life with Batteroo Boost.  Batteroo ReBoost now bring this revolution technology to the rechargeable battery market, further providing peak device performance for longer with less-frequent interruptions and fewer wasted batteries.
Additional information about the revolutionary Batteroo ReBoost family line, including how to purchase SmartSleeves and/or SmartShells, is available at https://www.batterooreboost.com.  Five-hundred early-bird special bundles are available on a first-come, first-serve basis in addition to packages of various configurations that save purchasers anywhere from $5 to $550 off retail value.
About Batteroo
Batteroo Corporation is an innovator of intelligent voltage management and delivery systems. Its Batteroo is a sleeve that makes contact with the positive and negative ends of a common battery to access untapped remaining energy at a steady-state system voltage. Batteroo has been tested and proven to extend the life of disposable alkaline batteries on a variety of battery-operated home and office gadgets, saving consumers money and saving landfills from toxic battery waste that results in soil contamination and a laundry list of negative environmental impacts. The company was cofounded by Bob Roohparvar Ph.D., who holds more than 20 patents in his 30-year career in power management, semiconductors, and consumer products, and Frankie Roohparvar, who holds more than 500 patents. For more information visit www.Batteroo.com.
To comment on this article and other GadgetGram content, visit our Facebook page, or our Twitter and Instagram feeds.