There's certainly no shortage of audio options on the market these days, especially wireless options. More importantly, the higher-end premium speakers are making their resurgence. The superior sound quality and increased connectivity offer the user many reasons to spring for these type of speakers because they're suited for any room: an office, a bedroom, a living room…you get the picture. For those who want the convenience of wireless speakers without giving up superior sound, check out the baddest bookshelves we've seen to date, the Aperion Audio Allaire Bluetooth speakers ($400).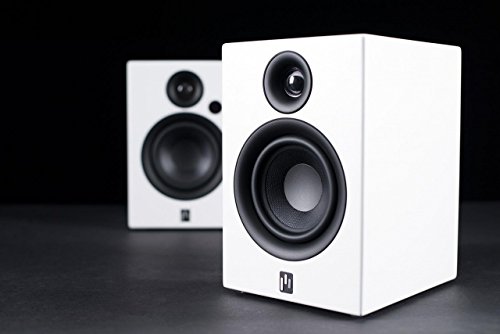 Allaire Features
Complete with connection cables and speaker wire, the Allaire's also include a slick little silver aluminum remote, which can operate every function of the speaker duo including source selection, volume, mute, power and Bluetooth pairing,. The speakers themselves exude a smooth semi-gloss finish. In short, the Allaire's are gorgeous and include rounded edges and premium magnetic grills.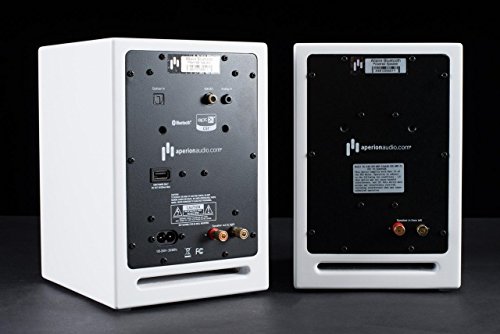 On the back of the left speaker, you'll find the system's in and out ports including a a USB charging port, and optical port, a 3.5mm analog Aux input, and even a subwoofer output.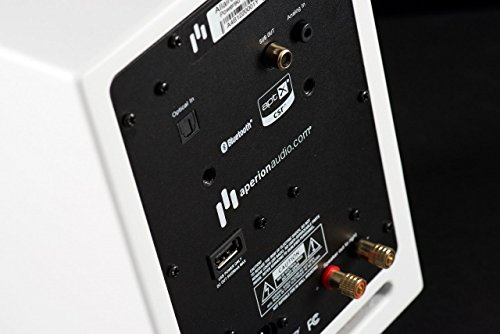 Available in black and white, the Aperion Allaire speakers pack a punch and take no time to set up. Additionally, they're very compact, measuring in at 8.5 x 6 x 7.5, which make them very efficiently-sized bookshelf speakers. Driver-wise, they include a ¾-inch soft dome tweeter, a 4.5-inch woofer housed in a bass reflex MDF enclosure, and the pair boasts an impressively wide 60Hz-25kHz frequency range. The Allaire speakers are also powered by a class-D, 50 watt per channel amplifier, and wireless streaming is available via Bluetooth 4.0, with aptX protocol supported for CD-quality sound from compatible devices.
Performance
The Allaire speakers sound incredible. In fact, they sort of defy the laws of physics, banging out concert hall-quality sound in such a tiny package. They produce super crisp upper tones, very articulated mid ranges and a full thumping bass line. All ranges are kept in a tight and accurate balance.
While music sounds awesome, piping movies through the Allaire speakers proves even better. With any dolby-featured film, the Allaires offer brilliant performance. Dialog is very clear, and any gunshots or explosions are super enhanced by the clean and accurate treble and the huge 60 Hz bass. Of course you can further enhance your experience buy adding an additional subwoofer, thanks to the included subwoofer output port.
One thing that you lose with many Bluetooth-enabled speakers is full volume capability, but the Allaire speakers did not disappoint. When connected wireless via Bluetooth, the Allaire speakers for the most part kept both their performance and their volume levels.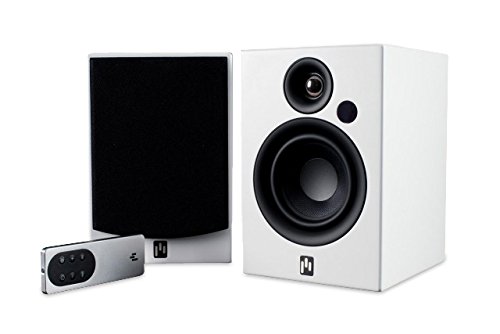 Bottom Line
Aperion's Allaire Bluetooth speakers offer the best of both worlds: Wireless capability and superior Hi-Fi. Besides being very compact speakers, their available connection options make them a great stand-alone audio source, a super supplemental audio source for your home theater, or even a great alternative to a sound bar.
Most importantly, though, the speakers sound fantastic, offering sound and balance that would make any audiophile's mouth water. Bottom line, they are a steal at $400, and are perhaps the best bookshelf speakers we've reviewed to date. Actually, Aperion Audio has them on sale for $349, and you can purchase them here.
To comment on this article and other GadgetGram content, visit our Facebook page, or our Twitterand Instagram feeds.