So most of us know about the latest Tesla announcements, the Roadster and their new Semi rig, which stands to change the transportation industry. Now the company is planning on a new Tesla pickup truck, which looks rather space-age, but super-powerful and slick.
There has been news about the Tesla pickup before, but it was assumed it would take the form of a full-size model, like the Chevy or the Ford. The sketch confirms it will be significantly bigger than the Ford F-150. In fact, the truck will be able to haul a F-150 in its cargo bed. The Tesla Pickup Truck looks so big that it's unlikely that it will compete with full-size pickups like the Silverado or the F-150.
"We created a pickup truck version of the Tesla semi. It's a pickup truck that can carry a pickup truck. By the way, you will actually be able to drive that with a normal driver's license," said company co-founder and CEO Elon Musk during the presentation. His comments suggest the concept isn't merely a wild design study sketched to gather applause during the event. It's real.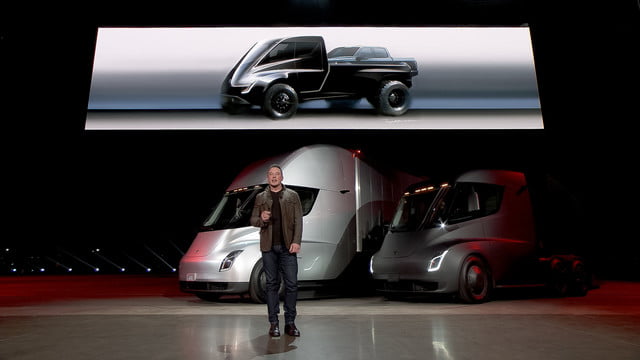 No details have been shared about what's under the hood and beyond, or it's range, performance and price, but judging by the sketches which Tesla released, it does bear a scary resemblance to Tesla's recently announced Semi.
Tesla definitely has a busy schedule over the course of the next 3 years. Currently, it's struggling to bring the Model 3, its first mass-market car, to market in sufficient numbers, and we know it's busily developing a crossover named Model Y that will slot below the Model X. Transforming the semi and the Roadster from concept cars to production models will take a tremendous amount of effort. With that in mind, don't expect the truck to make its debut for another 2-3 years.
Comment on this article and other GadgetGram content, visit our Facebook page, or our Twitterand Instagram feeds.