LG is keeping with their promise to release a collection of AI-powered devices at this January's CES event. The tech giant has unveiled a 2018 speaker lineup headlined by the ThinQ Speaker, a Google Assistant-powered device that will deliver high-end sound in addition to it's AI feature. The company also has plans to include a variety of other smart speakers to compliment the ThinQ headliner.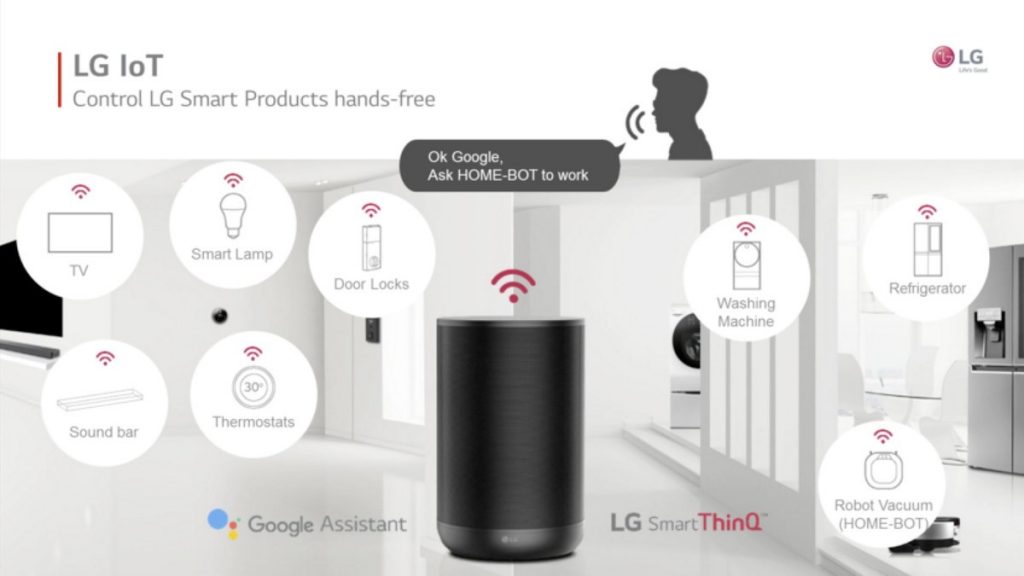 The ThinQ speaker supports lossless high-resolution audio like LG's more advanced phones, and also uses Meridian Audio to produce more warm and natural music. The launch of the ThinQ, along with some of the other impending LG product announcements, suggest that we could see the Google Assist feature included in some of LG's newer appliances. For example, LG envisions turning on your air purifier with a voice command.
The rest of the LG lineup is headlined by the LG SK10Y soundbar, a 5.1.2-channel companion to your TV with Chromecast support, lossless audio, Dolby Atmos processing and Meridian Height Elevation to put the sound at the level of the screen, providing extra clarity. There's also the PK-series Bluetooth speakers that use Meridian to produce powerful and undistorted bass, and party speakers that produce as much as 1,800W of power while supporting features like karaoke and DJ modes.
LG hasn't provided availability or other details for the ThinQ Speaker and the other devices, and we don't know for sure whether it's aimed at relatively low-cost speakers like the Sonos One or pricier models like Apple's upcoming HomePod. However, LG is definitely attempting to avoid directly competing with Google Home, Amazon Echo and other speakers where audio fidelity clearly isn't the top priority, but rather its Artificial Intelligence spec.
Comment on this article and other GadgetGram content by visiting our Facebook page, or our Twitter and Instagram feeds.