DJI just unveiled their latest drone, the DJI Mavic Air, and it's lighter, smaller and smarter than its most successful drone to date, the Mavice Pro. Both drones look very similar, but the Air outshines the Pro in several categories.
DJI Mavic Air Features
In several ways, the DJI Mavic Air is an off-shoot of the DJI Mavic Pro and the DJI Spark. The Air has the best features from each, resulting in a very sporty, sleek and smart drone that should interest many drone fans.
The DJI Mavic Air inherits many aspects of the Pro's build. Most notably, it features the Mavic line's signature hinged arm design that allows it to fold up for easy transport. However, thanks to some borrowed Spark characteristics, the Air is also considerably smaller and lighter than the original Mavic making it arguably the most portable drone in DJI's lineup to date. When packed, it's not much larger than a pack of smokes, which is amazing when you consider the features it has. The Air is arguably the most portable drone for the price.
Much like the Mavic Pro, the DJI Mavic Air also has a 4K camera capable of shooting 12 megapixel stills and UHD video. In addition to the same 1/ 2.3" CMOS image sensor, the Air has a redesigned gimbal for stabilization, much like the Spark.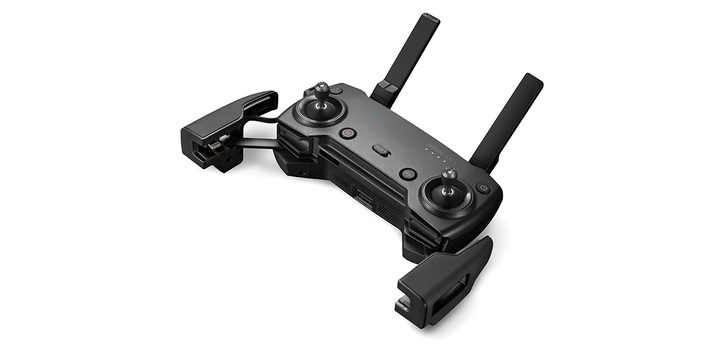 Additionally, the Air has superb a collapsible joystick controller, obstacle avoidance and supreme flight capabilities, also much like its ancestors. With the Air, though, you're not limited to smartphone-based piloting or gesture controls. You get physical sticks and dedicated antennas that can transmit video up to 2.5 miles.
The DJI Mavic Air also has some Spark similarities in terms of software, including DJI's standard suite of Quickshot flight modes (Helix, Circle, Dronie and Rocket), as well as a few new additions, like Boomerang, Asteroid and Spherical Panorama. Also present is DJI's new-and-improved Gesture mode and Active Track software, both of which are faster and more responsive than ever. Since these upgrades are software based, it's likely they'll be added to DJI's existing line as well.
Finally, there's the DJI Mavic Air's obstacle avoidance system, which seems more robust and more responsive than both the Mavic Pro and the Spark. The Air has a seven-sensor environmental sensing system, which not only allows it to see obstacles, but also intelligently avoids those obstacles with or without input from the pilot. This feature is usually only found in professional-level drones, and not one that's priced under $800 like the Air.
 
Performance
The Mavic Air is the product of DJI's years of drone manufacturing experience. As a result, the DJI Mavic Air has a very responsive flying experience that's great for beginners and pros. You'll be able to start flying the Air right out of the box, regardless of your flying experience.
The Air is every bit as quick and nimble as the Mavic Pro, despite being considerably smaller. It's also impressively stable for a drone of its size. Most smaller drones can't maintain a stationary hover very well. The Mavic Air can, even in windy conditions. You won't have to worry about it drifting or blowing away. Rather, it only goes where you tell it to go, which is one of the most important features a drone can possess.
The Air's obstacle avoidance system also isi a key feature, and DJI's new software uses the data gathered from these cameras to build a virtual map of the surrounding area, which allows the drone to steer clear of things that aren't currently above, below, or in front of it. This allows you to fly without worry, even if you're zipping through a thicket full of trees.
The DJI Mavic Air also has a full suite of DJI's intelligent flight modes. Most importantly, DJI's new-and-improved Active Track can now track multiple subjects simultaneously, while improved gesture recognition allows you to reposition the drone via gestures without any latency.
During our tests, we flew the Air around a bunch, and concluded that the DJI Mavic Air is awesome. It better performs than any of the other DJI lineup, including speed, maneuverability, range and most importantly, environmental awareness. All that, and it's still only $800.
The Mavic Air is also sturdy and tough, including a more recessed and protected gimbal. The controller is also really sturdy and well-built. It's essentially the same controller that comes with the Mavic Pro, but more portable, and without a built-in telemetry display. The Mavic Air's joysticks can be unscrewed and stowed inside the controller itself, giving it a lower profile, and making it easier to transport, including stuffing it in a bag.
Battery-wise th DJI Mavic Air doesn't disappoint. Despite its small size, the Mavic Air boasts impressively long average flight time. DJI's official specs say a fully-charged battery will get you a maximum of 21 minutes in the air, which is what we found. In fact, it achieved a little longer than 23 minutes in the air. In sport mode, you'll obviously get a little less flying time.
After you run out of battery, it'll take about 55 minutes on the charger to bring a battery up to 100%, which seems to be about on par for DJI's drone. DJI's snappy new charger dock, however, allows you to charge multiple batteries simultaneously.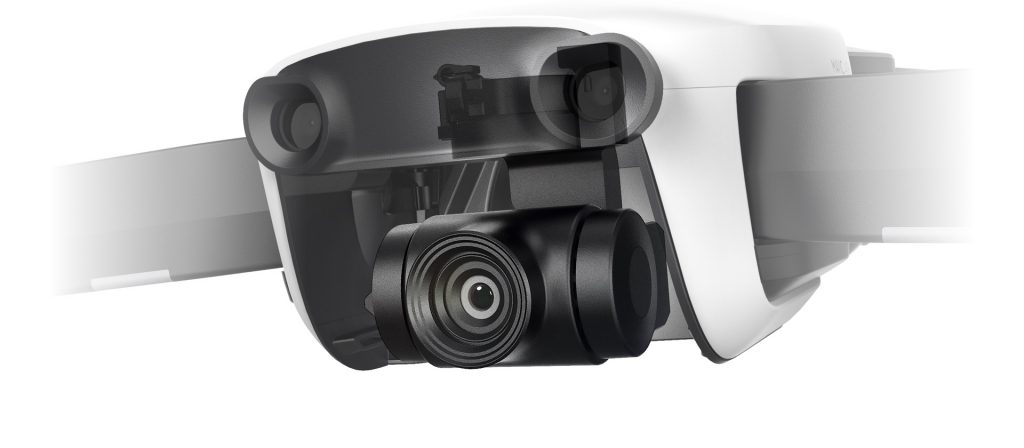 Camera
The camera on the DJI Mavic Air is nearly identical to that of the Mavic Pro, but it does have a few minor differences. Both drones carry the same 1/2.3" CMOS sensor, however the Air's ISO range is slightly lower than that of the Pro, which means it doesn't perform quite as well in low light.
The Mavic Air's maximum video resolution is 3,840 × 2,160 (4K UHD) at 30 FPS, while the Mavic Pro can squeeze out up to 4,096 × 2,160 (Cinematic 4K) at 30 FPS.
The real plus with the Macic Air is its gimbal. The Mavic Pro's fragile gimbal assembly is not ideal, but the Air has a newer, and better designed gimbal that's less prone to damage. This new gimbal also gives the Air's camera a slightly wider range of motion.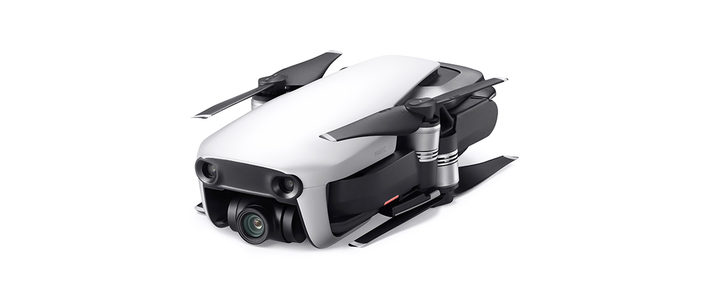 Bottom Line
The DJI Mavic Air might be DJI's best drone currently on the market. It has a 2.5 mile range, it comes with 8GB of onboard storage, it has an advanced obstacle avoidance system, it shoots in 4K, it has a dedicated controller, and it's very portable and compact.
The DJI Mavic Air comes in Arctic White, Onyx Black and Flame Red. You can purchase it here for $799.
Comment on this article and other GadgetGram content by visiting our Facebook page, or our Twitter and Instagram feeds.