Snapchat just unveiled their Spectacles V2 version, making some vast improvements to their predecessor sunglasses. The Spectacles V2 can take photos now, not just video. Additionally, they've done away with the yellow ring alerting people to the camera, and it's underwater-capable, comes in classier colors with lighter lenses, is available in a prescription option, has faster syncing, and is a much slimmer frame with an included charging case. The Spectacles V2 are selling for $150 here.
The new Spectacles V2 are pretty darn useful, convenient and super stylish. Essentially, they are a wearable camera for anyone. The are on sale now in the U.S., Canada, U.K. and France, then in 13 more European countries on May 3. The $150 V2s are $20 more than the old version and only available on Snap's app and site. V1 owners will get a firmware update that lets them take photos as well.
These new Spectacles V2 may take Snap out of their user slump, but what Snap doesn't need is a privacy scandal, and that risk is the trade-off it's making with its more discreet Spectacles design. They still display a little circle of white lights while recording, but with the permanent yellow ring on the corner removed, you might not notice there's a camera lens there.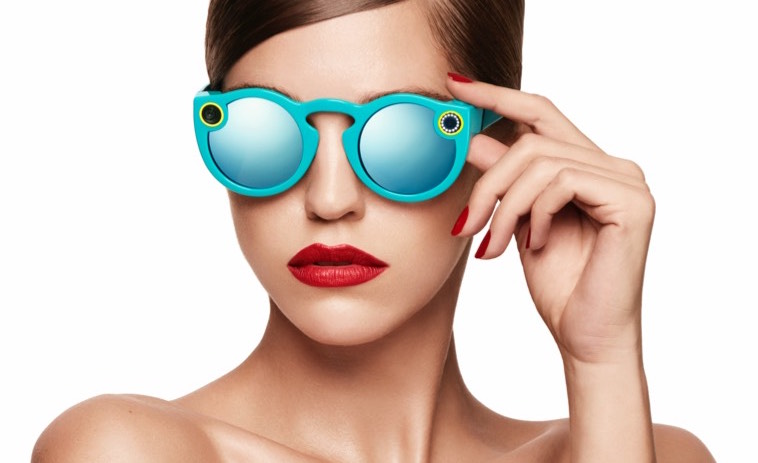 As soon as you open the box, you'll notice a higher build quality in Spectacles V2. The yellow case is about 1/3 smaller for easy carrying. The charging port has also been moved to the side so it doesn't fall out so easily. Even with the better hardware, Spectacles are supposed to have enough battery and memory to record and transfer 70 videos over a week on a normal charge, plus carry four extra charges in the case.
The Spectacles V2 are also sleeker with a less like chunky plastic material. They come in sapphire blue, ruby red and onyx black and you can choose between a more mirrored or natural lens color too. If you're in the U.S., you can order them with prescription lenses through Lensabl. More transparent lenses make them easier to use in lower light, so you won't be restricted to just the sunniest days, though they're still UVA and UVB rated.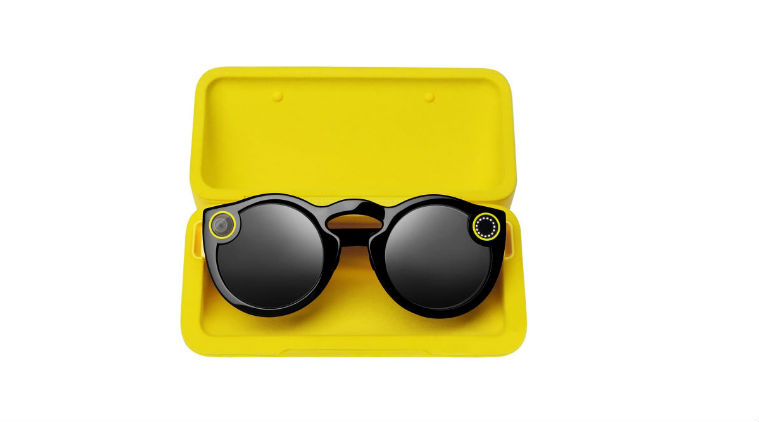 Additionally, an extra microphone helps Spectacles reduce wind noise and balance out conversations so you don't sound so loud, and it's easy to long-press for a photo or tap for a 10-second video, with extra taps extending the clip up to 30 seconds. Either fires up the light ring to let people know you're recording, but this is much more subtle than the permanent yellow ring that was there on V1. You can only add stickers and drawings after you shoot and export your Spectacles Snaps, so that means there's no adding augmented reality face filters or other designs to what you see first-person.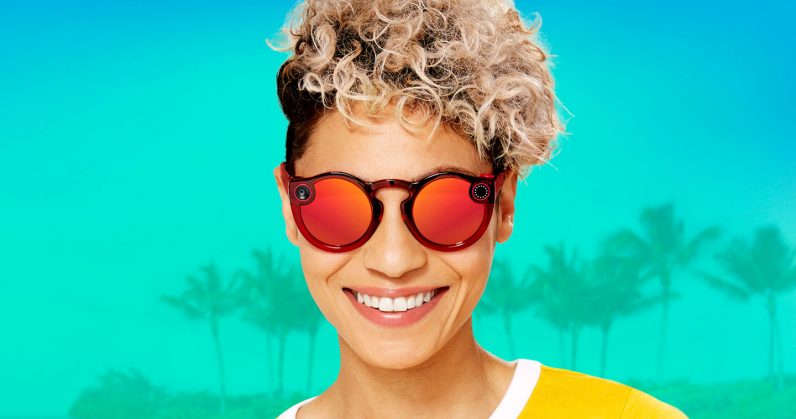 Snap Inc. actually reduced the field of vision for Spectacles from 115 to 105 degrees to cut off some of the fish-eye warping that happened to the edges of clips shot on V1. Videos now record in 1216 x 1216 pixels, while photos are 1642 x 1642. The Spectacles V2 can also record under water, although there is a limit to how deep you can go. No scuba diving with these things.
Syncing to your phone now just requires Bluetooth and a seven-second press of the shutter button, rather than a QR code scan. Exports upload in HD over the Spectacles V2 internal Wi-Fi now, and transfers go four times quicker than the old process that required you to sync standard definition versions of videos first, then pick your favorites, then download them in HD.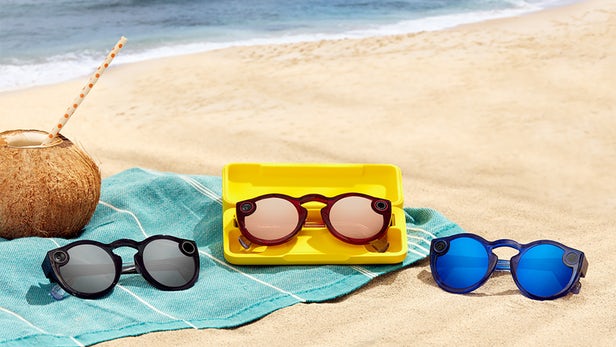 The downside is that you can only sync your Spectacles to Snapchat Memories first before exporting videos individually or as one big Story to your camera roll. That makes it troublesome to share them elsewhere.
Snap's Spectacles V2 could rekindle the interest of lapsed Snapchat users while producing unique points of view to entertain those who never left.
Comment on this article and other GadgetGram content by visiting our Facebook page, or our Twitter and Instagram feeds.