The latest Roland R-07 is a high-resolution audio recorder, with its sights pointed directly at the musician. Positioned as a workhorse device, the R-07 also has some pretty sophisticated features that are higher-level than your normal recorder.
Design
The Roland R-07 is slick. Available in red, black and white, the recorder is smaller than your wallet and is really nice looking. Ergonomically, all of the controls can be controlled with the thumb, and it fits really well in your hand. The rubberized back helps with slippage, vibration and reduces handling noise, and the lightweight and diminutive size allows you to fit it snugly in an instrument case or pocket.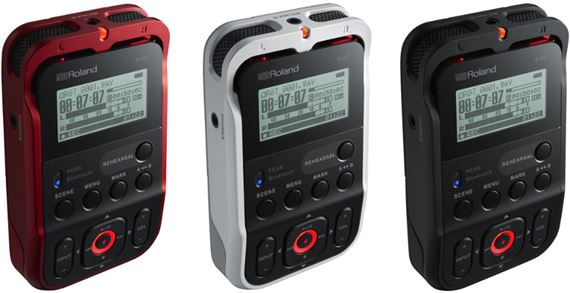 Performance
The R-07 rivals some of the high-end recorders, thanks to its versatility and performance.  For starters, it records sound with extreme precision and detail. Its super crisp sound is captured by the 2 built-in mics, although there's an input for an external mic if you need it.
Sound can be recorded as mono or stereo files up to 320 kbps. And this is when it gets interesting. The Roland R-07 offers a Dual Recording feature that makes simultaneous recordings in both WAV and MP3, so if there is clipping or the mics gets overburdened, you have both recordings to edit together.
Control-wise, touching the Rehearsal button brings you to 9 presets, referred to as "Scenes", which instantly can adjust the input levels, limiter, recording mode and sample rate. Some of the Scenes include Vocal Memo, Loud Practice, Vocal, Loud Practice and Music HiRes, and all of them can be customized to your linking and saved for later.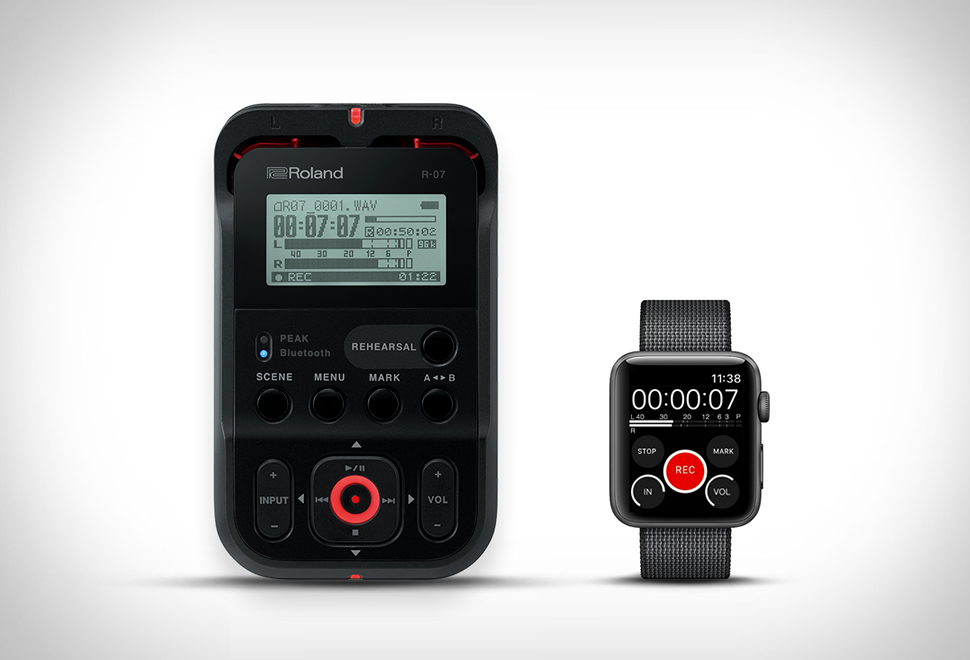 RC
Yes, there's an app for that. The Roland R-07 can be remote controlled via Bluetooth from iOS (including Apple Watch) and Android devices via the associated app. From here you can adjust levels while you're recording, such as the volume, speed and Scenes. Playing your recordings back with the Roland is easy with wired or Bluetooth wireless headphones, or with the built-in speaker. Streaming to wireless headphones is aided by the Qualcomm aptX technology. An on-board graphic tuner rounds out the spectacular features the R-07 possesses.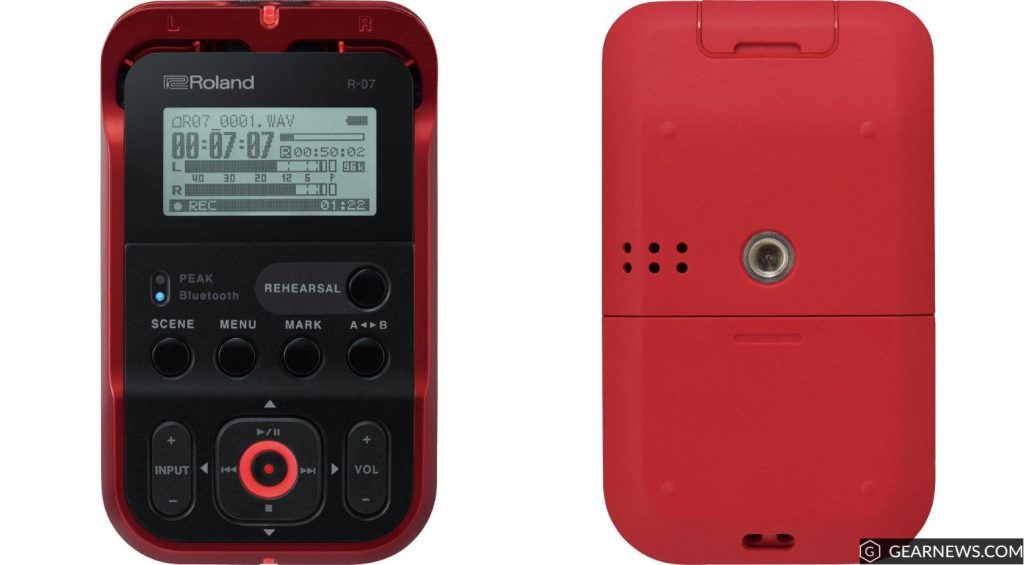 Bottom Line
The Roland R-07 is a winner. While it's sophisticated in its abilities, its extraordinarily intuitive to use for almost anyone, and yet its higher-level features allow musicians to really take advantage of its professional controls. It's available for around $230, and you can find it at many music stores around the country, as well as online.
Comment on this article and other GadgetGram content by visiting our Facebook page, or our Twitter and Instagram feeds.