Lenovo is introducing two new mobile workstations arriving at the end of August, sporting eighth-generation Intel Core and Xeon processors. The ThinkPad P1 is the thinnest of the two, measuring 0.7 inches, while the bigger ThinkPad P72 is thicker at 1 inch. Both support fingerprint scanners, Nvidia's professional graphics and large system memory.
The ThinkPad P72 will have a 17.3-inch IPS screen, with a choice of two resolutions: 1920 x 1080 with a brightness of 300 nits, and 3840 x 2160 with a brightness of 400 nits. This latter screen option supports 100 percent of the Adobe RGB space along with a 10-bit color depth, while the 1920 x 1080 panel has a 72 percent NTSC color gamut.
Backing this display is a variety of eighth-generation Core and Xeon processor options, although Lenovo didn't specify the model numbers outside of mentioning the Core i9 in its announcement. Discrete graphics can be configured up to Nvidia's Quadro P5200 graphics chip and system memory up to a hefty 128GB (4x 32GB DDR4). You can throw in 16GB of Optane memory too and up to 6TB of storage.
Connectivity-wise, the ThinkPad P72 will have two Thunderbolt 3 ports, three USB-A ports, one HDMI 2.0 port, one Ethernet port, a Mini Display Port 1.4 jack, a Smart Card reader, an SD card reader, and an audio combo jack. Wireless connectivity is handled by Wireless AC and Bluetooth 5.0.
Powering this mobile workstation is a 99WHr battery and 230-watt external power supply. Operating system choices include Windows 10 Pro for Workstations, Windows 10 Pro, Ubuntu Linux and Red Hat Linux. It measures 16.4 x 11.1 x 1.0 inches and has a starting weight of 7.5 pounds.
The ThinkPad P72 arrives later this month with a starting price of $1,950.
The new and smaller ThinkPad P1 will have a 15.6-inch screen. Again, the workstation supports a variety of eighth-generation Core and Xeon processors, but it's a bit less robust in its specs.
"When we set out to create the ThinkPad P1, we knew our challenge was to build a mobile workstation that would carry the legacy of professional power and reliability of our ThinkPad portfolio, but also meet our customer's need for a thin, light, and sleek design," says Rob Herman, Lenovo's general manager of workstations.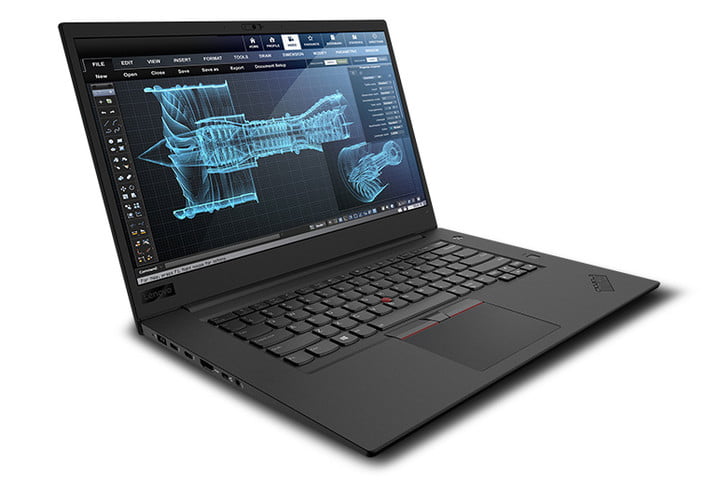 The ThinkPad P1 will have the same display resolutions and color space support, but Lenovo specifically lists Nvidia's Quadro P1000 and P2000 as GPU options. You'll also see up to 64GB of system memory (2x 32GB) and storage options cut back to 4TB on an M.2 NVMe SSD.
Lenovo also includes an IR camera for facial recognition along with an HD camera. The connectivity and port complement is identical to the P72, although this laptop is powered by a smaller 80WHr battery and an external 135-watt power supply. It will measure 14.2 x 9.7 x 0.7 inches and has a starting weight of a lighter 3.76 pounds.
The ThinkPad P1 arrives by the end of August with a starting price of $1,800.
Comment on this article and other GadgetGram content by visiting our Facebook page, or our Twitter and Instagram feeds.