Alta Audio is a manufacturer of the cream-of-the-crop Hi-Fi speakers, with customized high-end components, and are geared towards the serious audiophile. The new Alta Audio Rhea Speakers are no exception, but are directed towards an audience that doesn't want to pay 5-figures for a premo set of home speakers.
Alta Audio Rheas Design
The Alta Audio Rheas are floor-standing speakers that have 2-drivers, and are designed to fill a room with completely natural sound, no matter what volume level they are set at. The size of the Rheas are appropriate, because a larger housing produces more sound volume, but the footprint on these babies are still very small.
Alta Technologies
They use an Alta technology the company calls Extended Transmission Line (XTL), coupled with a DampHard material, to produce richness across the sound spectrum that you might not have ever experienced before.
What does XTL do? Let's briefly explain the technology. The company creates XTL by using specific sonic geometry to tune all of their speakers' housing at multiple frequencies, much like a musical instrument would be tuned. This produces unparalleled bass and crystal clear trebles and mids, running at close to 50kHz with up to 150 Watts per channel.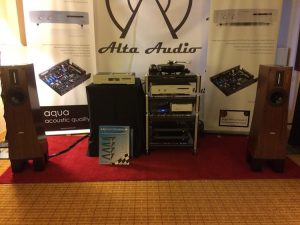 Rheas Performance
Spellbound is a word we could use fairly freely when describing the Rheas. They produce spectacular real-to-life sound, much like a small and intimate concert hall, with great separation, detail, surround-like sound and an overwhelming soundstage.
Bass is dynamic, deep and offers a serious punch, while midranges are particularly delicate but with tremendous balance. Finally, vocals are soothing, meticulous and precise, and offer a full-range of inflection and timbre.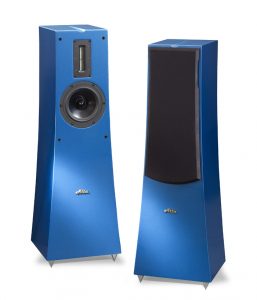 Bottom Line
The Rheas might be the best pair of speakers Alta Audio has created, at least for the price. With strong amplification and versatility, it's living sound and rich range would make the most discerning of music lovers proud. Additionally, at around $4,500, you could easily pay twice to three times that price to get similar production from competing brands.
Pricing and Availabiltiy
The Alta Audio Rheas sell for around $4,500 for the pair and are available in a total of 7 different finishes including "Large" Light, Medium and Dark Brown, Orange, Red, Green and Blue.  They are sold through stores across the country. For more information or to find a dealer near you, visit the Alta Audio Rheas page here.