While smart rings may be off to somewhat of a slow start, considering they've been out for a little while, they do hold a lot of promise as it relates to how we're going to communicate and manage our information in the near future. Arguably, wearables, and specifically rings and watches, will inevitably replace the smartphone.
Blinq, based out of Canada, has quite a pretty version they think makes sense in the smart ring market today.  It's called by the same name as the company, and the Blinq is available in 7 different gemstones, 12 styles and 3 finishes. The Blinq combines exotic style with function, and essentially, the device is a notification hub, SOS distress system and fitness tracker that tracks, vibrates and flashes an LED light in different colors that indicate various features of the ring.
Background
The Blinq models look like engagement ring. Not really, but they have a top-drawer style you'd find in department and jewelry stores, and they certainly don't look like anything tech.  They're made of 14k gold and 925 Sterling Silver, so style is extremely important to the product and the company. The Blinq is what people eventually want tech wearables to look like, a piece of jewelry that has function as well… the best of both worlds.

Owner of Blinq, David Mamane, partnered with David Sigal and together they created Blinq, specifically for fashion-conscious consumers who want fine jewelry combined with high tech for a dual-purpose wearable. Sigal and Mamane spent a ton of time designing gorgeous rings that integrate style with tech.

The Blinq company is essentially a jeweler who make fine jewelry, and then inside the each ring, they stick a powerful Bluetooth-enabled mobile device that connects with your smartphone. In fact, the company says that they have the smallest Bluetooth-enabled smart ring on the planet.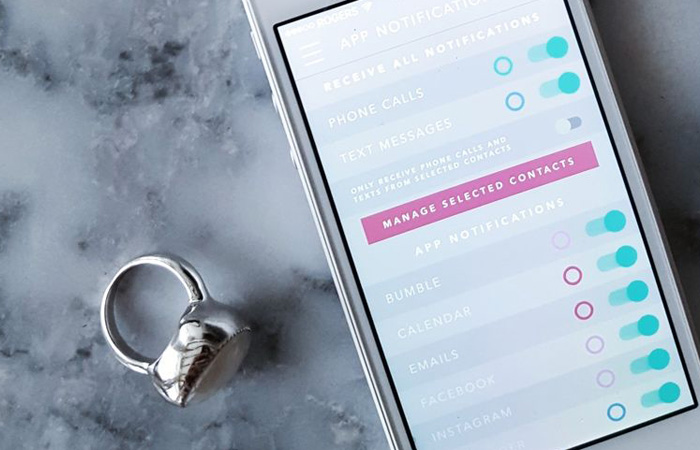 Blinq Features
Blinq has a ton of features built into a terribly small package. The first big feature is the SOS Alert system and its Gem-Glow technology used for its notification. The SOS Alert system uses geo-location that keeps you safe anywhere. If you're in danger, injured or lost, you can immediately notify your friends with a custom tap. This sends a distress text message and a link to your location to anywhere you designate, even a Facebook wall. Depending on preferences, SOS sensitivity settings can be changed or adjusted in the companion app.
The Gem-Glow technology gives you the option of receiving notifications through a special backlight that lights your gemstone up in a color of your choice. You can always turn off the LED and receive vibration notifications only. It's called Stealth Mode.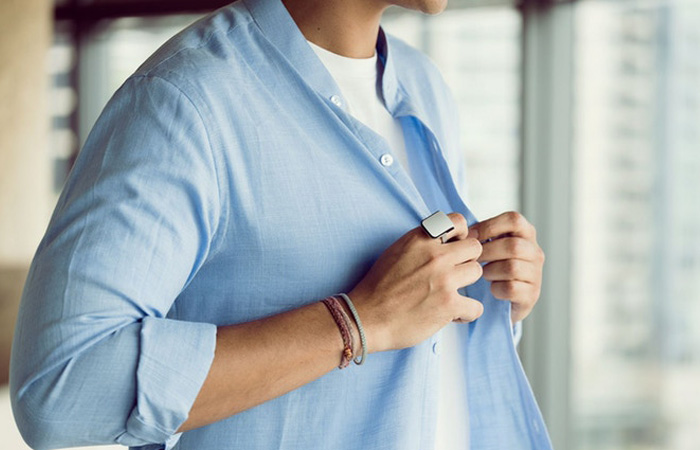 In the Blinq companion app for iOS and Android, you'll assign colors to specific apps. For example, you can see the ring glow green for a text message, blue for a Facebook post, or purple for an Uber nearby. You can also assign colors to specific people, like red for when your spouse messages you.
Fitness-wise, the Blinq boasts an IP67 water resistant rating, and also has an onboard pedometer and activity tracker that syncs your daily activity logs with the Blinq app. You can get a full daily reading of your distance, calories and steps. The ring also connects with many of the popular social media apps, and will notify you of incoming posts, messages, or whatever you choose to be notified of.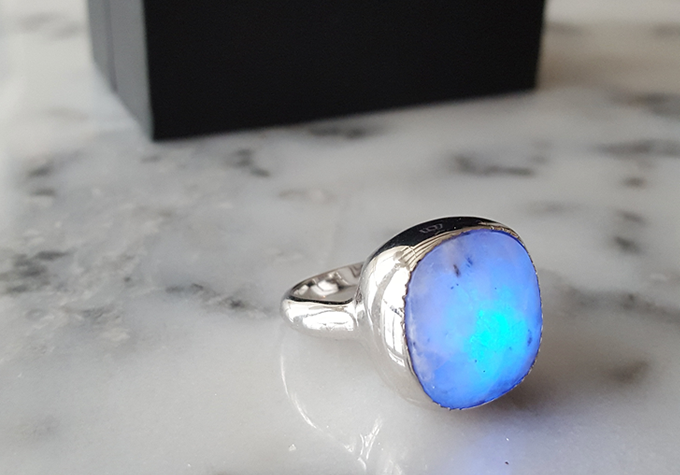 Bottom Line
The Blinq is a real winner, and the app is where it all happens. The Blinq Smart Ring itself is merely a sophisticated sensor and notification hub that doubles as a really good looking piece of jewelry. The app is intuitive and easy to learn and use, and it shows you a very comprehensive smorgasboard of data that will help you manage your day and get fit. This is how wearable tech should look, and we have a feeling more companies will take some ques from Blinq in the very near future.
Comment on this article and other GadgetGram content by visiting our Facebook page, or our Twitter and Instagram feeds.