The KEF LS50W Wireless Active Speakers are the company's second iteration to the LS50 line, adding the convenience of wireless. In short, the LS50W Wireless speakers are a complete hi-fi active system that saves you bucks, thanks to everything they pack into them. In short, you get 2.4GHz/5GHz Dual-band Wi-Fi, Bluetooth 4.0 aptX, Asynchronous USB Type B, TOSLINK Optical, and RCA-type line-level analogue inputs, as well as a dedicated LS50W app (available for Android and iOS), which gives you quick network setup, music streaming, playback and DSP control.
This new KEF LS50 Wireless speakers were conceived by designer Marcel Wanders, and those cool Nocturne graphic were "inspired by the circular arrangement of time, a structured, architectural-type pattern with notes and symbols added to the seemingly unending depth of the rhythmic design, like a musical composition," according to KEF. Your listening pleasure is as easy as plugging the pair in and connecting an audio source.  Now it's time to party.

Design
The LS50s are spectacularly gorgeous, and they combine the best of both worlds by combining a wide feature range in this elegant set. Input offerings, as we've already highlighted, are a plenty. And instead of an extra hub to fit all of them in, they are contained in the active speaker boxes. All of the sources connect to the right master speaker, which is then linked to the left slave speaker via an Ethernet cable.
The LS50's enclosures offer three cabinet options: gloss white, gloss black, and titanium, and each option comes with a contrasting color on the driver. The curved front panel is made of something called Dough Molding Compound, which is a polyester resin combined with calcium carbonate and glass fiber that creates a unique malleable material. The rest of the enclosure is made from MDF.
While the KEFS are categorized as wireless, they do actually have two mains leads, one for each speaker, as well as the connecting lead between them. The patented KEF Uni-Q driver technology uses the center 25mm aluminium dome tweeter and the outside 13cm magnesium/aluminium mid/bass cone in an arrangement that helps produce an even sound and improves integration between the two drivers. The grill in front of the tweeter is called a Waveguide, which improves the sound even further.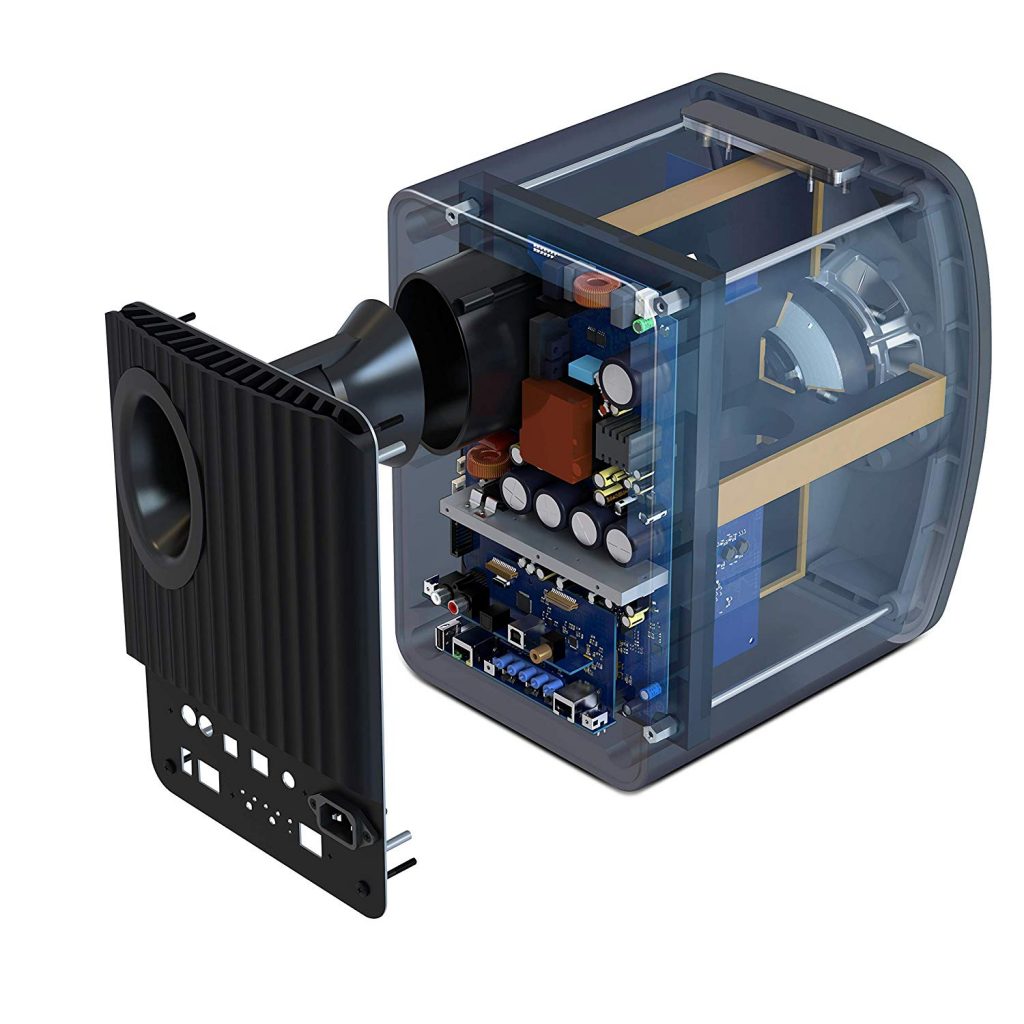 Goodies
Feature-wise, where do we start. Firstly, each drive unit has a dedicated power amplifier, which makes them true active speakers. A 30W Class A/B circuit feeds the tweeter while a 200W Class D module powers the mid/bass unit, giving it immense power without an overheating risk.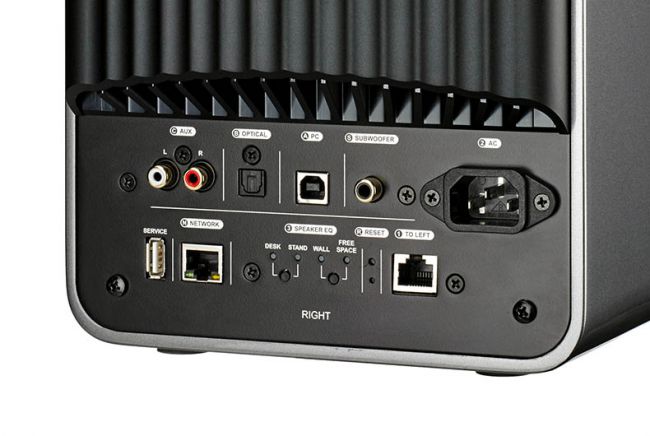 The internal DSP uses software to minimize distortion, and there's a dedicated DAC for each drive unit. Additionally, behind the right speaker is a stereo analog, USB Type B and optical connectors, as well an Ethernet and sub-woofer port.
The app (available for Android and iOS), can control the sound for different speaker placements with options for free space or close-to-wall configurations, as well as the choice between stand or desk positioning. And speaking of the app, it's well laid out and super easy to operate. It controls volume, streaming, tuning and speaker performance as well.  There's also touch controls on the speaker as well as an included remote, which works just as well if not better for all of these functions.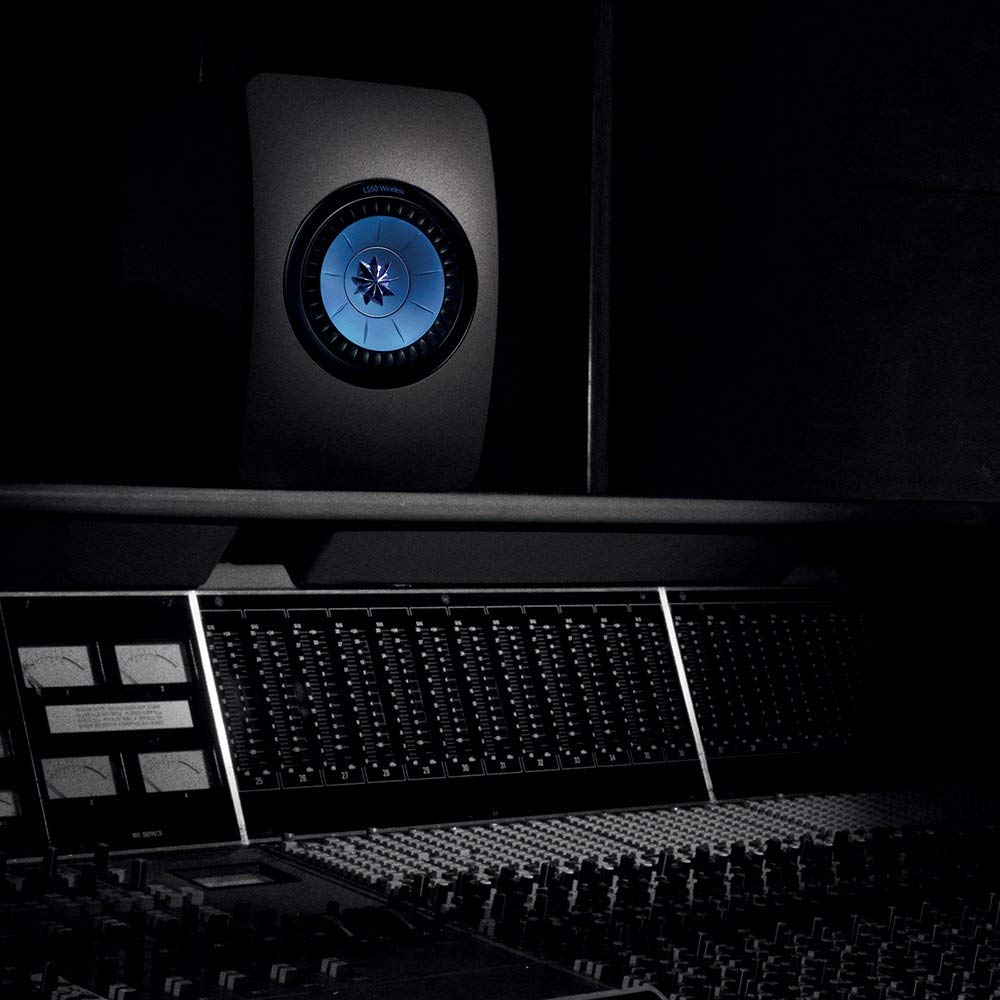 Performance
We hinted at this before, but the KEF LS50 Wireless Speakers sound amazing, with precise and clean tonality, as well as able to generate strong dynamics seemingly without effort. Despite their size, they manage to fill a large room at mid-to-high volume levels.
Perhaps the best selling feature of the KEFs are their ability to be positioned in almost any direction and still produce a fantastic sound-stage and a balanced presentation. They can even make marginal recordings sound like you're right in the recording studio.
Mids and highs sound crisp and clear, and bass performance is also exceptional for bookshelf-sized speakers. While not a direct competitor to deep floor-shaking monsters, they do generate a low frequency that's deep, detailed and punches you right in the face.
Percussions are snappy and tight, and vocals are delivered with exuberance and emotion. In shorty, these speakers can accommodate the whole spectrum of sound, which is a feat unlike any other in their category.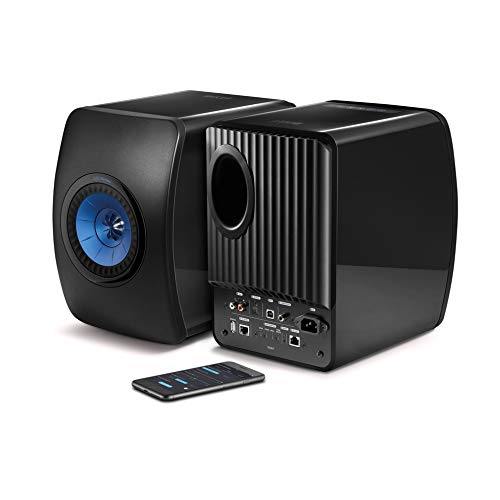 Bottom Line
KEF hit this one out of the park. The LS50s, while pricey for bookshelves at around $2,200, do offer it all including a preamp and four power amps totaling 460W, a dedicated streamer, a Bluetooth module and 24-bit/192kHz DAC. You get all of this in a tight little package, which we dare say, could be the future in of Hi-Fi systems.