Samsung is throwing in the kitchen sink with their announcement of the upcoming Galaxy S10 and S10 Plus. Spec-wise, the sheet is full and long, with an ultrasonic in-display fingerprint sensor, a selfie camera that can capture videos in 4K UHD…even a headphone jack. The pair will come in at $900 and $1,000 respectively, so will people pay this considering 5G and the foldable era are looming?
Design
The Galaxy S10 and S10 Plus are elegant and clean. The differences over last year's Galaxy S9 and S9 Plus are small, but still noticeable, drastically altering the design of the phone.
The bezels around the screen have shrunk and look razor thin, thanks to the new "hole-punch" Infinity-O display. A laser cuts out a small hole from the screen without damaging pixels, allowing the camera to float at the top. It looks better than the notch design present in a lot of phones in 2018. The notification bar is larger now as well.
The S10 and S10 Plus have 6.1-inch and 6.4-inch screens, and they utilize Samsung's new Dynamic AMOLED display technology. They are the first screens to be HDR10+-certified, which means you'll see sharper details with incredible color accuracy. The screens on these new devices are beautiful, and the Wide QHD+ resolution ensures everything looks crisp. Samsung's smartphones have the best displays, which is why many other manufacturers use Samsung panels in their phones.
The screen now natively reduces blue-light exposure by 42 percent, a feature that is certified by TÜV Rheinland, an independent product testing company. Blue light can be harmful to your health as it can affect sleep, so it's nice to see this automatically baked in.
On the back of the S10 and S10 Plus are three cameras now, and they're placed horizontally like on the Galaxy Note 9 rather than vertically. So where did the fingerprint sensor go? It's under the display on the
front. It's an embedded ultrasonic fingerprint scanner, which captures 3D contours of thumbs and fingerprints. This offers better anti-spoofing measures than traditional optical sensors, which simply rely on an image of a fingerprint. There are machine algorithms in place to prevent spoofing, and the fingerprint data never leaves the device as it's stored in the chipset's Knox TrustZone, a guarded area for sensitive data.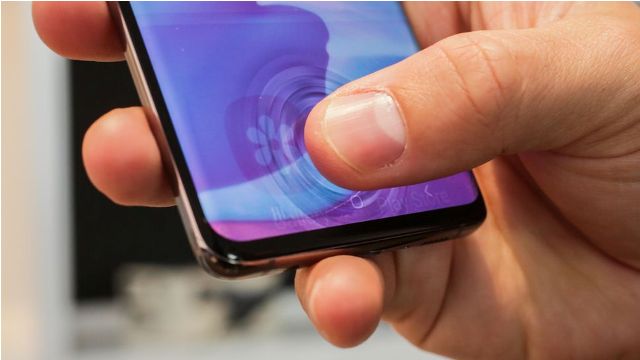 The in-display fingerprint scanner has FIDO (Fast Identity Online) Alliance Biometric Component certification as well, which means it has been tested to ensure top-notch security. It's secure enough to access sensitive apps like your bank app, or to be used to authenticate payments in Samsung Pay.
Unlike previous Samsung phones, there's no iris scanner. Rather, the biometrics security in the S10 phones is handled by the ultrasonic fingerprint scanner. A face unlock option is available via the hole-punch camera, but it's not as secure and can only be used to unlock the phone.
The S10 and the S10 Plus have almost the same tech. This wasn't the case with previous Galaxy S-series phones, so you're not compromising much by opting for the smaller S10 this time. The metal frames aren't completely rounded, offering a good grip when holding the phone, and the front and back are completely glass.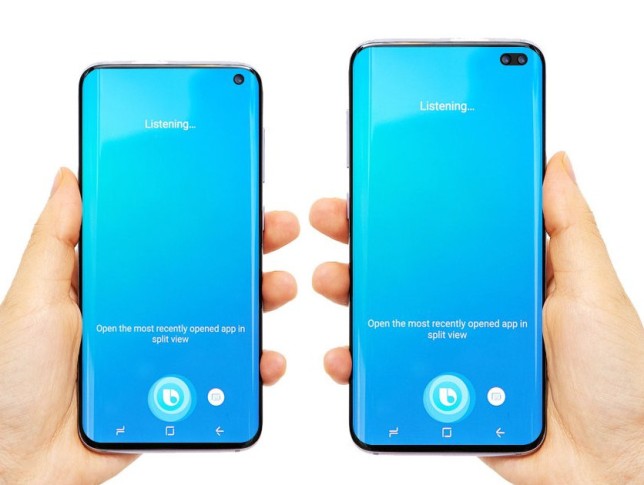 There are two special editions that use a different material. The 512GB and 1TB Galaxy S10 Plus variants will come with a glass front and a white or black ceramic back plate to commemorate the 10-year anniversary of the Galaxy S-series. These phones feel far more luxurious than the all-glass models, offering better durability and scratch resistance.
Samsung is still including the headphone jack for those holding on to their 3.5mm earbuds and headphones. You can avoid the dongle-craze by going with the S10 or S10 Plus, but you can also use Bluetooth wireless earbuds if you want. The phone is also IP68 water resistant, so it can be submerged underwater up to 1.5 meters for 30 minutes.
The Galaxy S10 and S10 Plus are powered by Qualcomm's Snapdragon 855 processor, which is the flagship chipset that will power most Android phones this year. There's a massive 8GB of RAM in both, except the 1TB Galaxy S10 Plus model, which comes with an unprecedented 12GB of RAM. Both phones start with 128GB of storage, but there's a MicroSD card slot in case you need to add more space.
What the Galaxy S10 Plus has, and the smaller S10 lacks, is a vapor chamber cooling system to keep the phone from overheating while you perform intensive tasks, like heavy gaming. It means the phone should deliver better performance for a longer period of time. Also both phones are optimized for the Unity engine, which is used to run a lot of games, and that means you can expect better frame rates and latency when gaming.
Samsung said the phones now deliver faster app launch times as they learn your habits, pre-loading apps when it knows you're going to use them. So, if you usually launch YouTube at night before bed, the app will be pre-loaded and ready to launch instantly around that time. This is also due to the flexibility and power of Android Pie, the phones' UI.
Speaking of the software, it's Samsung's new One UI interface layered over the latest version of Android, Android Pie. It looks good, and is more intuitive as it places crucial interface elements toward the bottom of the screen for easier access.
The S10 and S10 Plus do not have the capability to connect to 5G networks as they do not have the required Qualcomm X50 modem. It's an opt-in feature, and Samsung has decided to make a special-edition Galaxy S10 5G with this modem instead, which will be able to connect to the next-generation mobile network. However, U.S. carriers are still deploying 5G, so don't expect to see any kind of nationwide service anytime soon. The Galaxy S10 5G will likely be connected to 4G LTE networks a vast majority of the time for the foreseeable future.
But one of the more exciting improvements in the S10 and S10 Plus is compatibility with the new Wi-Fi 6 standard. It's supported on the Snapdragon 855 chipset, so most flagship Android phones should follow suit this year. While Wi-Fi 6 routers are few and far between, it future-proofs the phone a little more. Wi-Fi 6 brings quite a few improvements such as a more secure connection, four-times faster access, and a general 20-percent bump in speed compared to the previous Wi-Fi generation.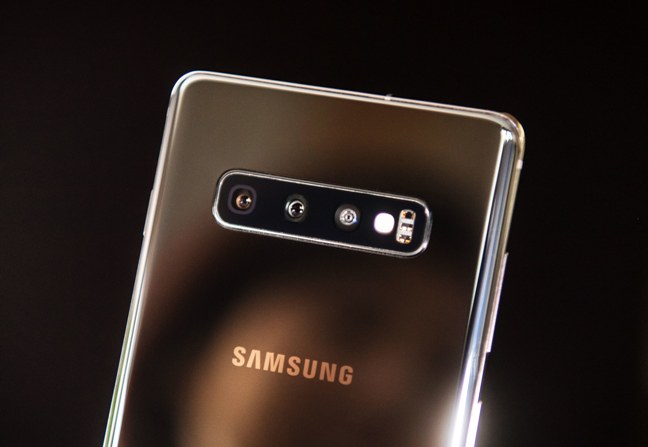 Camera
One of the more noticeable changes over last year's S9 and S9 Plus is the addition of a third camera in the new phones. Both the S10 and the S10 Plus have the same exact rear camera setup: The standard 12-megapixel lens with a variable f/1.5 to f/2.4 aperture is paired with a 12-megapixel telephoto lens with a f/2.4 aperture, as well as a 16-megapixel ultra-wide-angle lens with a f/2.2 aperture.
The latter lens is new, and it means the camera is more versatile. If you want a close-up, you can use the telephoto lens for 2x optical zoom. Swap to the ultra-wide-angle lens for group or landscape shots.
Transitioning between these lenses is fast – either tap on the respective lens icons or just pinch in or out within the camera viewfinder and the phone will automatically swap to the relevant lens. Samsung says the cameras can also capture super-steady video, as well as film in HDR10+.
As for the camera software, Samsung has expanded Scene Optimizer's shooting modes to 30 (that's 10 new scenes, ranging from dog, cat, shoes, and baby). Scene Optimizer uses artificial intelligence to automatically detect scenes like sunsets or people, and attempts to adjust your photo to what it thinks looks best. The alterations can genuinely enhance a photo. Shot Suggestions in the camera app will also now help you take better photos by offering advice as you compose your shot. For example, if you're tilting the phone slightly, the camera app will recommend straightening it for a more level shot.
Over on the front, the Galaxy S10 and S10 Plus have a 10-megapixel lens with a f/1.9 aperture, and what's impressive is its ability to capture 4K UHD video. The S10 Plus differentiates here with an additional camera on the front. It's an 8-megapixel lens with a f/2.2 aperture, and Samsung said it's purely there to help capture better depth data. It means the S10 Plus will likely capture better portrait mode selfies.
Battery Life
The S10 line has a much better battery than the Galaxy S9 and Galaxy S9 Plus. Samsung has outfitted the S10 with a 3,400mAh battery, and the S10 Plus with a 4,100mAh capacity (that's a 400mAh and 600mAh increase, respectively). There is more tech in the phones, though, so it's unclear just how much more battery life one can expect. The S10s charge via USB-C or wirelessly.
They can also wirelessly charge other Qi-enabled products through a new feature called Wireless Power Share. It's something Huawei first deployed in the Mate 20 Pro (called Reverse Wireless Charging). Place another Qi-enabled product – like an iPhone XS or Samsung's own Galaxy Buds' charging case – on the back of the phone, and it will recharge by sapping energy from the S10. It's handy when you need to boost up someone else's phone battery, or if your earbuds are dying. The S10 and S10 Plus still only support Qualcomm's Quick Charge 2.0, so it will take some time to recharge them with the charging cable in the box.
Availability
The Samsung Galaxy S10 and S10 Plus come in Prism White, Flamingo Pink, Prism Blue and Prism Black color options in the U.S. – more colors are available globally, like Prism Green. The base model (128GB) Galaxy S10 and S10 Plus start at $900 and $1,000, respectively. Opting for more storage will mean you have to pay more, of course. Pre-orders are already available, and the phones ship on March 8.