Honda is looking to come out with a very good looking but minimalist urban electric car that's super-advanced. It's called the E Prototype, and will make its debut as a close-to-production concept during the 2019 Geneva Auto Show, and it will reach showrooms in select markets before the end of the year.
The E Prototype is a small, affordable zero-emission electric car, with a retro-inspired front end, round LED headlights and a back-lit Honda emblem. There's also a set of rear doors, but Honda concealed the handles in the C-pillars to keep the two-door look. The photos confirm the E Prototype will be available with cameras instead of door mirrors. This forward-looking technology remains illegal in the United States, but the new tech is allowed in Europe and in Japan. We expect American regulators will approve the cameras in the foreseeable future.
The interior is where the magic happens. Honda replaced the analog instrument cluster with a tablet-like screen that provides key information about the car and its surroundings in high resolution. It's connected to two additional, driver-configurable screens that replace a vast majority of the buttons normally found on the dashboard and on the center console. The result is a clean, minimalist cockpit that looks intuitive to use. The company explained it aimed to make the concept's interior feel lounge-like by giving it a flat floor – which is made possible by the battery pack – and sofa-like fabric on the seats.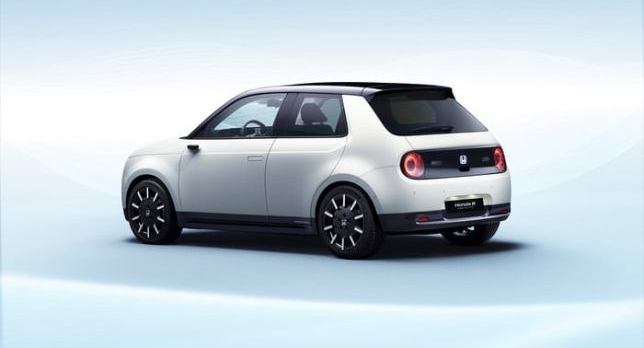 The E Prototype rides on a brand-new platform developed specifically for electric cars. Technical details are few and far between, but Honda promises up to 124 miles of driving range, and a fast-charging system that delivers an 80-percent charge in 30 minutes. An electric motor mounted over the rear axles draws electricity from the battery pack under the floor and zaps the rear wheels with it.
It's difficult to say precisely when the Honda E Prototype will hit the market, but pricing and availability will be released in the coming months. What's certain is that the E Prototype, will not be sold in the United States, but it hopefully sheds valuable insight into the electric cars Honda will sell in the states in 2020.