The Noblechairs Hero ($439.99) is a gaming chair for the serious gamer. It has a salty price tag, but its looks are elegant. Its adjustable back support knob lets you customize the level of lumbar support, but at any setting, the chair is really firm, so you have to be comfortable with the stiffness.
Design
Color-wise, it's a black monolith with red stitching. If you prefer, it also comes with yellow, blue, black or white stitching. It's covered in PU leather (an artificial material covered in polyurethane. For a few hundred bucks more, they offer it in real leather). The backrest is thick,but it also gives the Hero a distinctive look. The base is made from aluminum and has five wheels.
Some gaming chairs have large gaps in them to attach lumbar support and neck pillows, but the Hero doesn't. Its lumbar pillow just sits there with no attachments, and the neck pillow loops around the top of the chair.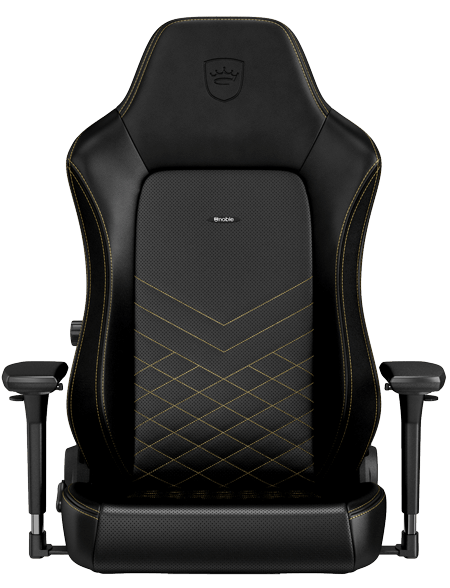 Assembly and Features
Noblechairs recommends that two people build the Hero together, but one person would suffice. The only tool you need is an Allen wrench and a Phillips head, which are included.
Comfort-wise, the Hero is stiff. There's not a lot of padding or cushioning, but it gives you really good support. The knob on the right side of the chair will adjust back support, and turning it clockwise makes the lumbar area feel firmer, while turning it counterclockwise reduces back support.
A lever on the right side of the bottom of the chair adjusts the height, and there's also a knob to adjust how much it rocks and a lever to lock the knob in place. One lever on the right side of the chair adjusts the backrest. It doesn't go completely flat. If you loosen the rocking knob enough, though, you can lay down and get your feet in the air, if you so desire.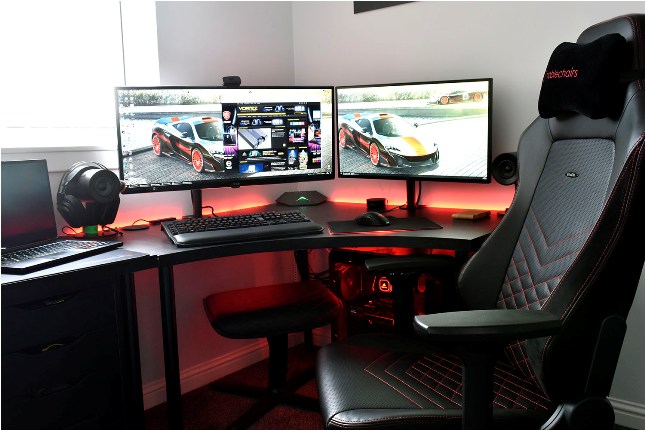 The big area that's lacking are the armrests. They're barely padded at all, so they feel cheaper than the rest of the chair. Having said that, you can move them from side to side, up and down, forward and backwards and diagonally in.
The chair comes with optional lumbar and neck pillows.

Bottom Line
The Noblechairs Hero is a bulky but stylish gaming chair that's fairly easy to put together. Its back support knob is innovative and helps the chair to support your body to your liking.
Feel-wise, it's very stiff. If you like a firm seat, this will suit you well. In fact, you won't even need the lumbar pillow.