When it comes to personal storage, the options are virtually limitless. From USB drives, to portable harddrives, to cloud storage, to NAS and DAS drives….where do you turn?  With the growing need for storage in today's informtaion climate, a lot of people are searching for an expensive and efficient system to store info that's easily accessible.
Filegear to the rescue. It's efficient, simple, and aims to take care of all of your personal storage with ease and with the ability to get it quickly across any device you use.
There are 2 models, the Filegear One Plus and Filegear One, both which supports USB 3.0. The One Plus is a 2.5-inch SATA with a USB Type-C enclosure that is expandable. But what sets the Filegear One Plus apart from the rest would be its features like file replication, automatic organization, and de-duplication to name a few.
What's even better is that Filegear will let you easily share all important files just by conveniently sending a link from the application, or via QR Code with an advanced security assistance that lets you add an expiration date or password.
Overview
In the box, you get the One Plus, a stackable drive enclosure, an Ethernet cable, the power supply, a quick start guide, and the VESA mounting hardware.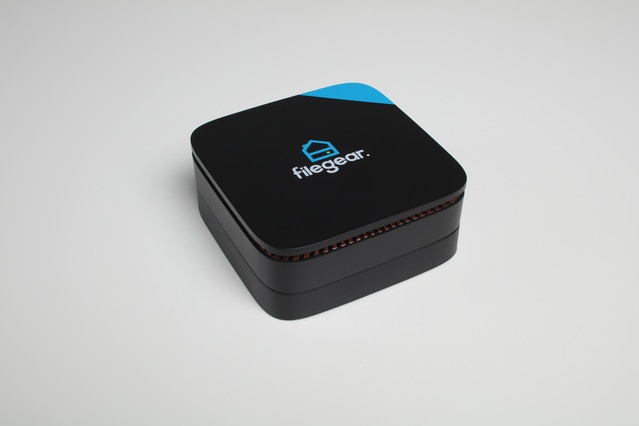 The Filegear One Plus offers the MiniPC or NUX form factor, and when you power up the unit, a blue LED ring will light up and illuminate the exhaust located along the enclosure's edges.
The right portion of the enclosure houses the micro SD, power, and the USB ports. On the back, you get the power input, aUSB Type C and Type A, an HDMI port, 3.5 millimeter audio output and the micro SD slot.
Filegear One Plus makes use of Intel chips for an IO and processing performance, which is much faster than the common ARM-based devices. Plug your External Hard Drives into any available port – USB 2.0 or 3.0, and for File Gear One Plus, you can also plug in USB Type C.
The One Plus also comes with a stackable drive bay that allows you to install any slimline 2.5-inch HDD or SSD for extremely fast speed rates and less clutter. Files, photos, music and videos are automatically categorized so you can browse easily. Filegear indexes metadata from each file to make it easy for you to find and organize files with powerful searching capabilities.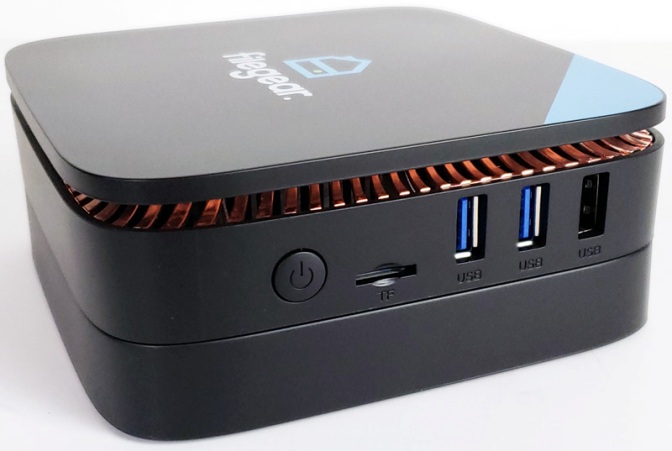 Since all of your files and drives are under your control, you will know where these can be located and who can access these. All forms of communication are end-to-end encrypted with the use of SSL. Exact copies of files are automatically removed to give you additional space on your drives. Integrated tools are also present to help you consolidate multiple copies of your files in single collections.
Features
Filegear One Plus uses AI, which is designed for recognizing scenes and items in your photos. Tags get added to make your files easy to search. Your files are also automatically backed uo across multiple drives to make sure that everything is safe even if one drive fails. You can add or edit GPS coordinates, time and date information, location details, tags, landmarks and much more.
A selection of media players come included with the Filegear One Plus, which allows you to enjoy movies, music, and video. You can also view PDF files directly from the browser or from the Filegear portal.
Specs and Setup
There are no cloud or other storage service fees, which is nice. The Filegear One Plus makes use of the Celeron J-3455, and as mentioned, paired with 4GB of memory, Gigabit Ethernet, USB 3.0, 802.11AC, and the Type C support together with the micro SD.
Setting up the Filegear One Plus is a breeze. You siimply create an account on their website, plug the Ethernet and power to the Filegear unit, and you're off and running.  From the website, you can select a drive and add it to your storage pool. If you have existing files on your drive that you've added to Filegear, it will ask you to import those files. You can also choose to not import these and just format the drive in the menu after you finish setting this up.
Once the files are imported, you will be linked to the company's apps for set up on your mobile phone, along with the support and user guide. Once the setup is done, you will see the dashboard. From there, you will find several menus: a full sidebar on the left to sort your icons and files across the top for media types.
The folder menu allows for access to the actual media while switching to a fly type with the icons will show you a sorted view of your media. Filegear makes use of two apps – the utility app for diagnostic & firmware updates, and Filegear for media access.
Bottom Line
The Filegear One Plus is a winner. It's speedy, efficient and the setup is very intuitive and straight forward. Security is top notch and the company plans on adding new file server features. You can purchase the Filegear One Plus here for $249.99.