Of course you've heard of waterproof cameras, but have you ever hard of one designed specifically to see fish? The GoFish Cam is that camera, and it records underwater life with crisp detail so you can see what's going on down there, and potentially be a better angler.
Design and Features
GoFish Cam is a 1080p HD color video camera, fully waterproofed for up to 150 meters, and includes an image stabilizer specifically designed to work in water. The GoFish attaches to your fishing line to catch the action with a 170-degree wide angle lens, and because it sports an almost neutral buoyancy design, it won't sink.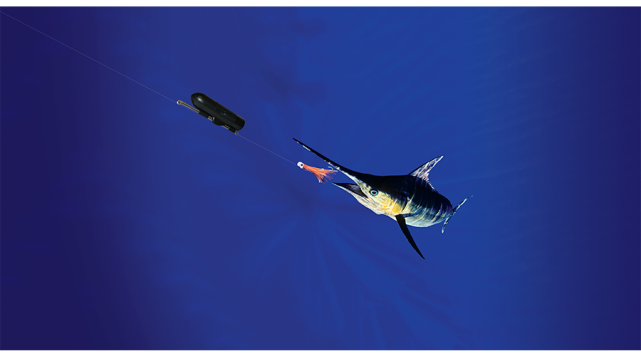 The wide-angle lens is probably GoFish's greatest asset since you never know when and where the action is going to happen, so being able to cover a wide scope of view helps to capture a lot of area without re-positioning the camera.
Its 4-hour tested battery life is probably the lengthiest in it's class in terms of action cams. It will run and film for a long time without a recharge. When you do need to charge it back up, you simply do so with the included mini USB. The GoFish Cam also accepts MicroSD cards up to 32GB, has an HDMI output, and the green LED ring around the camera, which also has infrared, gives it night-vision capabilities for low-light conditions.
App
The GoFish app, available for Android and iOS, gives you live streaming of the action in the water, as well as allows you to edit and share your footage. Fisherman will find it useful as far as improving their chance of catching something, and the camera's front and rear end attachments hook onto the 1- to 2-foot leader line and casting line respectively. A stabilization fin keeps it from spinning.
One thing we found extremely useful was GoFish's ability to see how effective your bait is working and how fish are attacking the hook. Never before have you been able to do this.
Live streaming to your mobile device allows your GoFish and float accessory to to turn into a bobber that enables you to live-stream the underwater action with a top down view. Live streaming won't work underwater however.
Additional Features
Another interesting feature is the ability to cast perfectly with GoFish Cam's small size. At 11.5cm long and pre-weighted to an optimized 94g (no added weights necessary), it's perfect for small mouth bass, pike, and even larger saltwater fish. Bait your fish lines for the big ones as well, thanks to three stabilization fins, 1000lb tension rating and a pre-set weight system, which allows you to troll at slow or fast speeds.Bottom Line
GoFish Cam is a unique product, maybe the only one of its kind. Basically a wireless underwater camera that sits on your fishing line (between your test line and leader line) and works with a mobile app, fisherman will be able to capture action-packed footage, gain insight into the underwater fishing experience, and review awesome video content that can be shared on social media. What a concept.
It's perfect for both freshwater and saltwater environments, and when casting, trolling, bottom fishing, ice fishing, kayak fishing and float fishing. You can purchase the GoFish Cam here for $239.99.
You can also check an interesting article on underwater cameras at Dive In.