There are limits to what a typical dishwasher can do. But take a look at the Thermador's Star Sapphire dishwasher. With a brightly-lit, customizable interior, adjustable racks, tons of wash modes, and a several unique interface tricks, it's starting to set the standard in this category. At $2,799, though, it ain't cheap, but you are paying for luxury
The Thermador has a minimalist stainless steel front. Those wanting a custom kitchen will appreciate that it can be outfitted with a custom front panel to match the rest of the kitchen cabinetry.
The unit will fit in a space that measures at least 34x24x24 inches. The dishwasher controls are hidden on the top panel, and the Time Remaining Power Beam projects a small image on the floor that rotates between icons showing time left and the current. If you open it mid-cycle, simply shut it and washing resumes. The model runs pretty quietly.
A favorite feature is the Sapphire Glow emotion Light. Open the dishwasher and you'll see a purple light illuminating the racks. If you don't like purple, you can change the color of the light to white, peach, or two types of blue. Inside the dishwasher are three highly customizable racks: a top and bottom drawer with movable tongs, and a top drawer, called the Chef's Tool Drawer. A little deeper than the standard utensil rack found in many models, it can fit tools with larger handles and smaller bowls. While you can remove the racks to deal with pots and pans, the bottom one is pretty secure, meaning it won't easily roll off the door onto the floor.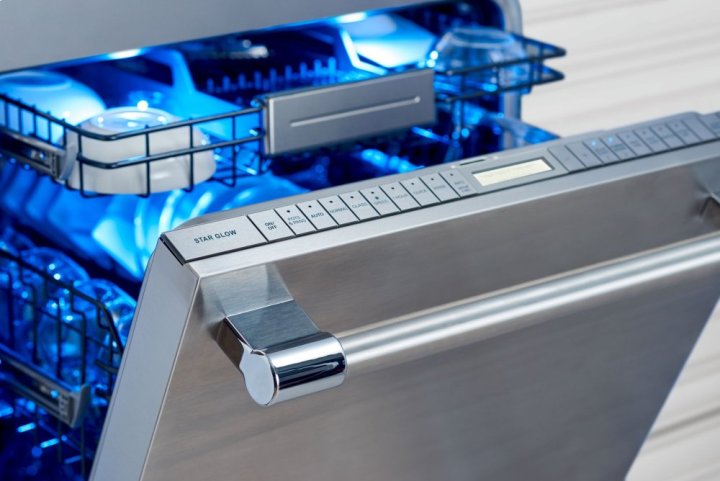 The dishwasher controls are across the top panel, and a sturdy thick handle allows for hanging a towel. In addition to the power button, you'll have options for: Pots & Pans (baked on food and grease that normally requires soaking), Auto, Normal, Glass, Hand Wash (accommodating super delicate items), One Hour, Star Speed (a hot wash in 20 minutes), Quick (30 to 35 minutes), and Rinse.
There are a few other settings as well, including PowerBoost (uses more energy to reduce washing time), Half Load, Sanitize, and StarDry. A display sits in the middle of the panel, providing additional information about the dishwasher. The two Star options are unique to Thermador and are designed to optimize washing dishes.
If you can't be close to the dishwasher, you can still control a few features with its We connected to the app without problem and you're able to remotely start the dishwasher.
The Thermador dishwasher comes with a two-year warranty that begins at the date of purchase. There is a five-year limited warranty on electronics (microprocessor or printed circuit board, for example) and the dish rack. Thermador owners will appreciate the lifetime warranty that covers stainless steel rust-through.