LG just moved up launch plans for its latest V-series flagship smartphone. Though V-series phones are typically released in the fall, the company has just announced the V50 ThinQ just five months after the LG V40 ThinQ released. It shares many of the same specs, but there's an unconventional addition that can turn it into a foldable phone, and the highlight is its ability to connect to 5G networks.
At MWC 2019, the company took the wraps off the LG G8 ThinQ, a follow-up to last year's LG G7 ThinQ. The new V50 carries a few of the same features as the new phone as well.
The V50 ThinQ's marquee feature is the Qualcomm X50 modem inside the Snapdragon 855 processor, which means it can connect to 5G networks. The LG G8 ThinQ and several other Android phones use the Snapdragon 855 processor as well, but the X50 modem – which enables 5G connectivity – is an opt-in feature, so most manufacturers are offering a second phone with it instead to promote their 5G readiness.
5G networks are still in their infancy, so don't expect any kind of nationwide coverage for the next few years. If you buy a 5G phone this year, there's a good chance you're going to be using 4G LTE during most of its lifetime.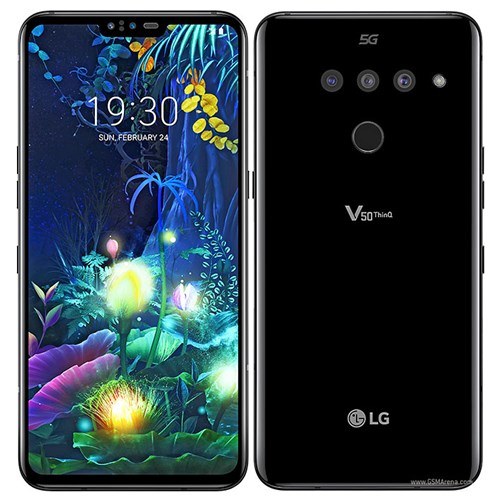 There's also the question of how much 5G service will cost from carriers. No pricing details have been announced to date, making it difficult to speculate whether 5G service will cost a good deal more than the unlimited 4G LTE plan you pay for now.
LG's proud to say the V50 ThinQ brings 5G capabilities in a body that's nearly identical to the V40 ThinQ. Why is this a big deal? Early speculation suggested 5G phones would be bulky and thick devices, but LG's option looks quite ordinary.
The V50 ThinQ has rounded edges, and the 6.4-inch OLED screen is expansive with its 19.5:9 aspect ratio. There's also a QHD+ screen resolution, so everything looks sharp. The triple camera setup on the back makes a return. It's a standard 12-megapixel lens with an f/1.5 aperture and optical image stabilization paired with a wide-angle 16-megapixel lens with an f/1.9 aperture, as well as a 12-megapixel telephoto lens with an f/2.4 aperture, which offers 2x optical zoom.
Over on the front in the notch cutout are two selfie cameras – an 8-megapixel lens with an f/1.9 aperture and a wide-angle 5-megapixel lens with an f/2.2 aperture. The second lens is better-suited to capturing group selfies.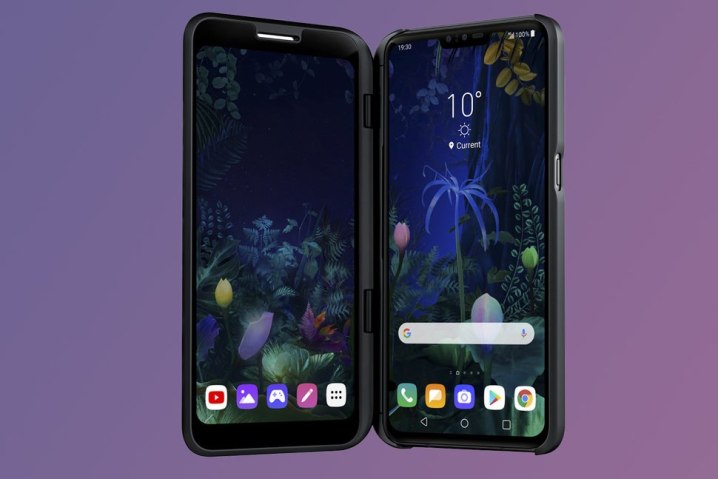 There's 6GB of RAM, just like before, but storage space has been bumped from 64GB to 128GB. A MicroSD card slot is available if you need more space. There's a Vapor Chamber cooling system to help dissipate heat during intensive tasks like gaming.
The phone is a little thicker, but it's not a difference that's quickly noticeable. It's because the battery capacity has been expanded greatly – the V40 had a 3,300mAh but the V50 has a massive 4,000mAh capacity. This is likely to ensure connecting to 5G networks doesn't cause any kind of significant battery drain, but it also could be simply to keep the new secondary screen accessory juiced up.
Yes, the LG V50 ThinQ also can be a foldable phone – but you need to buy an accessory. This second screen is like a smartphone cover case, but instead of a cover, it's an additional 6.2-inch OLED screen. The secondary screen can be used independently, so you can watch a movie on one screen while messaging someone else on the other.
As soon as the second screen is attached, an icon will appear on the V50 ThinQ's main screen, which lets you tap it to power on the secondary display, or you can use it to seamless swap between the two screens. There is a multi-window mode that will divide each screen in two, and some games will let you use the secondary screen as a game controller, not unlike a Nintendo 3DS, but with a touchscreen controller.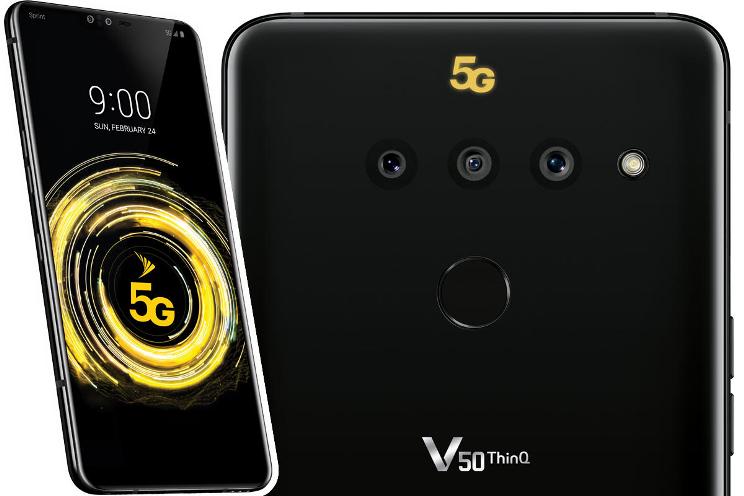 The whole setup can be positioned to 104 or 180 degrees, and LG said you won't need to charge the second screen as it's powered by the V50 ThinQ.
One of the few features the V50 ThinQ steals from the new LG G8 ThinQ is Video Portraits. Most smartphones today have a Portrait Mode feature that applies a blue or bokeh effect behind a subject, creating a highly desirable DSLR-like portrait effect. Now, LG is adding this to videos.
As soon as you start recording, you'll see a slider that lets you increase (or turn off) the blur behind humans and objects. It mimics professional lenses that offer shallow depth of fields, though it's simply using software to recognize the outline of the subject and apply a blur in the background.
The LG V50 ThinQ 5G is available for pre-order now, with the release date being set for May 31. Sprint is offering a strangely specific price of $1,152 for the LG V50 ThinQ 5G , but if you order it during the pre-order period you'll be able to pick it up for just $24/month on an 18-month contract on Sprint Flex. That's a 50% discount off the full price of the phone. However, it will only be available in Sprint's 5G markets of Atlanta, Dallas, Houston, and Kansas City to begin with, before coming to Chicago, Los Angeles, New York City, Phoenix, and Washington, D.C., in the next few weeks.