Apple's annual Worldwide Developer Conference for 2019 included an announcement that the company would be dropping iTunes with the release of MacOS Catalina (successor of the old desktop operating system, macOS Mojave, for Macintosh computers). This marks the end of Apple's oldest up-to-date software, iTunes, with 18 years of continuous development.
Why is Apple discontinuing iTunes?
It's hard to say what made Apple make this decision without hearing it straight from the developer, but one major factor that would justify this action would be the minor role it has in Apple's software ecosystem when comparing to its initial years. The new MacOS Catalina will split iTunes's main features into three separate apps: Apple Music, Apple Podcasts, and the Apple TV app.
Apple Music is the long-awaited iTunes' successor since the world moved to streaming. The Apple Music application on your Mac is now faster than ever, according to Apple. There aren't many details about new features, but Apple Music will allow you to organize your music collection in one place, including any downloads, rips, or purchased tracks, incorporating all of your music files into the streaming service. One of the biggest features is that iTunes sync no longer pulls up a window when plugging your device directly into your Mac. As an alternative, it is now available from the sidebar, allowing you to backup, update, and restore your device when needed.
The Apple Podcasts app will also look very familiar to Apple users, providing the same features previously in iTunes, like Listen Now, and adding some new features for searching the 700,000-plus podcasts available from within the app. These podcasts can be searched by categories like host, guest, or discussion topic, while also having new categories that Apple says are "curated by editors around the world." You can expect Podcast to be simple to use and easy to organize.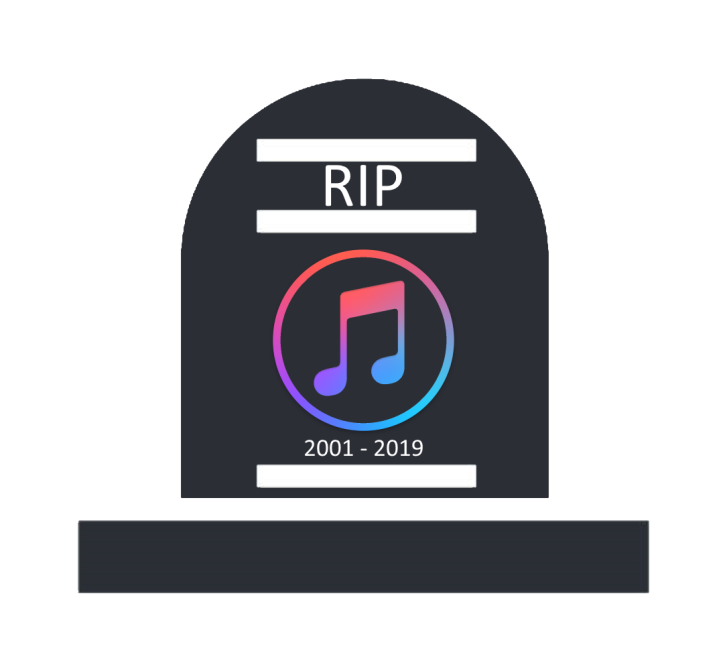 Last but not least, the newly updated Apple TV app will contain all of your video files, including your purchased movies and TV shows. The app also features Apple TV channels, personalized recommendations, and more than 100,000 movies and TV shows to buy or rent. The new Watch Now section can be accessed on any of your Apple devices, allowing you to easily keep track of what you're currently watching. And lastly, Apple TV Plus, Apple's new Netflix-style streaming service, will be available on the Apple TV app when the streaming service releases, later this fall. The app will now have HDR support, also allowing for Dolby Atmos playback "rendered out of your MacBook speakers."
As for iTunes, it's important to remember how revolutionary this app really was when it was released back in 2001, even though it may not be missed by some users. It set the stage for the iPod portable music player, relying on iTunes for transferring songs to the device. Within a week of iTunes Store opening for business in 2003, it sold 1 million songs, fastening the transition from CD sales to purchased downloads.
With iPhone's first release, iTunes was also indispensable in configuring the smartphone, as it was required to transfer media files and perform device backups. But in 2011, Apple disconnected its iOS devices from iTunes, allowing them to be set up and backed up via the cloud. Nowadays you can use any of the iOS' functionalities without needing to interact with iTunes, or even owning a desktop device, removing the need for the software for a majority of Apple's user base.
The iTunes app has taken on a lot more function over these 18 years. It was used as a portal for purchasing and downloading non-music media, such as video and podcasts. It made sense, while more mature generations of the iPod evolved to allow for consuming these types of content. But when Apple Music released in 2015, its integration into iTunes wasn't reasonable, adding unnecessary complexity; including the fact that it was also available as a stand-alone iOS app with a much more efficient UI. This and other actions that intended to add more complex features into iTunes, slowly started frustrating the consumers.
The separation into the three apps (Apple Music, Apple Podcasts, and Apple TV) makes sense, as having a singular product that combined all of them and their functionalities is counter intuitive, which was exactly what prevented Apple from keeping up with rivals that separated their services into simple, single-purpose apps.
Apple's decision to get rid of iTunes certainly deserves recognition, as its use amongst other Apple apps has fallen.