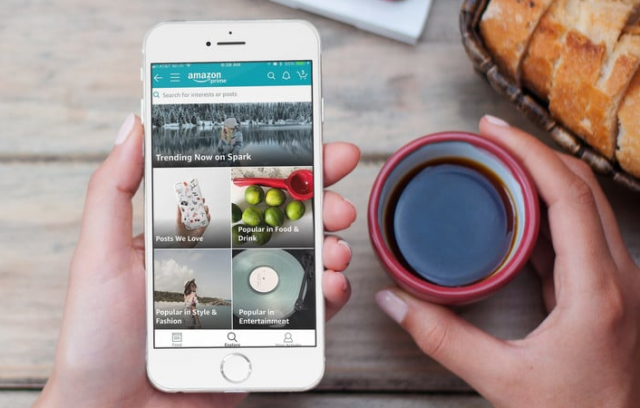 Amazon has suddenly shut down Amazon Spark on its site and app, its social network-like feature, where Prime customers could post pictures of the products they've bought.
The service was launched back in 2017 for Prime members. It prompted customers to pick a selection of interests, then show a feed of posts from users that related to those interests. This service was designed to mimic social networks like Instagram and Pinterest. Think of it as Amazon's version of Instagram, except it focuses on shopping discoveries. Users could tag products available on Amazon on their posts and could react to those same posts with a "smile" or a comment. Since the app was heavily related to purchases when compared to other social networks, Amazon Spark never really took off.
The feature's page is no longer available on Amazon's website, as well as its app, and its URL now redirects to "#FoundItOnAmazon" for some users, or to "Your recently viewed items and featured recommendations." But the company isn't fully giving up on social feed-driven product discovery, learning from both Spark and another feature called Interesting Finds (which is still operational), since these two are being integrated into #FoundItOnAmazon, focusing mainly on home decor.
An Amazon spokesperson said that Spark wasn't going away entirely, and that the company has "pivoted and narrowed the experience based on what resonated with customers." Amazon's representative also said "We've changed the name to #FoundItOnAmazon to reflect the tag that influencers are using on social media to share their great finds with others. #FoundItOnAmazon is currently available to all Amazon App customers and a large portion of desktop customers as well."
Lastly, it's also reported that Spark is no longer accessible from the mobile site's navigation menu. The company went back to using a hamburger-type menu and no longer displays Spark updates like before. Spark's FAQs are still online, but most of the service's links found on Google no longer work.
There weren't any more details about Spark's future, but one of the possible reasons why the social network was shut down might be because Amazon's VP of Consumer Engagement, Chee Chew, left the company for Twilio in early 2019. Chew was heavily focused on Spark, and Amazon might have decided that keeping the app around is no longer worth it.