For those who are looking to upgrade their home security system, specifically for their outdoor setup, home security systems company, Swann has just the thing. Swann just released a new model of Wi-Fi home security cameras, offering an alternative against its competitors, the Ring Floodlight Cam, and the Maximus Camera Floodlight.
The Swann Wi-Fi Floodlight Security System is equipped with heat and motion sensors that will only trigger a response to the presence of people and animals, successfully ignoring any trees or bushes blowing in the wind. It comes with an onboard camera that captures video in 1080p resolution. It's available in two colors: white or black.
Just like its competitors (the Ring and the Maximus), the Swann Wi-Fi Floodlight Security System supports two-way audio, allowing its users to listen in, as well as talkback through the speaker. It's equipped with a siren that will dissuade any prowlers, successfully keeping the area secure and helping to prevent any unwanteds from entering your fortress. The camera offers a 125-degree field of view. It's also equipped with night vision, which enables Swann's floodlight to capture video up to 100 feet (30m meters) in complete darkness. The floodlight also includes integrated LEDs that produce a combined 2,500 lumens of brightness.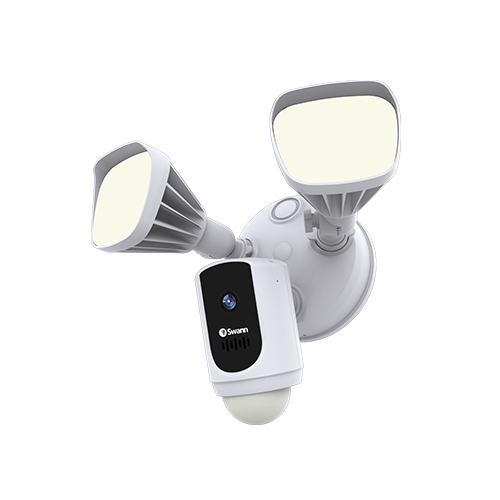 In terms of smartphone connectivity, all you need to do is download Swann's app, known as SAFE, available both on Google Play and the App Store. The app is really easy to configure, and it will provide users with fast and reliable notifications. It's important to note that any user that also owns Amazon Alexa or Google Assistant-powered smart displays (or a Google Home plus a Chromecast device) will be able to stream live video from Swann's floodlight to those same displays.
When speaking of storage space, users can locally store video with audio clips on the camera for a maximum of seven days, as well as store video in the cloud for up to two days. In case you find yourself needing more storage space, or just want to store clips for longer periods of time, there's a subscription service available that will provide extended cloud storage, covering up to 30 days of video storage. The service costs $4.99 per month per camera, or $49.99 per year per camera, in case you choose to go for an annual subscription. Subscriptions also offer ongoing premium support, but the service will run out after the first 90 days of ownership, in case you drop your subscription.
The Swann Floodlight Security System offers peace of mind from any angle. You'll know what's happening 24/7. If you're looking to upgrade your home security system, you can the Swann Wi-Fi Floodlight Security System, currently priced at $149.99, here.