Just like many large automobile manufacturers and tech giants, Walmart believes that autonomous technology can help the company save a tremendous amount of money. Walmart's main goal is to use self-driving trucks and vans to move goods, ultimately reducing its shipping costs by half.
Several other companies are also testing autonomous delivery vehicles. A good example is startup companies Udelv and Nuro, which have been running autonomous grocery-delivery pilot programs. Geo-fenced self-driving prototypes made by Nuro are already delivering groceries from a Kroger store in Scottsdale, Arizona. It's estimated that by the end of 2019, these same vehicles will begin delivering pizza from Domino's stores to its customers in Houston.
Previously, Ford had partnered with Walmart to study this same concept. Now, Walmart has also turned to Gatik, to pursue this concept even further. Walmart has a bigger vision: Instead of only using the autonomous vehicles for last-mile deliveries, the company is planning to use these same autonomous delivery vehicles to connect its own stores and warehouses around the country. Walmart described this as "the middle-mile part of the supply chain".
The technology required to achieve autonomous middle-mile deliveries is almost the same as the technology needed for last-mile deliveries. In order to achieve a safe navigation with no human input the vehicle must scan its surroundings and correctly identify obstacles, signs, and other road users, along with their vehicles. Making this work has its challenges.
Middle-mile deliveries usually involve driving at highway speeds for many hours in a row, in constantly changing landscapes. Since Walmart's prototypes will probably be taking the same main route most of the time, having them driving on an interstate would be easier than driving in a crowded urban center.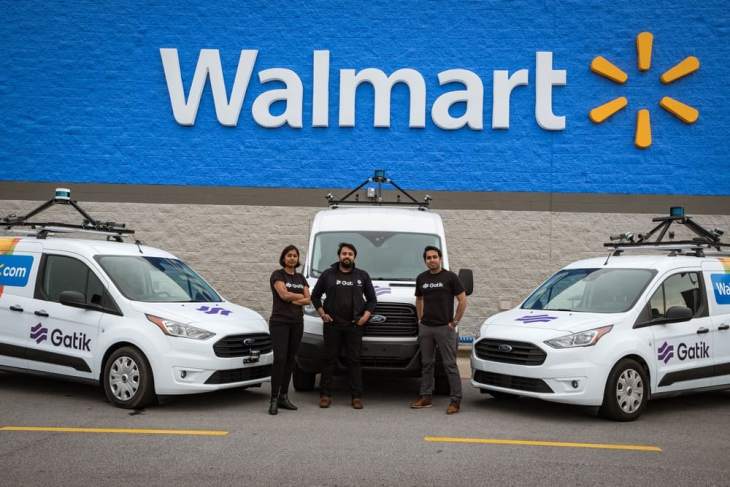 As said before, Walmart has now turned to Gatik to pursue this idea. Walmart is sourcing technology from Gatik, the California-based self-driving car logistics company, founded in 2017. Gatik recently announced the ending of a quiet fund raising that was worth $4.5 million. This investment was led primarily by Innovation Endeavors, a venture capital firm created by former Google CEO Eric Schmidt, along with Dynamo Venture Capital, Trucks Venture Capital, AngelPad, and Fontinalis Partners. This partnership between Walmart and Gatik is still in an early stage, so additional details about this collaboration will only be revealed in the future.
Automotive News reported that thanks to an enormous increase in online shopping, the number of unfilled long-haul driver positions in America consequently increased to 60,000, since this is a job that is among the most dangerous, due to the risk of wrecks and long periods spent on the road. But Walmart doesn't expect that its autonomous delivery vehicles will put truck drivers out of work. The autonomous delivery vehicles could help fill in this void, as well as greatly reduce the retailer's operating costs.
There wouldn't be a difference between a professional truck driver or an autonomous truck making a delivery to a Walmart store or warehouse; at least for the consumers. The biggest difference is that those same consumers might pay less for an item, as well as spend less on getting it delivered to their door. Since this project might help Walmart reduce its costs to half, the company could then pass the savings onto its consumers.