Is golf your passion? Do you want to play or practice more? You might be looking to improve but just don't have the time. There might be a great solution that covers all your golfing needs. It's called SkyTrak.
SkyTrak is both a personal golf launch monitor and golf simulator, and it is super realistic. If you've already used any of the launch monitors at driving ranges or courses, you already know that those are not meant for personal use. They are usually large and take some training to be properly used. It is also important to note that these commercial-grade launch monitors are quite expensive and could cost $20.000 or more. But the SkyTrak Golf Launch Monitor is just the opposite. It's a powerful and affordable device that's optimized for personal, at-home use, making it a fantastic training device to play, practice and entertain yourself.
The SkyTrak Launch Monitor is small and features a portable size, at just seven inches tall and weighing less than two pounds. It is also easy to use, since it's meant for the average golfer instead of professional ones. You can sync the SkyTrak with any of your devices. Just connect it wirelessly to your PC or iPad, and it's ready to use, generating your swing data in seconds. In terms of accuracy, the SkyTrak offers highly accurate measurements across a range of data points. And the best part, it's affordable.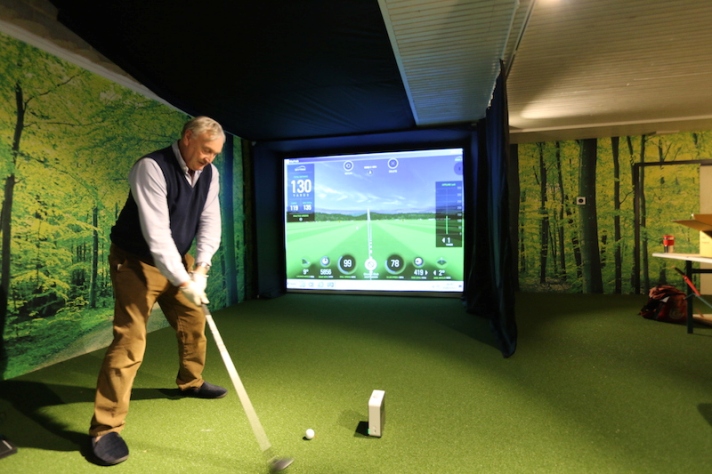 By analyzing your shots, the SkyTrak Launch Monitor provides enough information for you to make informed decisions about changes that need to be made to your swing and/or equipment. This launch monitor features photometric technology, achieved by its high-speed cameras that monitor a range of data points on the path of the ball after a swing. After flying only a few feet and hitting any part of the golf net, the data is collected and presented to you by SkyTrak, which creates a three-dimensional flight model for you to analyze. Keep in mind that some of the numbers that are provided will be directly measured, while others will be estimated based on the measurements.
All the data provided to you can be used to pick out a new driver that is more suitable to the dynamics of your swing. Or it can be taken to a professional instructor to be used for guidance.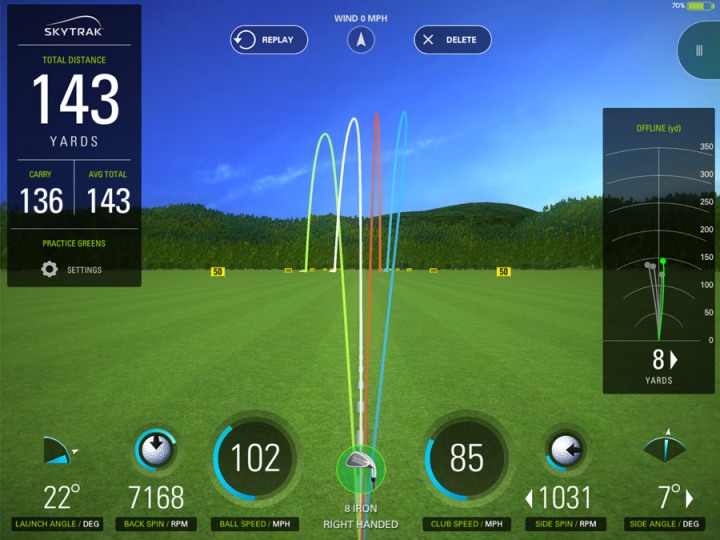 The SkyTrak packs some advanced features that can help you to improve your game and progress quickly and easily. The Practice Range Mode is a virtual practice range where you're able to see the statistics related to each shot, just moments after you have struck the ball. Bag Mapping is a very useful and powerful feature that helps you to correctly choose what club to use on any specific situation. In this mode, you'll go through your whole bag of clubs, picking up valuable information for each of them. The data offered to you ranges from average carry distance for each club; distance gaps between clubs; shot shape tendencies; side angle tendencies; and average shot dispersion. This helps you to accurately select your clubs during rounds.
The SkyTrak Golf Simulator is also fun, integrating a huge number of courses. And you can go through all of them without even leaving your home. It's also a great way to spend an evening with friends!
SkyTrak allows golfers realistic, real-time practice with instant, accurate feedback and is incredibly easy to use. It's currently discounted from its original price ($1995.00) and is going for $1695.00 (saving you $300). You can get it here, as well as any of the available SkyTrak plans, and different accessories like carrying cases, hitting mats, nets, amongt other things.