If you're into wireless active noise-cancelling headphones, check out Sony's new WF-1000XM3 true wireless ANC headphones. These new true wireless earbuds sound great, making them able to directly compete with products from Sennheiser, Beats, Master & Dynamic and Bang & Olufsen. The new WF-1000XM3 also sound better than Apple's AirPods.
If you noticed the somewhat complicated model number, it's Sony's way to differentiate their new WF-1000XM3 from the popular over-ear noise-canceling headphone called the WH-1000XM3. Both these models are equipped with active noise-cancellation. It's important to note that the company has skipped the Mark 2 true wireless model, going straight to the Mark 3. This is Sony's attempt to unify its current model numbers of their 1000X headphone line, mainly because the WF-1000XM3 has a very different design from the original WF-1000X.
The new WF-1000XM3 are totally new earbuds that use Bluetooth 5.0 and come with a new, sturdy, magnetized charging case. The earbuds are easy to get in and out of it, making the charging process simple and easy. They're currently available in two colors: black or gray color. They feature new drivers, new touch controls and a new QN1e processor that improves not only their sound quality, but also their noise-canceling effect. As a downside, these are not sweat-proof or water-resistant, meaning that working out while using them or having them on during rainy days is a big risk to take, and can ultimately damage them.
Conversely, their battery life is much better than most alternatives. Sony assures up to 6 hours of battery life at moderate volume levels with active noise-canceling on, and up to 8 hours with ANC off. These are among the few headphones that also support USB-C charging. A 10-minute quick-charge provides 90 minutes of battery life and the charging case offers a maximum of three full charges on the go.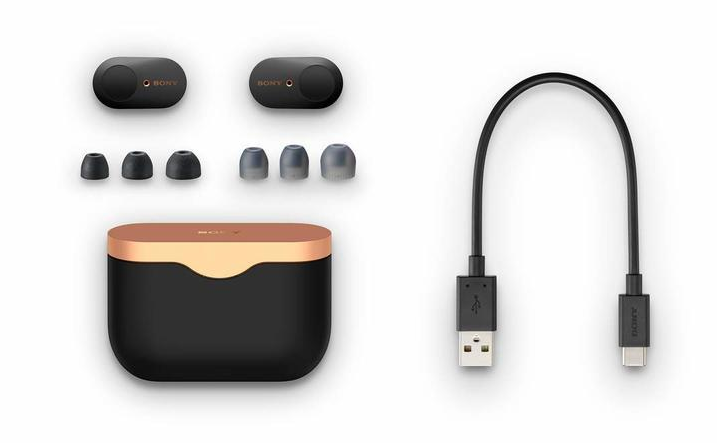 It's important to note that these earphones require a tight seal to achieve great quality and optimal noise canceling. You'll be provided with a handful of different ear tips to help you choose which ones better fit your ears to achieve a good seal.
Both earbuds feature touch controls, but there aren't any volume controls, so you'll use your phone for that. Tapping the right touchpad lets you control audio playback, access a voice assistant and answer or end your calls. Tapping the right pad allows you to switch between three sound profiles: noise-canceling mode on, noise-canceling mode off and a transparency mode that lets ambient sound in. There's also the Sony Headphone Connect app for Android or iOS, that allows users to change the sound modes on it, as well as accessing some other settings.
Sony's WF-1000XM3 headphones are also equipped with a sensor that detects whether the earbuds are in your ears or not. Taking off the earbuds will pause your audio and putting them back on will resume it; but you can also use just one earbud to listen to music or make calls. Lastly, they also pack the Quick Attention feature. By just tapping and holding your finger on the left touch pad, you can pause your music to let the surrounding ambient noise in, allowing you to talk to anyone that's next to you. On other headphones, this functionality is offered by holding your hand over the earcup.
These headphones offer decent sound quality, are great for making calls, and their active noise-cancelling helps reduce any background noise when you are outside. The other model, the over-ear WH-1000XM3, do have a bit better noise canceling. Sony's WF-1000XM3 are priced at $230, and at this price range they offer the best sound for true wireless headphones. You can get them here.