Imagine if there was a universal tool capable of cleaning anything and everything. Lisa Ximenez, also known as the Goddess of Gadgets, is a single working mother of two, who's always looking for better and faster ways to get things done around her house. She's focused on creating better, faster solutions to everyday home, health and family challenges. This brings us to BUMP IT OFF, "The Killer Cleaner". BUMP IT OFF is a reusable silicone sleeve that fits on your hand in four different configurations, enabling you to concentrate scrubbing power in the palm of your hand or on your fingertips.
BUMP IT OFF's design features gentle silicone bristles on one side and smooth bumps on the other, and has endless cleaning applications for every day's cleaning needs, proving perfect for cleaning every room in your home. BUMP IT OFF allows you to clean literally anything like fabrics, kitchen utensils, your pets, or even your own body when showering, (the smooth bumps side for massaging and the silicone bristles side for exfoliation). BUMP IT OFF helps you to remove stains or any lint and fur from laundry, clothing, upholstery, furniture, rugs and carpets. And its great design provides flexibility on both sides, allowing you to never lose grip while using your hardest scrubbing power on any surface.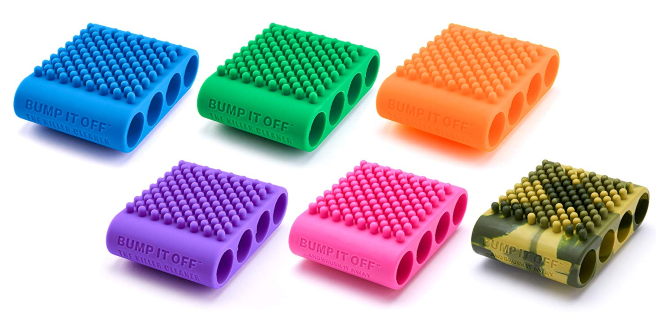 BUMP IT OFF is also eco-friendly, and anti-bacterial. It's 100% made of silicone and it's easy to clean. It is also dishwasher safe and is capable of resisting stains, odors and mildew. BUMP IT OFF is available in 6 different colors: Blue, Orange, Green, Purple, Pink, and Camo.
If you're interested in getting a BUMP IT OFF silicone cleaning scrubber, either for yourself or for a family member that loves to clean, it is currently priced at $10. You can find it available at Goddess of Gadgets official website, by clicking here.