The main difference between subwoofers and speakers is their frequency range. While subwoofers are loudspeakers designed to reproduce low-pitched audio frequencies (lowest part of the audio spectrum) known as bass and sub-bass, proving perfect for bass sounds, speakers perfectly deliver high frequencies like mid-and treble range. GoldenEar's amazing new SuperSubs are a subwoofer to die for.
GoldenEar's new SuperSub™ Series subwoofers are ultra-high-performance compact subwoofers that incorporate many recently developed unique and advanced technologies and components. The company's main goal was to create beautifully styled, finely finished, reasonably sized subwoofers capable of generating very low frequency pressure waves of extremely high amplitude, while delivering accurate and precise low frequency performance that is both highly impactful and extremely musical.
The GoldenEar SuperSuB X is incredibly small, made of high-density medite (sustainable medium density fiberboard) and its exterior looks are stunning, sporting a high-quality black lacquer piano-gloss finish and perforated metal grills. Its overall design is based on its larger brother (the SuperSuB XXL). It measures 14 inches (35.6 cm) wide by 12-3/4 (32.5 cm) inches high (w/ feet) by 13-1/4 (33.5 cm) inches deep, weighing 40 lbs (18.1 kg) (and 51 lbs (23.1 kg) while shipping). The back panel input/output complement is straightforward, including right and left line-level inputs, specifically LFE Line-Level Input (unfiltered (no low pass) and direct-coupled) and Right/Left Line-Level Input (with Variable Low-Pass from 40 Hz – 150 Hz). The level and the low-pass crossover (40–150Hz) are controlled by a pair of knobs, and there's also a toggle that selects between LFE and preamp inputs, plus an IEC connector for the supplied power cord.
The GoldenEar SuperSuB X features a frequency response of 12 Hz – 250 kHz, and is powered by a 1500W Class D amp, originally developed for the Triton One speaker. It uses a fully balanced topology to help minimize noise and distortion, and is controlled by a 56-bit DSP device with a 192kHz sample rate. The amplifier (1400-Watt ForceField digital amp) also utilizes many small, separate power supplies for each circuit section, providing further isolation. The GoldenEar SuperSuB X provides a perceivably high sound quality, delivering an astonishing first impression well beyond your typical subwoofer.
The X features two horizontally opposing 8 inches long-throw high-output bass drivers and two vertically opposing 10-1/2 inches by 9-1/2 inches quadratic planar infrasonic radiators firing upward and downward. According to GoldenEar, these four-sided arranged drivers behave like counterforces. "The force-cancelling inertial balancing preserves and focuses all the energy produced by the transducers in order to effectively move the air in the room." The GoldenEar SuperSuB X is intricately braced, ultimately eliminating resonances as well as the flexing of cabinet panels due to internal pressures.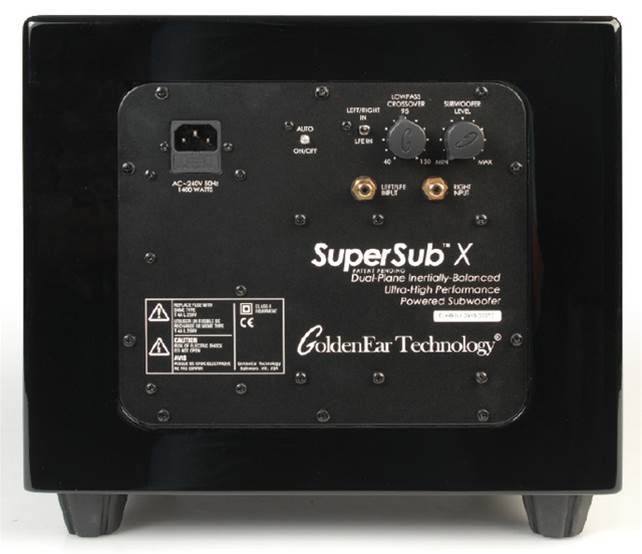 The SuperSuB X's driver configuration also tends to counter the tendency of smaller, lighter subwoofers to "drag" across the room when under high output. It also comes with a 6-amp 250-volt slow blow fuse (110-volt version) and a 4-amp 250-volt slow-blow fuse (240-volt version). In terms of power consumption, when using the Low Voltage Version, it uses 120 V at 50 or 60 Hz with 1400 Watts, and when using the High Voltage Version, it consumes 240 V at 50 or 60 Hz with 1400 Watts.
If you're interested in getting your own GoldenEar SuperSuB X, priced at a MSRP (manufacturer's suggested retail price) of around $1250, featuring state-of-the-art GoldenEar Technology Drivers, capable of delivering "bone crushing bass", head over to GoldenEar's website, where you can find more about the SuperSub Series, by clicking here.