California based company Vanguard Dynamics designs and manufactures architectural audio products and accessories dedicated to custom installation. The company has recently released its latest model of their VAIL Amp In-Wall Stereo Amplifier, the Vanguard Dynamics Vail Amp 3.
This 3rd generation of the VAIL Amp easily turns any Amazon Echo Dot into an in-wall high-performance audio source. The package measures 7 inches long by 5 inches wide by 3 inches tall and the unit weighs 7.2 ounces. The small fully contained amplified assembly firmly holds one Amazon Echo Dot in an attractive wall dock that allows for accurate voice intelligibility and convenient light switch level access to the Dot's surface controls. It doesn't require an Ethernet Connection, since the Echo Dot uses its normal Wi-Fi connection after the integration.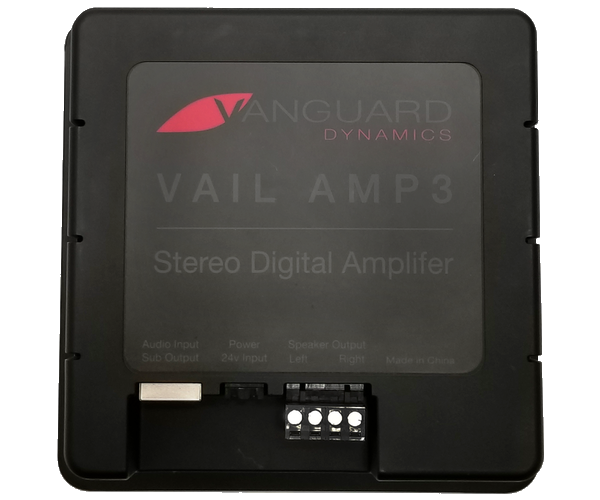 The Vanguard Dynamics Vail Amp 3 features two 30 Watts High-Performance Digital Amplifiers, offering a combined power of 60 watts that supercharges the audio for you to listen to your favorite soundtracks. The high-power amplifier can be connected to up to two pairs of any in-ceiling, in-wall or cabinet speakers that can be either 4ohm or 8ohm (there's a built-in Power Switch located inside the case that allows you to change the Amplifier's settings for either 4ohm or 8ohm speakers). There's also an integrated 3.5mm Aux Audio Jack for Amazon Echo Dot, as well as a LINE In for any additional audio source. The device also comes with a 16/2 speaker wire for power and a 24v Power Supply.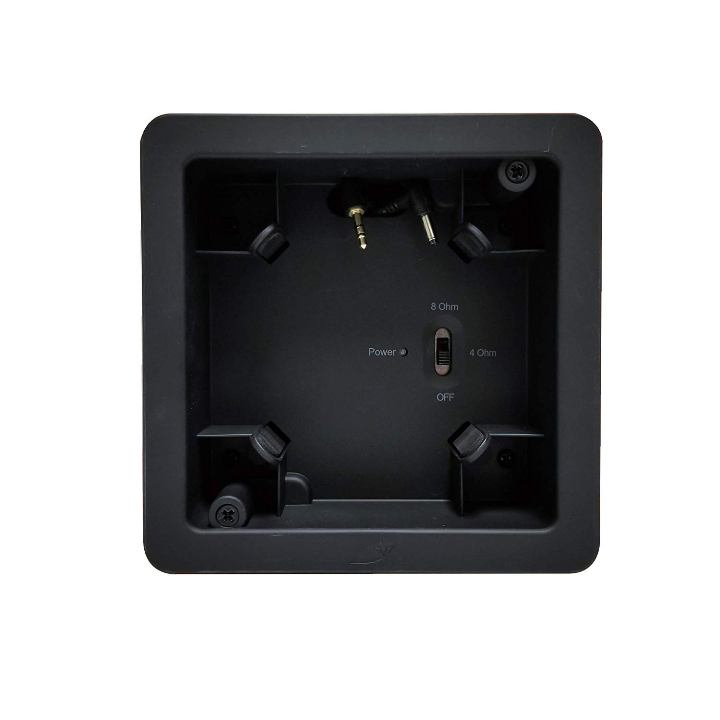 The Vanguard Dynamics Vail Amp 3 can be easily installed, even where a pre-existing volume control was. Installing it on a wall is very similar to installing an in-wall or in-ceiling speakers, thanks to the included "dog-ears", that after turned, tighten down and clamp down the Vail Amp 3 on the wall, holding it in place. After that, users just need to run the included CAT5 and power cable (for Audio Input and Subwoofer Output) from the dock down to the connections plate where they'll connect it to power and possibly a subwoofer or an external audio source. This solution delivers a really clean look after both installation and assembly are complete, and after the paintable-wall plate (included Snap-On Square Trim Cover) is attached, easily blending in with the wall.
The Vanguard Dynamics Vail Amp 3 then ultimately becomes your in-wall volume control keypad, voice control, and streaming music source. With it, users can use voice control with Amazon Alexa to control their music and their smart devices, as well as stream their favorite music and control the volume. The Enhanced Multi-Room Smart feature allows users with multiple VAIL Amps to take advantage of Alexa's ability to play the same music throughout the house from every VAIL Amp 3 or for each family member to play their own favorites in their room.
The Smart Intercom System feature (with "Alexa Drop In" & "Announcement") allows any home with multiple VAIL Amps to quickly have a state-of-the-art intercom system between VAIL Amps. It's important to note that this system is not made for audiophiles that like lots of dials, switches and touch screens. This is instead, a reasonable priced system that delivers awesome sound, featuring an amazingly easy installation.
With the Vanguard Dynamics Vail Amp 3, you can simply tell Alexa what you want to listen to, either in a select zone (for users with multiple VAIL Amps) or throughout the house. If you're interested in getting your very own Vanguard Dynamics Vail Amp 3 that offers high-quality sound, together with the joy delivered when using it, it goes for around $350 MSRP (manufacturer's suggested retail price). You can find it on Vanguard Dynamics' official website, by clicking here.