American company Fitbit, Inc., based in San Francisco, designs products like activity trackers, wireless-enabled wearable technology devices that measure data such as the number of steps walked, heart rate, quality of sleep, steps climbed, and other personal metrics involved in fitness. The company recently released the Fitbit Ace 2, a fitness tracker designed for kids. The Fitbit Ace 2 replaces the original Ace, which was praised for its kid-friendly design, but fell short in some areas like waterproofing. Thanks to the input from kids, the company gave the Fitbit Ace an all-new look, bringing the Fitbit Ace 2, which now features water resistance. The Fitbit Ace 2 was launched in June 2019 in the US, UK and Australia.
The Fitbit Ace 2 fitness tracker features a simple design, and the small tracking unit is wedged inside a simple, yet colorful looking silicone band equipped with an adjustable clasp. The company picked this standalone tracker design for durability reasons, mainly because kids go hard when it comes to using any hardware throughout their daily activities, with high chances that they'll probably tear the strap or break the clasp. But if this happens, it's really simple to remove the tracker from the damaged wristband and attach it to a new one. Wristbands are available from Fitbit in a variety of bright colors and kid-friendly patterns.
These silicone bands were designed with their featured bumper that helps to protect the delicate display, making the wristbands extra-durable. While the bumper provides some protection, some kids might still be able to scratch the front screen after a couple of weeks of using the Ace 2. The clasp is made with thin plastic, but it's flexible and should hold up well. The bands are sized perfectly for kids 12 and under with plenty of room for adjustments to fit a range of wrist sizes. The company's recommended age to use the Fitbit Ace 2 is 6+.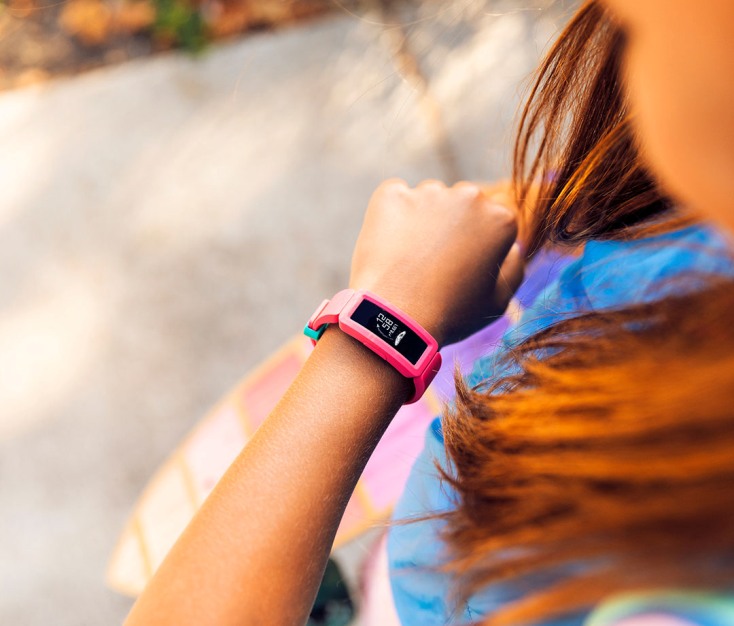 Unlike older Fitbit units that had to be removed from their band to charge, the Ace 2 can be charged while it's inside the wristband (there are gold pins at the back of the tracker, so you only need to line them up with the ones on the charging cable), and the tracker offers up to 5 days of battery life. The only reason to remove the tracker would be when you're looking to attach it to a new wristband in case you need to replace a damaged one. However, you might also find the tracker falling out of its wristband if the band is not wrapped tight enough against your kid's wrist, so be aware that searching for a small black tracking unit is not the easiest thing to do.
The tracker will probably fall out most times while kids take the bands on and off, after adjusting their wristbands, by pressing too hard on the tracker, which will cause it to pop out. This basically means the Fitbit Ace 2 doesn't feature the most secure design, but this is not entirely bad, since it leaves room for improvement and a 3rd generation model.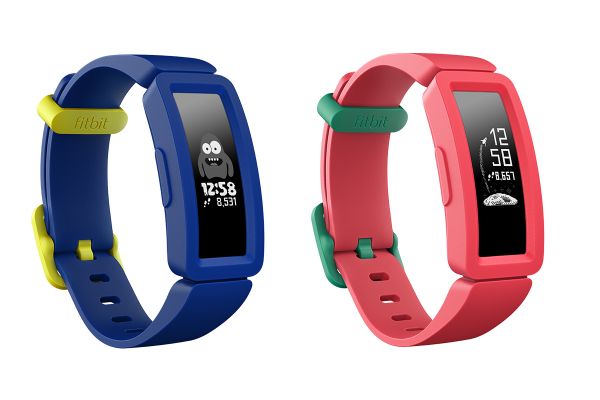 The Fitbit Ace 2's interface features Animated Clock Faces, meaning kids can easily swap the clock faces on the touchscreen of their Ace 2 (similar touch-screen OLED display to the one on the Fitbit Inspire) – this will consequently require more frequent charging. Kids can scroll through the customizable clock faces and data screens by swiping up and down and tapping to select them. The simple side button can be used to access the quick settings menu to check the battery, turn notifications On/Off, and provide kids with an easy method to check on their stats. Whenever a fitness or sleep goal is reached, the selected clock face will display a triggered celebration animation, and there are also featured Fun Incentives, which come in the form of virtual badges and avatars, giving kids constant motivation to get moving with their family or find new ways to best their buds.
The Ace 2 fitness tracker also features All-Day Activity Record, meaning it tracks all-day steps and active minutes to show how every move, skip and jump adds up to a healthier, more active life. The CDC recommends kids get 60 minutes of daily physical activity, so the Ace 2 also includes a 1-hour active minutes goal that can be customized in the app. And speaking about activity, a lot of kids like to swim, either to learn, have fun, or even practice as their main sport. The Fitbit Ace 2 is swimproof, which means that kids can wear it in the shower, pool or anywhere else.
The Fitbit Ace 2 comes with the Fitbit App, featuring Parent View, allowing parents to set up a family account and create child accounts accordingly. In Parent View, they can easily see their kids' activity and approve their connections. There's also the Kid View feature, where kids can only see select data like their stats, badges and clock face options. Both a family account and parental consent are required for children of age 12 and under. Only Fitbit Ace 2, Fitbit Ace and Mobile Track may be connected to a child account. Within the app, parents can also set friendly reminders for kids to move & stretch their legs if they've been sitting in one spot for too long.
The Fitbit Ace 2 also provides parents with Sleep Tracking, featuring Bedtime Reminders & Alarms, letting parents know if their kids have the necessary healthy habits to pursue a healthy lifestyle. Within the Fitbit app, parents can schedule bedtime reminders and silent alarms that easily wake kids with a quiet buzzing on their wrists. And with the Timer & Stopwatch features present right on their kids' wrists, parents can easily guide homework time.
There are also integrated Call Alerts, meaning that kids who own a smartphone will love getting call notifications on their wrists, and parents will love how much easier it is to get in touch. The Fitbit Ace 2 features Wireless Sync, meaning it connects to 200+ Android, iOS & Windows 10 devices, offering parents a full picture of their child's health and wellness.
Lastly, it's important to note that there is one major issue with the display; it's prone to scratching. While the wristband comes equipped with a bumper that protects the screen from most scratches, the OLED display can still suffer from a few scuffs and scrapes.
The company designed the Ace 2 with longevity in mind, and the tracker is expected to last around two years under regular use, but if a wristband fails or a clasp breaks, parents can easily remove the tracking unit and fit it into a replacement band (these are interchangeable accessories that have fun patterns and bold colors, but are sold separately). The Fitbit Ace 2's bold colors and animated watch faces will appeal to kids and the tracker is available in two different models: Night Sky (Blue Wristband w/ Neon Yellow Clasp) and Watermelon (Pink Wristband w/ Teal Clasp). It's currently priced at $70. If you're interested in getting one or more for your kids, you can find it on Fitbit's official website, by clicking Click Here.