In order to achieve the best flavor for your finished brew, you need to be able to control the temperature of the fermenting wort. If it's too high, the final taste might be too fruity or exhibit harsh characteristics.
While there was no reliable way to control fermentation temperatures in the past other than brewing your beer during the winter months, we now have the thermometer. This brings us to the Thermapen MK4 by Thermoworks, one of the most popular thermometers amongst homebrewers.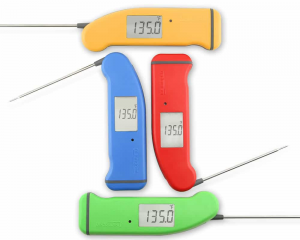 The Thermapen Mk4 instant-read thermometer is super easy to use and provides an instantaneous digital display of the temperature on its large, easy to read LCD screen. The Thermapen Mk4 by ThermoWorks uses professional grade thermocouple technology to arrive at the temperature and provide an accurate reading, meaning there's no waiting for the thermometer to find the right temperature and no wavering within a temperature zone. A thermocouple produces a voltage that is temperature-dependent, which the software then interprets to arrive at a precise temperature reading.

The ThermoWorks Thermapen uses a single AAA battery (like the ones you'll find at any convenience store), meaning powering it isn't a problem. A single battery will provide you around 3,000 hours of use.
The Thermapen Mk4 is fully waterproof and also features intelligent backlight, meaning it's able to sense a dark room, forcing the device to light up the screen display. Another great feature of the Thermapen Mk4 thermometer is that, no matter how you hold it, the temperature is always displayed right side up, the same way your smartphone display changes from portrait to landscape as you rotate the phone.

There's also an automatic sleep mode (already featured in the previous version) that automatically shuts down the Thermapen Mk4 after some time has passed in order to save battery life, but it's now instantly turned back on as soon as it's grabbed.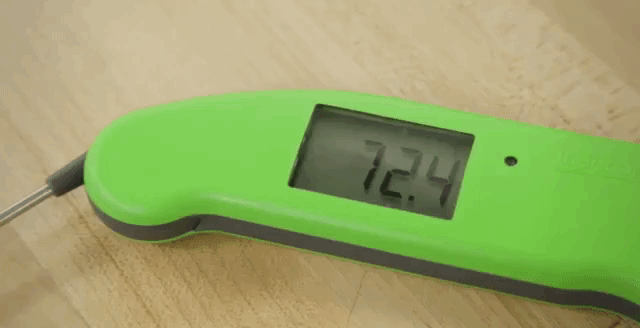 While the ThermoWorks Thermapen Mk4 is more expensive than most other digital thermometers, keep in mind that lower priced solutions almost never guarantee that you're going to get what you want. The Thermapen Mk4 by Thermoworks is without a doubt one of the best, most accurate brewing thermometer products out there and is built to last. It provides near instantaneous accurate temperature readings that are precise and dependable, which will help you brew the best beer possible.
The Thermapen Mk4 is currently available in 10 different colors: Grey, White, Gold, Green, Red, Blue, Black, Orange, Pink, Purple and Seafoam (limited time). Depending on what color you choose to go with, one unit is priced between $84-$100. You can find the Thermapen Mk4 available at ThermoWorks' official website, on this page.