Standing desks or stand-up desks were conceived specifically for writing or reading while standing up or while sitting on a high stool. The Power Lift Standing Desk by VersaDesk is a Height Adjustable Standing Desk that features patent pending programmable stand up desk technology.
The Power Lift Standing Desk is a supreme electric lift workspace. The desk can be raised up to 50 inches and features a max weight capacity of 350 pounds (maximum weight it can lift) since it's equipped with the best motor for your sit-to-stand desk needs. The patented electromagnetic linear actuator system (what makes the desk lift) runs on 12 volts, proving to be the most energy efficient standup design available. While it's fully customizable, users also have other features like programable height adjustment technology and built-in cable management. Users also have the possibility to choose gloss white as the surface color, allowing them to have an interactive whiteboard surface where they can write on, and then clean whatever they wrote with a wet cloth or a board eraser.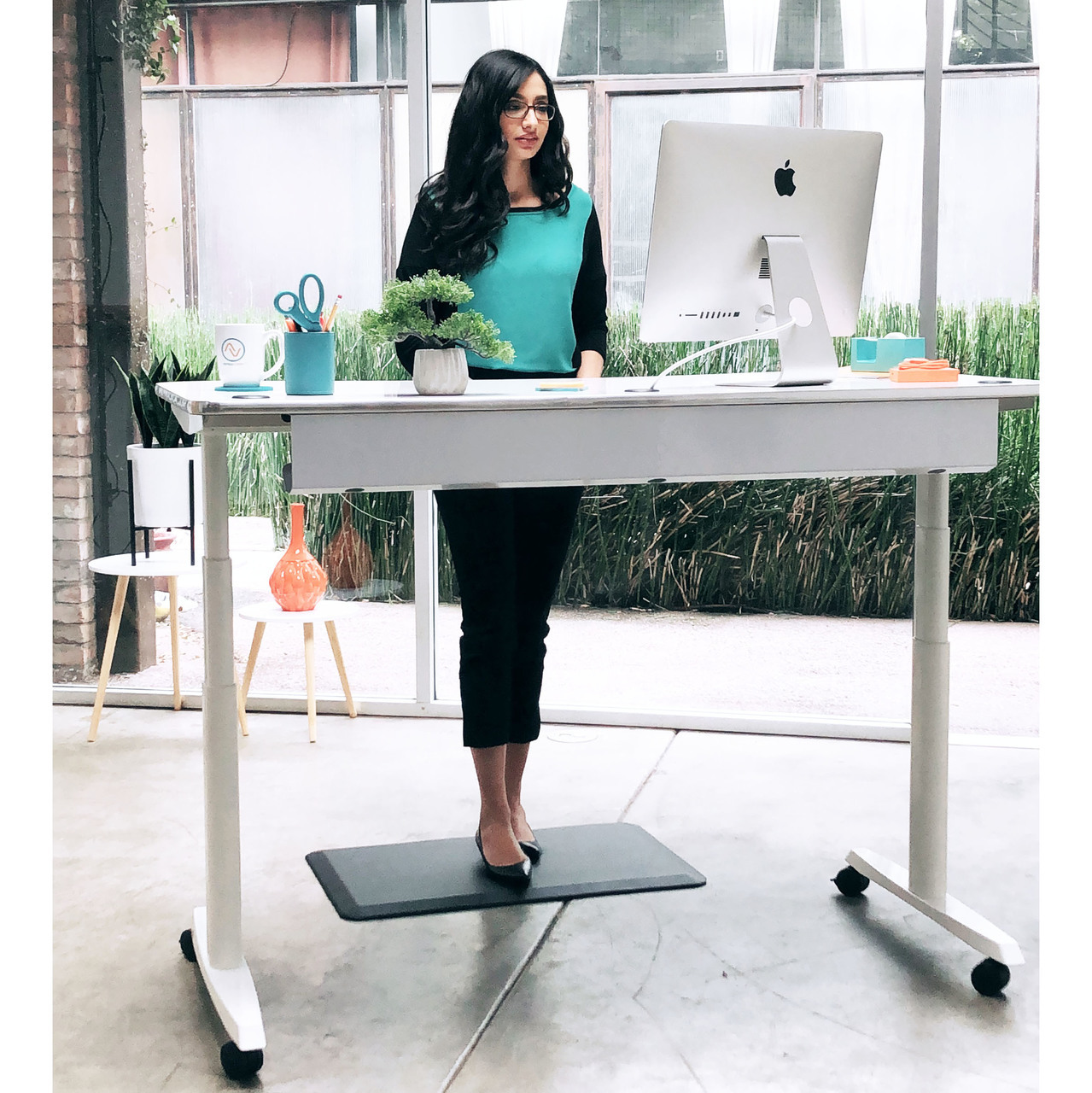 This adjustable standing desk has been built to last while elevating your working experience. Not only it is the perfect computer desk, but it can be much more. The Power Lift Standing Desk by VersaDesk is ergonomic, programmable, and features one touch dashboard controls for your powered up and down height adjustment. The adjustable standing desk features Electric Powered Programmable Height Control, offering up to 32 height settings. It's built with a solid steel frame base and offers a smooth and quiet motorized height adjustment. The quiet and strong motorized lift system adjusts to users' desired height in seconds (up to 50 inches).
Using an adjustable standing desk lets you adjust your desk to the exact height you need, promoting ergonomics, which has been proved to help users prevent and reduce back and neck pain caused by physical workplace stress, while also increasing circulation and improving productivity.

Just like the VersaDesk Power Pro and Power Pro Corner Sit-to-Stand Desk Risers, the Power Lift Standing Desk comes with 3 predrilled 2 inches grommet holes (the 48 inch option only has one grommet hole). These predilled 2 inches holes offer optional monitor mount attachments, meaning triple or dual screens are possible by adding an optional monitor mounting post and a VESA bracket. This will further enhance your standing desk experience, making your attached monitors a seamless extension to the surface.
You can also add some exclusive accessories to your Power Lift Standing Desk Ergonomic that are sold separately, including a Keyboard Arm and Tray, an Adjustable CPU Holder, and a Mounted Desktop Power / USB Supply to maximize your workspace and increase the functionality. (These are only for the Power Lift Standing Desk and WILL NOT work with the Power Pro & Power Pro Corner Desk Risers.)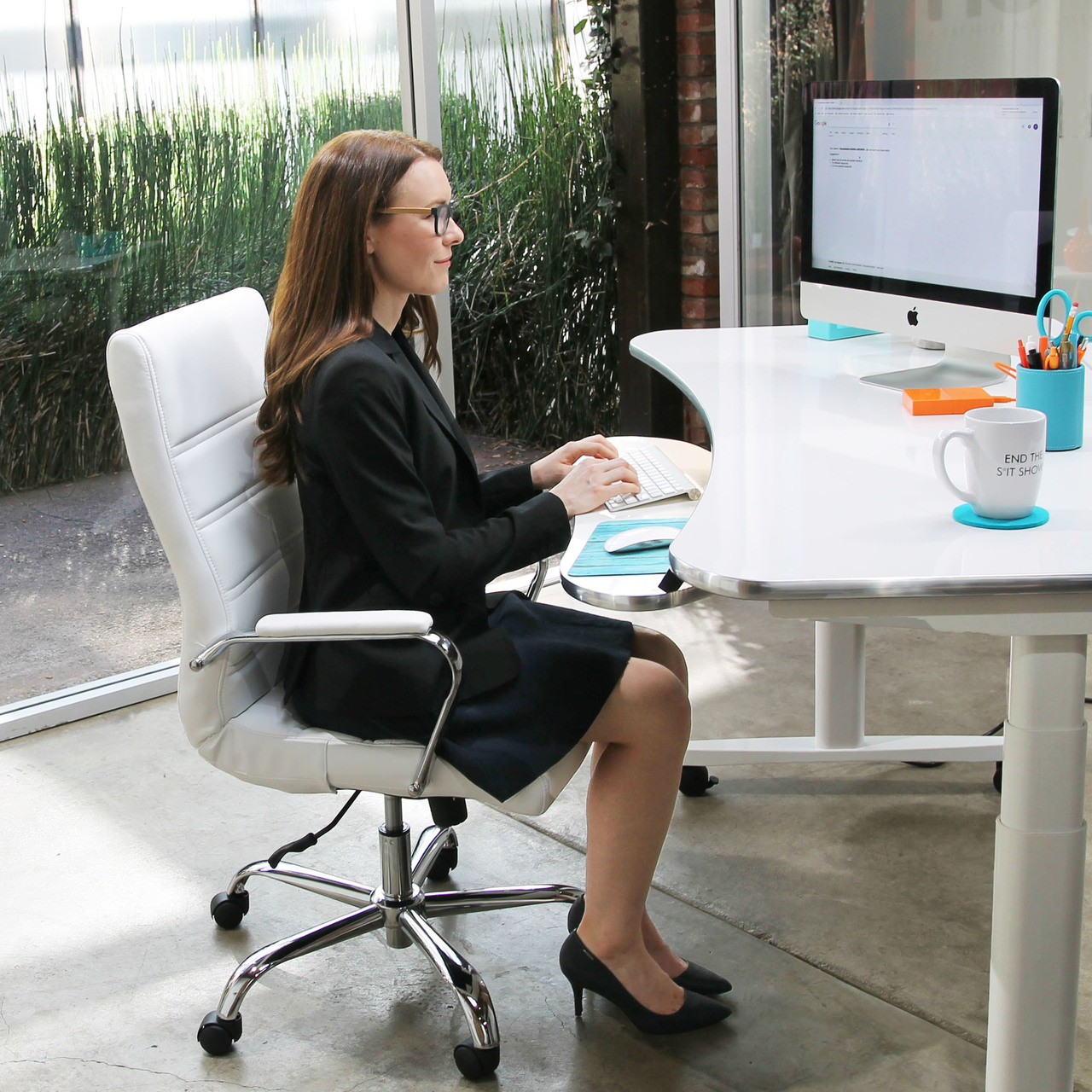 The Power Lift Standing Desk by VersaDesk is currently available in five different models: dry-erase gloss White (users can write on it), industrial Gray matrix, traditional Maple woodgrain, executive Maple-Cherry woodgrain, and classy Black matrix.
If you're interested in getting your very own Power Lift Standing Desk, one unit is currently going for $799 (previously $1,258.60, saving you $459.60). The desk comes with a 30-Day Trial, allowing you to this product for 30 days before you commit to it. There's also a Lifetime Warranty backed by a 30-day money back guarantee. You can find the Power Lift Standing Desk available on VersaDesk's website, on this page.