The Thermoworks Signals 4-Channel Wi-Fi/Bluetooth BBQ Alarm Thermometer is a new 4-Channel remote read thermometer, capable of Wi-Fi and Bluetooth connectivity. The Signals was designed for competition BBQ teams, commercial smokehouses, professional chefs, and anyone who wants to cook like a professional.
The Thermoworks Signals is a 4-channel alarm thermometer that works with your smart device AND as a stand-alone unit with physical buttons (meaning you're not forced to connect it to a smart device to use it). Signals comes equipped with 4 channels, allowing users to monitor up to four temperatures at once, but the Signals can also be used as a stand-alone thermometer.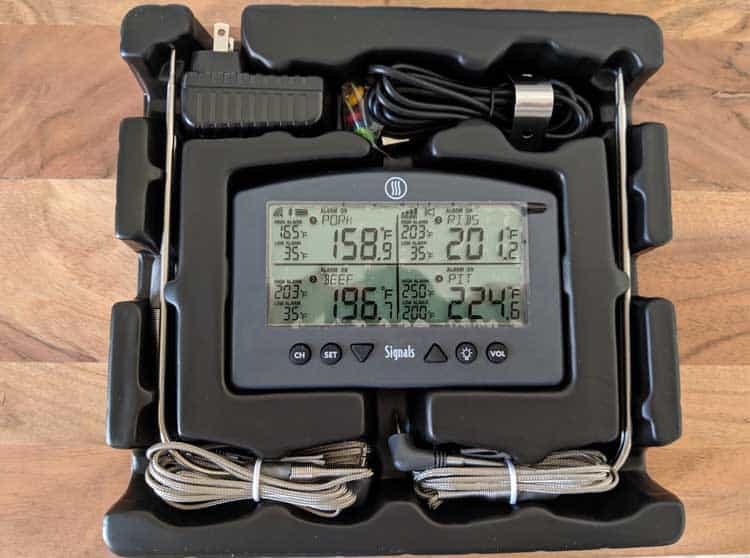 It can easily be connected to your smart device via Wi-Fi, by using the ThermoWorks BBQ App. All you need to do after is to set up an account with ThermoWorks to connect the Signals to the company's cloud-based service. And in case there's no internet available, users also have the option to connect to the Smartphone App via Bluetooth. Since the Thermoworks Signals comes with both Bluetooth and Wi-Fi onboard, it's capable of seamlessly switching between the two, so you get a continuous signal and real-time alerts whether you're in a field or across town. This means you're always able to Live Track your cooking via the Cloud.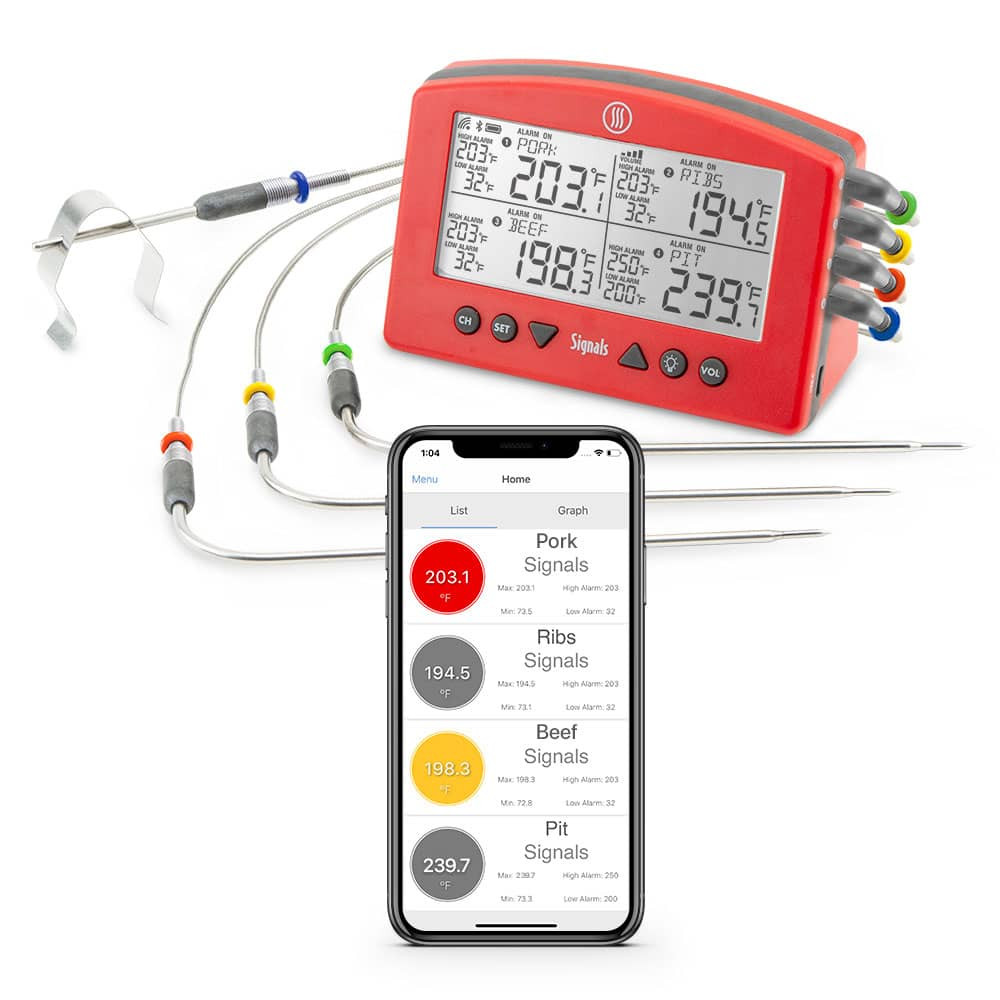 Setting up the Signals 4-Channel Wi-Fi/Bluetooth BBQ Alarm Thermometer is quick and easy without ever needing to read the instruction manual. Signals stands apart from the competition. Its sturdy, self-standing weather-resistant case is rated IP66 waterproof, meaning it features a splash-proof sealed design for outdoor use. The Signals also comes equipped with a huge backlit dashboard display and it easily stays in place thanks to its sturdy base and strong magnets on the back. There's also an integrated rechargeable battery, and the device also comes with its included power adapter.
The Signals 4-channel BBQ Alarm Thermometer also features programmable channel names (via the App) and new high temperature silicone color bands so you know at a glance which channel goes with which probe. These are commercial-grade Pro-Series temperature probes, exclusive to ThermoWorks, capable of delivering better accuracy, a faster response, wider temperature ranges and longer useful life. The Signals includes three high-temp cooking probes and one high-temp air probe. Users can also set up alarms and get alerts. By using the ThermoWorks Signals you can cook more at once and worry less about the results.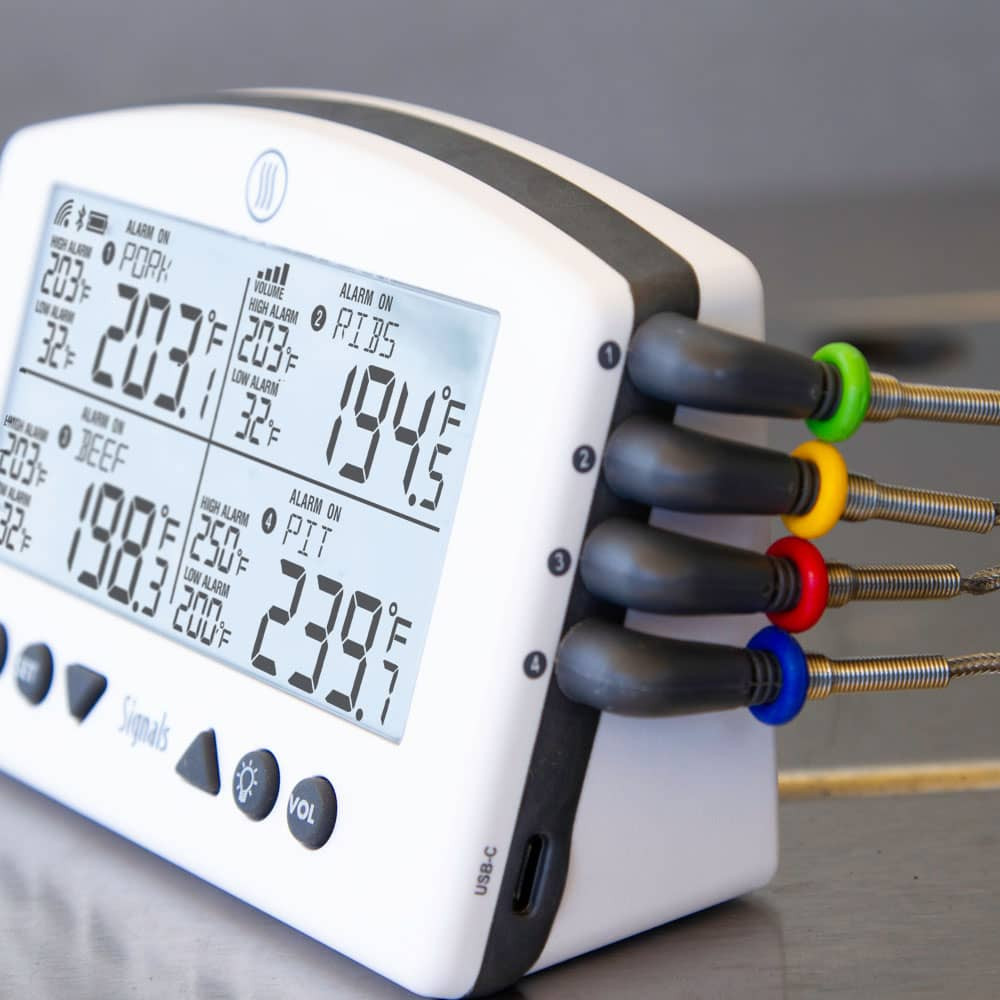 Signals is designed to track temperatures over an extended period of time with moderate-heat cooking methods such as smoking, oven-roasting, deep-frying, homebrewing, Sous Vide, and to be used while grilling. Signals is not meant to be used in place of a digital instant-read thermometer, like the Thermapen MK4 or a ThermoPop, or even used with broiling.
But if you love to throw massive barbecue parties for a big family or a big group of friends, the ThermoWorks Signals 4-channel BBQ Alarm Thermometer will help you handle all your BBQ meat and your BBQ pit. It comes with all the powerful features and convenience you've come to expect from ThermoWorks.
The Signals is currently available in 9 different colors: White, Gold, Green, Red, Blue, Orange, Pink, Purple and Black. If you're looking to get yours, each unit goes for $229. You can find the Thermoworks  Signals available at ThermoWorks' official website, by clicking here.